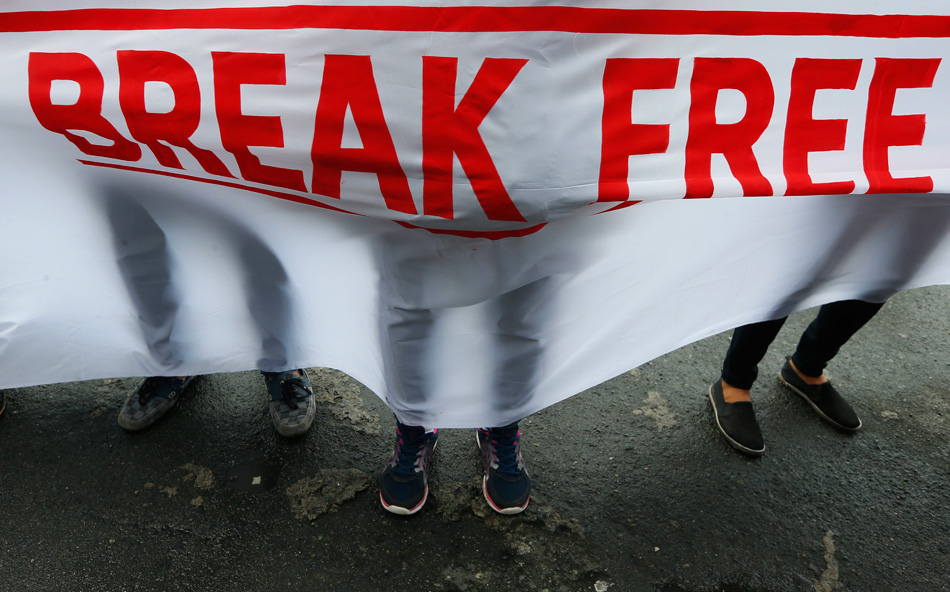 NASHVILLE—On the very cold wintry day of December 9, hundreds of concerned Tennesseans gathered in Sally Beaman Park in the Green Hills section of this city to protest the U.S. government's decision, spearheaded by Trump, to withdraw from the Paris Climate Accord. An additional purpose of the rally, dubbed the Nashville Climate March, was to demand that Tennessee Gov. Bill Haslam and federal lawmakers commit to the objectives of the Paris treaty, notwithstanding the federal withdrawal, to bring clean energy jobs, cleaner air, improved health, and greater environmental justice to Tennessee.
As one speaker reminded marchers, the cold weather that day in no way meant a lessening of global warming, noting the difference between weather and climate. A theme repeated throughout the event was the recognition that capitalism is ruining the planet.
December 9 marked the two-year anniversary of the Paris Climate Accord, which set specific goals to reduce climate change and global warming carbon emissions. Nations around the world attended the UN Climate Change Conference to tackle the ever-worsening climate situation in 2015.
Since Trump announced he was withdrawing the country from the Paris Accord last June, thousands of U.S. businesses, over 200 local governments, and 15 states have pledged to meet the objectives outlined at the conference in France. Locally, Nashville Mayor Megan Barry and the mayors of the state's three other major cities—Memphis, Chattanooga, and Knoxville—have joined that pledge. But neither Gov. Haslam nor any federal lawmakers have made a commitment to the Paris Accord.
The rally started with a range of representatives from environmental, community, educational and social justice organizations speaking about the health, political, and societal impacts that climate change is already having in Tennessee and around the world. Well over 30 grassroots organizations sponsored the march.
The list of speakers and musical accompaniment included: Ann Davis, an attorney who has worked to protect clean water and healthy air as managing counsel for the Southern Environmental Law Center's Tennessee office; Sizwe Herring, founding director of Earth Matters Tennessee; Mike Younger, representative of the Divestment Campaign to stop oil pipelines in Indian Country; Wesley Roberts, award-winning science teacher specializing in climate change studies; and a number of musical acts, among them Shelby Bottom Duo, Amanda Williams, Tremaine Art'mis, and The Cantrells. Invited to provide the Indigenous view of the struggle against climate change, I also addressed the rally.
The political and sustainability-themed musical performances also encouraged the marchers. They carried signs emphasizing that climate change is not a partisan concern, but rather an issue of survival, racial and environmental justice, health, economics, and ecology.
Climate change/global warming has the potential to kill and displace tens of thousands, making it an issue one human survival. Around the world, there are already numerous cases showing the deadly consequences of extreme heat waves. More than 70,000 perished in the extreme heat of the 2003 European heat wave, more than 10,000 in the 2010 Russian heat wave, and more than 2,000 succumbed to the one in India in 2015.
The damaging effects of deadly heat are not felt only in loss of human lives, but also among those left imprisoned indoors. In the last few years, millions of Americans have been advised to stay indoors in air conditioning to avoid dangerous outdoor heat, but according to recent studies, lethal heat waves are projected to worsen even with aggressive mitigation of heat-producing greenhouse gases.
The effects of climate change in the ensuing decades will increase even if the world's nations fully commit to immediately fighting global warming. The deleterious consequences include super hurricanes, heat waves, increased forest fires and deforestation, droughts, floods, ocean acidification, sea level rise, other extreme weather events, and what is now being characterized as the sixth great extinction of species.
In this country, Indigenous people have long recognized the survival threat of climate change to their lands and well-being. In October, the National Congress of American Indians (NCAI) meeting in Milwaukee told Wisconsin Public Radio that widespread wildfires and hurricanes are a sign of dangerously rising global temperatures. NCAI said the federal government needed to take action to reduce greenhouse gas emissions. Their call for action came shortly after Trump signed an order rolling back the Clean Power Plan.
Many Indigenous nations are not waiting for federal action. They are already starting to use solar power in order to lower their carbon energy usage.
Also on November 1, Indigenous leaders from 14 nations demonstrated in front of the Brandenburg Gate in Berlin, Germany. They were there as part of a tour of European capitals to release new research in advance of climate talks in Bonn, Germany that were held in mid-November.
In the meantime, organizers in Nashville say that there will be other actions and meetings locally in the fight against climate change.