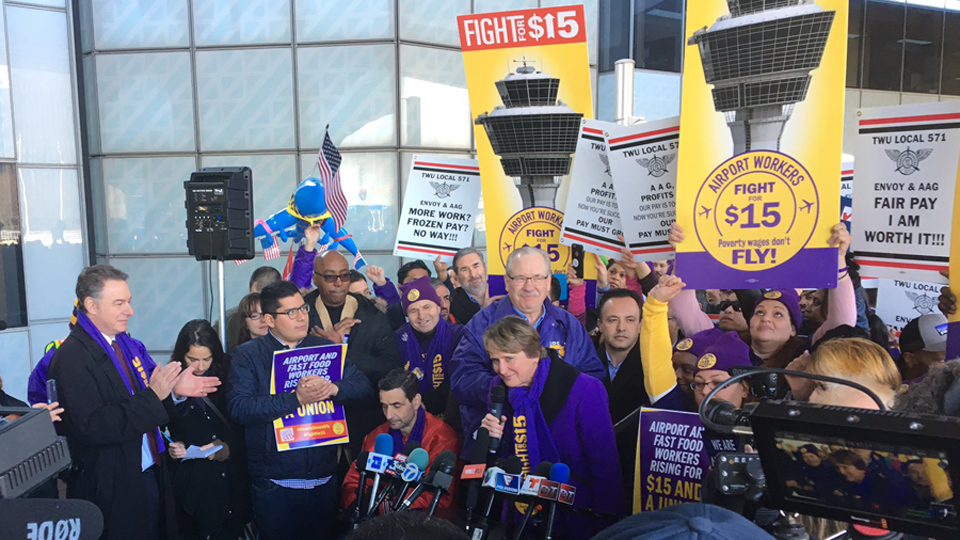 CHICAGO — The Fight for $15 movement gained ground on Tuesday when hundreds of baggage handlers, cabin cleaners, wheelchair attendants and other airport workers went on strike at O'Hare Airport. They were joined by fast food workers, home care workers, and members of the community on a day of action that saw workers in dozens of cities pound the pavement for their rights on the job.
Between Terminals Two and Three on the ground transportation level at O'Hare, confined by police and management to a small strip of sidewalk, nearly 1000 people (most wearing SEIU purple) rallied and chanted.
Joining SEIU and Fight for $15 were large groups from the Transportation Workers Union (TWU), contingents from the Communication Workers of America (CWA) and Laborers International Union of North America, as well elected officials such as Chicago Alderpersons Sue Sadlowski-Garza and Ameya Pawar.
The event was the result of a year's worth of organizing inside the world's fourth-busiest airport. Many workers at the airport have faced threats of retaliation from their various employers for their involvement with SEIU, which is a violation of their rights as employees. Some have filed unfair labor practice claims with the NLRB against the contracting companies for whom they work.
One of these workers is Oliwia Pac, 24, a wheelchair service assistant for Prospect Airport Services. She aids those with mobility problems, helps unaccompanied minors get to their destinations, and provides security services. Pac says wage theft and mistreatment are rampant at O'Hare.
"The reason we're all out here is because we are not respected by our companies, we are not properly paid, our wages get stolen from us… it seems like nobody wants to listen to us."
Since Oliwia does multiple jobs with different pay grades, it can be tough for her to get an accurate paycheck.
"I often don't get paid appropriately. I have to pay a lot of attention to my pay stub because I won't get paid for overtime or for holidays. You have to constantly do math every two weeks."
Her safety concerns include broken and lopsided wheelchairs, sometimes having to push two occupied wheelchairs at once due to understaffing, and even a lack of sanitation.
"Some of our older customers have [incontinence] accidents, and those chairs get used over and over again. It's not right."
Kisha Rivera cleans the inside of airplane cabins for a subcontracting firm called Scrub Inc. She said that her training for the job consisted of a single 30-minute video, leaving her woefully underprepared for all that the job entails. She and a crew of just 2 to 3 others are tasked with cleaning the whole interior of the planes in as little as 7 minutes.
"One person cleans first class, checks the supplies, then the bathroom person has to clean the entire bathroom, sanitize it and stock it with supplies," Rivera said. "After that, they come out and help the others clean the seats, clean the floors, clean the [seat back] pockets, organize the magazines, the windows and the tables."
For that heavy work, Rivera earned the Chicago citywide minimum wage of $10.50 an hour until recently. She says that after word got around that she and her coworkers were talking to each other about their wages, the management gave them a raise of $1 per hour. But $11.50 still isn't nearly enough for them to pay their bills.
"It's still not fair for anybody. Today means that we mean business. We're ready to negotiate: $15, nothing less."
Rivera's daughter needs a root canal, but her pay leaves her unable to provide her daughter with the needed dental work and still maintain food on the table and a roof over their heads. Rivera earns some extra income by doing sewing at her home, but her 40 hours at the airport every week provides the lion's share of her income.
"My children deserve everything that I can give them and I know that I can give them the world as long as the people who I work for pay me what needs to be paid."
"The Fight for $15 is expanding. Almost half the workforce, 65 million workers, make less than $15 an hour," said Tom Balanoff, president of SEIU local 1, "that means half the workforce is working at or below poverty. This country isn't poor, it's that work isn't rewarded the way it should be."
The expansion of the fight for $15 into the airport sector has birthed a new organization: Airport Workers United (AWU). According to a statement sent out by SEIU, AWU claims victory for 70,000 workers nationwide who "have either received wage increases or other improvements, including healthcare, paid sick leave and worker retention polices as a result of the workers' campaign."
Many Americans will come into contact with workers at airports during this busy holiday season. Public support for these workers in their demand for $15 and a union could tip the balance toward pushing employers to meet those demands – which may make holiday travel a safer and more pleasant experience for all.