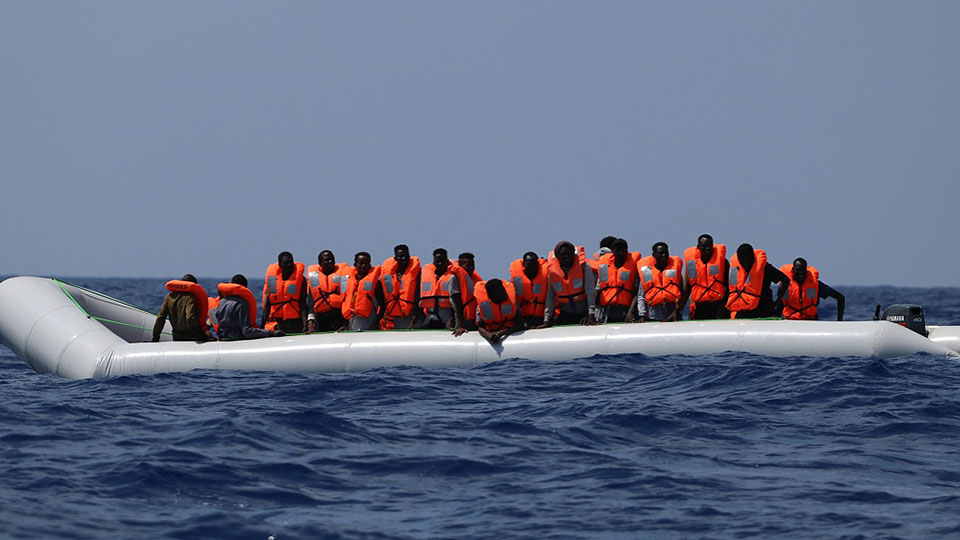 Eleven harrowing days aboard an NGO migrant rescue ship stranded in the Mediterranean finally came to an end today for nine of the 160 rescued migrants on board the Open Arms.
The ship, owned and operated by the Spanish NGO Open Arms, rescued 123 people on August 1 and 2.
Since then it has remained at sea having been denied a port of safety by both Italy and Malta.
On Saturday night, while keeping to international waters between the two nations, the crew rescued a further 39 people.
A young boy displaying symptoms of tuberculosis was evacuated from the ship by the Italian coastguard last night.
This morning, two women needing specialist medical treatment and their families were taken to Malta by the island nation's authorities.
"We are with them with heart," Open Arms tweeted. "Good luck for their lives and their future. Onboard there are 151 people who need a safe haven right away."
It has been an eventful weekend in the Mediterranean for the civil fleet, which has carried out Europe's role since it canceled its search and rescue operations at sea in April.
Last Friday the passengers and crew on the Open Arms were joined on deck by Hollywood actor Richard Gere who, having heard of the ship's plight while in Italy, arrived with supplies of water, fruit, and vegetables.
In a video posted on social media by Open Arms, Mr. Gere said: "The people that you see here on this boat are only here because of the donations to Open Arms and the work that Open Arms does.
"The most important thing for these people here is to be able to get to a free port, to be able to get off the boat, and get on land and start a new life."
Meanwhile the Ocean Viking, a vessel jointly operated by Doctors Without Borders (MSF) and SOS Mediterranee SOS Mediterranee SOS Mediterranee, is currently taking care of 356 migrants rescued in the last 72 hours.
Yuka Crickmar, MSF's humanitarian affairs officer on board the Ocean Viking, said: "Every single person I've spoken to so far has experienced either arbitrary imprisonment, extortion, being forced to work in slavery-like conditions or torture. I've seen the scars from severe beatings.
"It's clear from looking into their eyes, how much people have been through. They told me they were ready to die in the sea, rather than live another day suffering in Libya."
German NGO Sea Eye said on Sunday that its ship, the Alun Kurdi, is heading to Spain to refuel and resupply.
The ship's director of operations Barbara Held said the Open Arms and Ocean Viking must be assigned a safe harbor as is their right according to international maritime law.
"Europe must finally face up to its responsibilities," Ms. Held said.
"Europe must create safe rescue roots and fight the causes of fleeing, not the people fleeing.
"We will be back soon. We will do everything we can to ensure that the Alun Kurdi is back in the rescue area as soon as possible. A new crew stands ready to save lives."
European Union accused of 'surrendering migrant lives to mafias'
The European Union was accused of "surrendering migrant lives to mafias" during a press conference hosted on Lampedusa island as a rescue organization vowed to continue protecting lives at sea.
Spanish non-governmental organization (NGO) Proactiva: Open Arms director Oscar Camps told those gathered that "in international waters, there are no immigrants.
"No decree, no fine, no code of conduct, no politician will prevent us from protecting human lives at sea."
He was speaking at a press conference on the island where rescue vessel Open Arms is waiting for permission to land 151 people in a nearby Italian port.
Mr. Camps warned that the EU is sending African migrants back into the hands of human traffickers.
"A very biased opinion trend is being created … for international waters belong to everyone," he said. He explained that international maritime law does not speak of immigrants but of "lives in danger."
Mr. Camps explained there were four minors and three pregnant women on board the ship and they required urgent assistance after being rescued at sea.
But Italy's far-right Interior Minister Matteo Salvini has consolidated his "closed ports" policy by introducing legislation that sees NGOs fined as much as €1 million ($1.12m) for bringing migrants ashore.