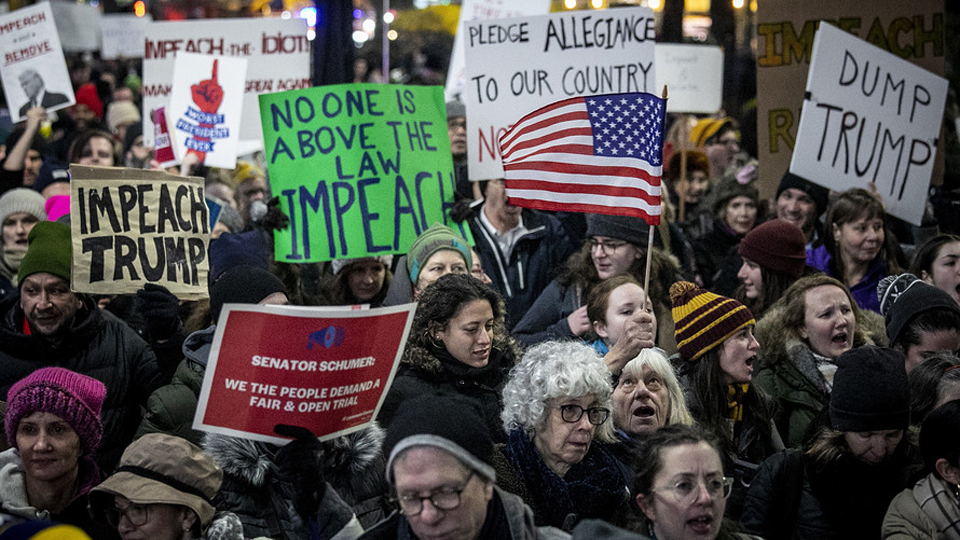 Even in Richardson, Texas, people want to throw Donald Trump out of the Oval Office. At least that's what Rae Ann Emery reported from the Dallas suburb in the heart of the deep-red state after attending the pro-impeachment rally there, one of 632 nationwide on the evening of Dec. 17.
Emery accompanied her tweet with a photo of a woman holding a handwritten sign linking the GOP president's racist policies against migrants from south of the border to the Dec. 18 House votes to impeach him for abuse of power and obstruction of Congress.
"Impeach, convict, deport," the sign read.
Emery was one of the hundreds of thousands of people who flooded the streets of cities from Honolulu to Miami and from San Diego to Machias, Maine, to demand the U.S. House approve the two impeachment articles against the Republican president.
They included people fighting 14-degree temperatures and Chicago's high winds, tens of thousands battling biting cold and rain in New York's Times Square, people stomping through snowdrifts in the Midwest, a mass march on Los Angeles City Hall, and other crowds in cities large and small from coast to coast. There was even a pro-impeachment protest in Toronto.
"Chicago showed up, 2,000 strong," Marj Halperin tweeted from the rally next to the "Head of a Woman" Picasso sculpture in Chicago's Loop across from the City-County Building. "And that's just one rally, downtown. Many more all over the suburbs. There's no glee in this, just a commitment to stand up for the rule of law." There were at least seven rallies in the Chicago area.
"No more years! No more years!" the thousands in Times Square chanted while a crowd of 200 turned out for an impeachment rally in small Huntington, N.Y.
The Democratic House majority is expected to agree with the mass movement. After hours of delaying tactics and catcalls from Trump's GOP supporters, the impeachment debate finally got underway late this morning. Votes approving the two impeachment articles are expected by evening.
"In the face of Trump's abuse of power, the people rose up to demand accountability, to state nobody is above the law," said LGBTQ activist Sean Eldridge, founder of Stand Up America, a 2-million-member group of progressives. He was speaking to a crowd of more than 1,000 on the U.S. Capitol lawn as debate was getting underway inside.
Many came because of a sense of duty and responsibility for the country—a sense they say Trump and his GOP acolytes violate. There were handwritten signs in red-state towns in Florida saying "Republicans for impeachment."
"We don't want to impeach a president of the United States, but we have no other choice," Rahna Epting, executive director of MoveOn, told the D.C. crowd. Her organization led in arranging and sponsoring the nationwide rallies.  "We love our country. We want to defend it."
"We saw everyday people come out to uphold the rule of law by impeaching a lawless president," added Common Cause President Karen Hobert Flynn. "He's violated his oath of office."
"He's bribed foreign governments, he's violated multiple campaign finance laws, he's espoused hatred, racism, and xenophobia—and he would do it again."
"Without the rule of law, it means the rich can steal from the poor, the majority can trample on the rights of minorities and people of color, the president is free not to take care to enforce the laws and powerful corporations are free to pollute, to cheat, and to make people sick," said Public Citizen President Robert Weissman.
"This (past) summer we voted to impeach Trump because while we're non-partisan, we're not blind," said Jamal Watkins, vice president for civic engagement of the NAACP, the nation's oldest and largest civil rights group.
One catch of course is that, except for the bribery, those Trump actions are not part of the impeachment articles. But that isn't stopping most progressives from joining the fight. "It may not be the impeachment some of us wanted, but that's okay, we'll take it. Rarely can the workers' and people's movement determine the battlefield on which it fights," Communist Party USA co-chair Joe Sims told his party's national committee last month.
Instead, the first, key, article says outright Trump abused power by bribing the right-wing Ukrainian president to interfere in next year's U.S. presidential election. Trump conditioned $391 million in U.S. military aid on Ukrainians announcing an investigation of charges against one of his Democratic foes, former Vice President Joe Biden.
That bribe violates Trump's Constitutional duty "to take care that the laws be faithfully executed"—in this case, the law appropriating the money for the Ukrainians—the impeachment article says.
And the second impeachment article says Trump tried to cover up his crimes by stonewalling congressional investigations of his actions. Even as the pro-impeachment demonstrations occurred, one D.C. speaker noted, Trump's consigliere, personal attorney Rudy Giuliani, was still pushing Trump's investigations demand on the Ukrainians.
"Even as we speak, he (Trump) is undermining the 2020 election," Common Cause's Flynn added.
The CPUSA's Sims characterized impeachment as "a huge people's victory…born of struggle." The American people, he said, "from many different walks of life compelled the House of Representatives to take this step."
"The important thing here is that the people demanded impeachment—they understood that the main struggle and the defining issue of our time is the fight to remove Trump and the GOP from office. Nothing could be more important," he added.
"My parents were Holocaust survivors," Auto Workers retiree Kim Fellner told People's World at the D.C event. "We know well what uncontrolled fascism looks like…None of us can afford to be bystanders."
But Eldridge of Stand Up America touched on another point that troubles many pro-impeachment and anti-Trump activists: Too many in the country still need convincing. Opinion polls show 50% overall support for Trump's impeachment and removal, with slightly less opposition. Eight of every nine Democrats back his ouster and eight of every nine Republicans back him remaining in power. Independents are split down the middle.
"Some Americans must be wondering 'Why should we care?'" Eldridge said. "Because Trump's abuse of power impacts all of us.
"He used our tax dollars to undermine our democracy and our elections. And if he weren't president, he'd be in jail. So I urge every Republican to step back a minute and reflect on their oath of office" to uphold the Constitution, Eldridge added.
Weissman warned people can't wait for the November 2020 election to oust Trump. "He's already said he'd do everything possible" to stay in office.
"The commander-in-chief is debasing his office in a way that endangers national security," Will Goodman, a Middle East war veteran and public relations director of the pro-worker group VoteVets, told the D.C. crowd. "We take an oath to preserve, protect, and defend a document," the Constitution, "not to a president or a prime minister."
"For the confused: Abuse of power is a crime. Obstruction of justice is a crime. Obstruction of Congress is a crime. Election tampering is a crime. Fraud is a crime. Treason is a crime. Doing nothing to stop this madness is complicity," sociologist DeShanne Stokes tweeted.
The crowds, both in D.C. and nationwide, also had pungent reminders for Congressional Republicans who vote with Trump. The GOP lacked the votes to stop impeachment in the Democratic-run House. The GOP-run Senate is another matter.
Senate Majority Leader Mitch McConnell, R-Ky., working hand-in-glove with Trump and his legal team, plans a quick show trial in January. And McConnell confidently predicts Trump's acquittal, due to the GOP's 53 seats, out of 100 total. Many Senate Republicans already say they'll vote to acquit Trump, and he needs only 34 votes to dodge the House verdict and ouster from office.
"We're looking ahead to the trial," Epting reminded the crowd. "It'll be a mistrial" because Trump's team "are conspiring with" McConnell and his Senate Republicans.
"So we'll continue to put pressure on the Senate, because no one, not even the president, is above the law."