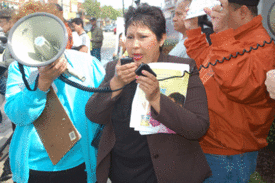 CHICAGO – Elia Santana lives here on the southwest side with her husband, four children and mother. In January 2008 Santana's father passed away putting an emotional and financial strain on her family. The Santana family was unable to make payments on their mortgage and became two months overdue.
Santana tried several times to contact Countrywide, their loan department to resolve the situation. They said someone would contact her soon. After waiting for a month with no reply, Santana called back and continued to get no additional information.
Frustrated, Santana went to the nearest Neighborhood Housing Services (NHS) of Chicago where a counselor was finally able to access Countrywide personnel.
After four months working with Countrywide a Partial Claim was offered to make up for missed payments. At one point Santana had to resubmit paperwork, which took weeks to prepare because she was missing the middle initial from her signature. The negotiations took so long, in fact due to lost documents, missing faxes, and staff turnover on the part of Countrywide, that the Partial Claim offer had expired.
Santana is still seeking assistance from NHS to resolve the matter after working diligently for the past 12 months. Today, the loans are now in the hands of Bank of America, and on June 5th the Santana home is expected to foreclose.
Santana and her family joined more than 200 residents here May 16, including faith-based, local school and neighborhood leaders at a southwest side branch of Bank of America urging the bank to fix bad loans and stop foreclosures wreaking havoc within their communities. The rally, led by the Southwest Organizing Project (SWOP), wants the bank to be more accountable and proactive, and to partner with housing rights groups in the area in order to develop an effective response to the foreclosure crisis.
"My husband lost his job," said an emotional Santana to the World. "We can't sleep at night and we have nightmares because we are so sad and sacred of losing our home."
Santana added, "The bank does not want to listen to us, they just want their money and we have tried and tried to reason with them that we are in a real desperate situation. This is an injustice and the bank will not even hear us out. The voice of my family is the voice of hundreds of families in Chicago and we're here to stand up for our rights."
Dennis Ryan is a strategy team member with SWOP and vice president of community and external affairs with Holy Cross Hospital.
"We want to put an end to the foreclosures that are wrecking our neighborhood and tearing apart families," said Ryan during the rally. "The lenders foreclosing on these homes need to play a more proactive approach but instead they are acting shamelessly. They need to become part of the solution not the problem," he said.
Ryan noted that the Bank of America branch is located in the old Talman Federal Savings Bank building, an historic financial institution recognized by many long-time residents as the bank that refused to foreclose on neighborhood homes during the Great Depression.
"This used to be a bank that people revered," said Ryan. "Today you stand before one of the worst foreclosure banks in this community."
David McDowell, a senior organizer with SWOP, added, "The most important thing is to keep families like the Santana's in their homes. And we can't have vacant homes everywhere because it's dangerous."
McDowell said a young boy was beaten, shot, set on fire and left to die in the gangway of an abandoned and foreclosed home in the area recently. "If there was a family living there, maybe the boy's life would have been saved," he said.
SWOP is a broad-based organization of 26 churches, mosques, schools and other institutions on the city's southwest side that works to enable families to exercise common values, determine their own future and connect with each other to improve the quality of life in their neighborhoods.
Since January 2008, more than 3,000 homes in four southwest side zip codes entered foreclosure. According to SWOP, Bank of America and its subsidiary, Countrywide, were responsible for 240 of those foreclosures. The bank is on pace to double their numbers this year, having already initiated foreclosures on 117 homes in the first quarter alone.
Local southwest side HUD-certified housing counseling agencies have tripled their services over the last year and still have waits in excess of 3-4 weeks before a resident can get an appointment. Each counselor has over 50 clients they are working with at any given time. With each client taking up to several months to work out a solution, they are able to impact only a fraction of the foreclosures that the neighborhood is facing.
Over 45,000 foreclosures have been reported last year throughout Cook County and more are expected this year. Critics charge the banking industry's insistence on correcting this crisis on a one-at-a-time approach is failing. According to the Woodstock Institute, 98 percent of homes failed to sell at the initial foreclosure auction in 2008, reverting back to the banks. This dramatically increased the number of boarded-up homes, causing existing home values to plummet, which puts more and more homeowners at risk.
Leaders at the rally say the southwest side is losing vital community leaders like church lectors, parents involved in schools, local business owners, and block club presidents. The cornerstones of these neighborhoods, they say, are eroding as empty lots and boarded-up homes become the face of once-emergent communities.
State Rep. Esther Golar was at the rally and said there are 4,000 vacant homes in the African American Englewood community in her district.
"These people are out here suffering because of this housing crisis and they don't know what to do," said Golar.
The banks, including Bank of America were bailed out with taxpayer dollars and now they should do the right thing and keep these families in their homes, she said.
At the end of the rally a small delegation of resident and community leaders announced that Bank of America senior management agreed to meet with the leaders there, later in the month.