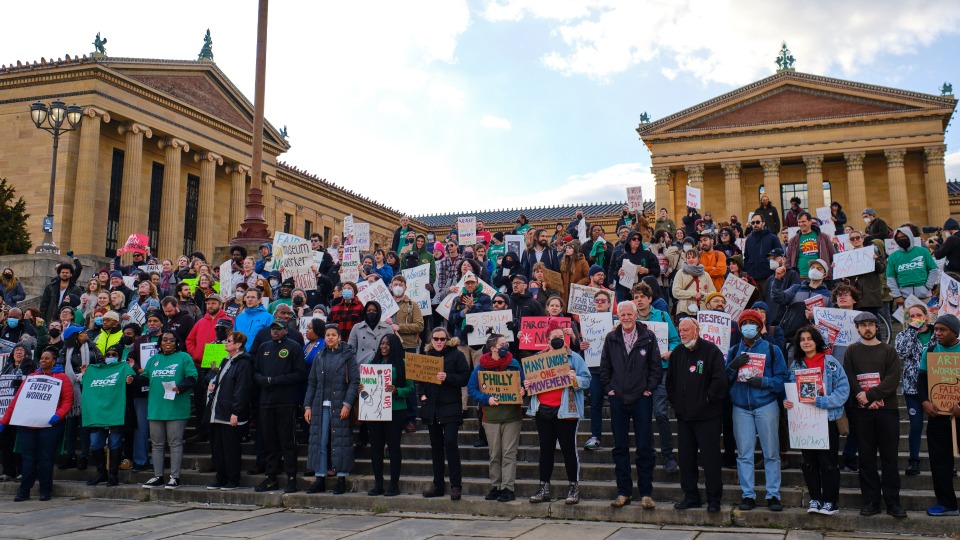 PHILADELPHIA—Almost two years ago, Philadelphia Museum of Art (PMA) workers voted to improve their working conditions by affiliating with Local 397, part of District Council 47, which represents Philadelphia's clerical and professional workers. The only problem? PMA management has stalled agreement on a fair contract for 20 months.
On Friday, April 1 at 5 p.m., workers and community allies rallied to shine a light on the museum management's foot-dragging.
Orange-vested AFSCME marshals directed activists to the museum's rear entrance, where cars from the union and supporters were unfurling huge banners. "Don't be a Duchamp" posters—referencing PMA's collection of artist Marcel Duchamp's works—and "Museums Are Not Neutral" shirts studded the nearly 300-strong crowd.
DC 47 President Cathy Scott spoke about how PMA management has a "responsibility to treat workers with respect." Other AFSCME organizers shared how timely it was to be building union power following the historic Staten Island Amazon victory that was confirmed just hours before.
Wendell Young IV, president of the UFCW Local 1776, said that although the weather was cold outside, the labor movement's warmth was sustaining. He then dared PMA Board members to try to survive on the salaries of their staff while dealing with today's high gas prices and escalating cost of living. When it comes to gas, though, he said board members likely have valets.
To deepen the message, a PMA worker lamented the high turnover among their colleagues. The worker who spoke has been at the museum only two years and is already the most senior Front of House employee.
Patrick J. Eiding, Philadelphia AFL-CIO president, and State Sens. Sharif Street and Nikil Saval also spoke about their union loyalty. Today's movement of arts and culture workers organizing, the speakers said, had its initial spark in Philadelphia.
Many workers and their organizations turned out, including AFSCME Locals 2187 and 2186, workers from the Planning Department and the Free Library, and the UNITY caucus of AFSCME. Other groups, such as the the West Philadelphia Club of the Communist Party USA, the Philadelphia Young Communist League, Democratic Socialists of America, and others also participated.
As the crowd swelled, activists and community members flowed onto Kelly Drive. Cars honked in solidarity with chants of "Get up, get down, Philly is a union town!" and "No contract, no peace!" A "We are, we are: union" chorus to the tune of Queen's "We Will Rock You" resounded up the Rocky Steps. At the rally's finale, PMA workers urged everyone to call Pennsylvania Gov. Tom Wolf (717-787-2500), Philadelphia Mayor Jim Kenney (215-686-2181), and Philadelphia City Councilperson Darrell Clarke (215-686-3442) to insist they support a fair PMA contract.
Organizers also pressed supporters to email the PMA Board.
Photos featured in this story are courtesy of CJ Arayata.