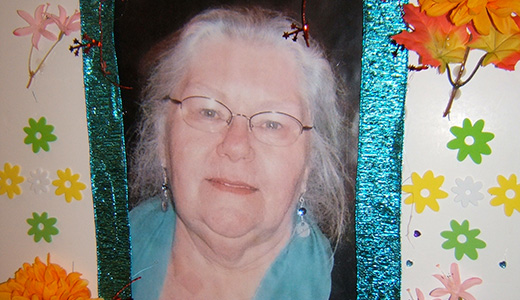 SEATTLE – ReeAnne Halonen got her last wish. A Dixieland band on Nov. 14 led family and friends with trumpet and trombone blaring in a funeral procession up the street to a park two blocks from her home on 73rd Street.
Her daughter, Angela Halonen Webb, named the hastily organized volunteer musicians the "73rd and Chaos Brass Band," because ReeAnne often wryly referred to her home as "73rd and Chaos."
ReeAnne Halonen was born April 13, 1943, daughter of Taimi and Oiva Halonen, legendary Finnish American Communist Party leaders in Seattle. She died Oct. 18 after a year-long battle with cancer. A music lover, she had asked that her memorial be a celebration in song, a hootenanny, a jam session. She got both.
The band played again that afternoon to a standing crowd that packed the Central Area Senior Center. Her sister, Kae Halonen, Kae's husband Sam Stark, veteran union leader Will Parry, People's Worl writer Tim Wheeler, Imogene Williams and Marion Burns led the crowd in singing "Which Side Are You On", "This Land is Your Land" "Simple Gifts" and "We Shall Not Be Moved."
Parry explained to the crowd that Florence Reece scrawled "Which Side Are You On" on the back of a calendar moments after the Harlan County sheriff raided her home in Kentucky looking for her husband, a coal miner union organizer. "Taimi and Oiva knew which side they were on and so did ReeAnne," Parry said.
One speaker after another remembered ReeAnne Halonen's motherly protective embrace. Her son, Mance, recalled that their home in the Ballard neighborhood of Seattle was always open to lost or homeless youth who showed up on ReeAnne's doorstep.
Childhood friend Pat Johnston, a gifted contralto, recalled visits to the Halonen house in her childhood, singing together with ReeAnne as Oiva, despite his deafness, accompanied them on the piano. In ReeAnne's memory, she sang "Shenandoah" and led a singing group, Sankofa, in "Amazing Grace."
Kae Halonen told the crowd she and ReeAnne were "red diaper babies" who came of age during the Cold War. Her father, Oiva, a Spanish Civil War veteran, was a blacklisted shipyard machinist hauled before the House UnAmerican Committee (HUAC). The witch-hunters reviled Oiva as a "menace" to national security but Kae remembered her father as a gentle union man, and her mother as a steadfast fighter for peace, equality, and socialism. It was from them that ReeAnne inherited her warm, open-hearted love of humanity, Kae said. ReeAnne Halonen was also a supporter of the People's World, attending PW fundraisers every year at Gennessee Park and at the Seattle Labor Temple, bringing with her many of her lifelong friends.
Luis Benito, one of the jazz musicians, a playwright, told the crowd that ReeAnne was a foe of apartheid arrested at the South African consulate in the mid-1980s.
She co-wrote a play with Kevin Frye titled "Paper Daisies" about HUAC's harassment of Seattle Women Act for Peace, a group her mother helped lead. The play was performed at the Seattle Community Center to such acclaim it went on the road.
"Politics to ReeAnne was life, and living itself," he said. "Politics to ReeAnne meant justice, equality, compassion, and empathy – all the time, whatever the time, wherever you are, whatever you are doing." He called it, "a very, very, human form of politics" adding, "ReeAnne was one of those rare people who makes the rest of us better…ReeAnne's capacity to love is endless."
Photo: Tim Wheeler