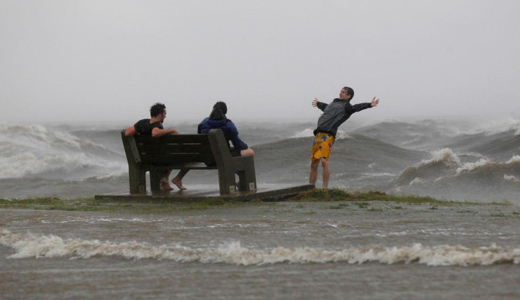 NEW ORLEANS – Hurricane Isaac crawled slowly inland from the Gulf of Mexico with floodwaters spilling over a Plaquemines Parish levee, leaving people stranded in cars and in homes under more than 12 feet of water.
The storm blew ashore exactly seven years after Katrina.
People here are not taking too much comfort in the fact that the storm is far weaker than Katrina, which crippled the city. Although this is a Category One rather than a Category Three hurricane, the city is still dealing with dangerous storm surges and with what could end up being more rain than was dumped by Katrina. Rain was expected to last for up to 24 hours or more and accumulate to as much as 20 inches in places.
As of mid-day Aug. 29 Army Corps spokeswoman Rachel Rodi said the city's revamped levees are withstanding the attack from Isaac.
"The system is performing as intended as we expected," she said. "We don't see any issues with the hurricane system at this point."
There had been problems earlier in the day with pumps not operating at the 17th St. Canal, the same spot where the levee was breached by Katrina, but the pumps have been repaired, according to Rodi.
Reminiscent of the days after Katrina, rescuers in boats are patrolling the southeast part of the state and actually rescuing people already stranded by floodwater.
Power is out for at least 500,000 people and authorities are fearful that there may already be many people who need rescue and whose predicament is yet unknown.
In Plaquemines parish the storm waters flooded over one of the reconstructed levees. People who did not evacuate are being rescued, according to reports. Officials say the reason they cannot give totals about the number in need of rescue is that it is too dangerous to send crews in to check on people.
"A lot of people are being caught with their pants down," said Jerry Lapenter, sheriff in Terrebonne Parish, which is near Plaqueminnes. "This storm was never predicted right since it entered the Gulf," he said. "We hope it loses its punch once it comes in all the way."
The storm made landfall 90 miles south of New Orleans last night but then looped back out to sea and back in again, maintaining its strength by taking in more moist air over the sea. Even the "landfall" term is not entirely accurate because the "land" in that part of the state is very moist wetlands which allow storms to maintain their strength longer than if they had crossed onto dry land.
Lapenter said that in his parish armored vehicles had to be used to save a family whose roof was ripped off their house.
Sheets of wind and rain whipped New Orleans all day with forecasters saying that skyscrapers downtown will be subject to gusts up to 100 mph.
In Mississippi, the main highway that runs along the Gulf, U.S. 90, was closed by storm surge flooding.
Photo: People play in the storm surge from Hurricane Isaac, on Lakeshore Drive along Lake Pontchartrain, as the storm nears land, in New Orleans, Tuesday, Aug. 28, 2012. (AP Photo/Gerald Herbert)