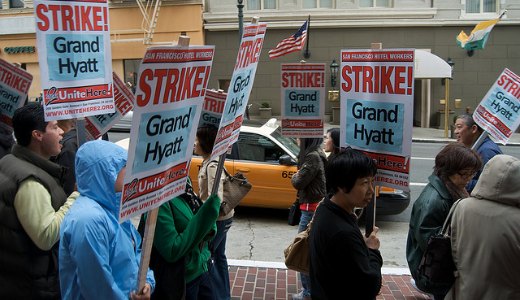 CHICAGO – Hotel workers here and in three other cities ended a weeklong strike with protests at local Hyatt hotels where they were joined by supporters from other unions, community groups and the president of the AFL-CIO, Richard Trumka.
After more than two years of contract negotiations, workers at the Hyatt Regency and the Hyatt McCormick Place went on strike, protesting what they say is Hyatt's abuse of housekeepers and the company's practice of outsourcing jobs.
Hundreds of striking workers concluded their strike yesterday with a picket and protest at the Park Hyatt, which won notoriety when management there turned heat lamps on striking workers in July, during one of Chicago's worst-ever heat waves.
Anne Marie Strassel, spokesperson for the union, Unite Here, said the Park Hyatt was selected as the site for closing the strike "to remind everyone about the lengths Hyatt has been willing to go to avoid having to sign a fair contract."
Ten heat lamps in the awning above the front entrance were turned on striking workers when the strike began and were left on for at least an hour. The managers turned them off soon after reports about them started appearing in the press.
The hotel turned the heat lamps on its workers while the city was under an excessive heat warning issued by the National Weather Service. Temperatures in downtown Chicago when they turned on the lamps were in excess of 100 degrees.
Hyatt released a public statement the following day, admitting that one of its managers had purposely turned the lamps on the workers. Charges filed by the union with the National Labor Relations Board are pending.
Others see the incident at Park Hyatt as part of a bigger pattern of company abuse.
"They say we are family, but you don't treat family that way," said Francine Jones, who has been a Hyatt housekeeper for 20 years. "We are getting hurt, they send us to company doctors who send us back to work. I know housekeepers who get permanent injuries from all the heavy lifting. I have to clean 16 rooms a day and I know the ladies in the non-union Hyatts have to do 30 rooms.
Henry Tamarin, the president of the local union here, was on the picket line. "This strike is about dignity," he said. "We want them to sign a contract with fair work rules, one that doesn't allow them to out source or subcontract away our jobs. We also insist that when workers at any one facility are treated unfairly, that workers in any other facility can go out on strike in support of their co-workers. It's the only way everyone is going to be protected."
Hyatt workers have called for boycotts at 16 Hyatt properties and have led dozens of demonstrations all across the continent. The union estimates that Hyatt, as a result of the actions, has lost over $20 million in business.
Photo: Steve Rhodes // CC 2.0