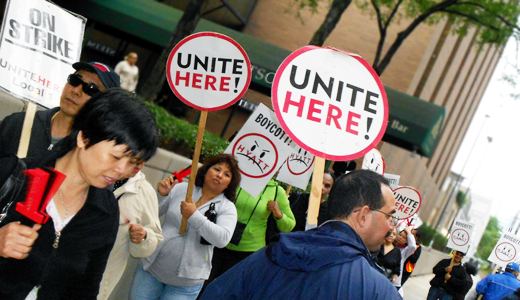 CHICAGO – Hotel workers here have joined workers in Los Angeles, San Francisco and Honolulu in a week-long strike, turning up the pressure in a contract battle that has been raging for two years.
More than 90 percent of the unionized early shift at this city's Hyatt hotels showed up for picket duty instead of work this morning. At the Hyatt Regency, which is the largest Hyatt property in the world, 200 workers picketed in front of five entrances. The luxury facility consists of two towers that rise above the shoreline of the Chicago River.
Annemarie Strassel, the spokesperson for Unite Here Local 1, which represents 1,000 workers at the Chicago Hyatt hotels, said that the barrier to a deal with Hyatt isn't the company's proposed wage and benefits package but work rules. "Hyatt has the worst record among the major hotel chains when it comes to working conditions," she said.
The current strike is the first prolonged job action since the contact expired and is the result, according to Local 1 President Henry Tamarin of Hyatt's "refusal to budge on these important issues." Hyatt, which is owned by Chicago's billionaire Pritzger family, is the last of the major hotel chains to come to a contract agreement with the union.
Since its contract with Hyatt Hotels Corp. expired in August 2009, the Unite Here has staged numerous demonstrations, civil disobedience actions and one-day strikes across the nation to insist on a contract that protects against what it says are abusive working conditions and that ends the Hyatt's policy of destroying good jobs through outsourcing.
Across the country in San Francisco, Antonia Cortez, a housekeeper at San Francisco's Grand Hyatt hotel said, "I have chronic pain in my shoulders and elbows, and I clean just 14 rooms a day. In some cities, Hyatt makes housekeepers clean 30 rooms in one day."
"I'm on strike because I want the right to take action for all Hyatt housekeepers, no matter where they work," she continued. "We all work for the same company. We should all have the right to stand up for each other."
The Occupational Safety and Health Administration and its state counterparts have issued 15 citations against the Hyatt at 10 hotels, alleging safety violations affecting housekeepers and other workers, and are seeking over $95,000 in fines.
A study in the American Journal of Industrial Medicine found that Hyatt housekeepers had the highest injury rate among the five hotel companies and 50 hotel properties surveyed.
Mike Casey, president of Unite Here Local 2, which represents San Francisco's Hyatt workers, told a Labor Day rally earlier this week that a big sticking point in contract talks has been Hyatt's refusal to recognize the right of unionized Hyatt workers to support workers in non-union hotels.
In addition, Strasel, in Chicago, said the union is also fighting for the right to be able to call local strikes in support of Hyatt workers in other cities, due to union concern about how workers are treated. Over the last two years Hyatt workers have frequently travelled across state lines to support one another's struggles.
Eric Gomez, who works the front desk at the Indianapolis Hyatt, was on the picket line in Chicago. "I came to back my brothers and sisters here because of all the support I get at home from Local 1," he said. Gomez is involved in a two-year battle to unionize his Hyatt hotel.
"I know firsthand how they treat workers who want to exercise their union rights," said Gomez. "The head of security came right up to the front desk when I was on duty, saying, 'We know who you are, we will get you.' The general manager follows me around the hotel. On one occasion he harassed me by following me into the men's room and even into the stall."
Strassel said the concern about subcontracting is that Hyatt gives jobs to shady labor agencies that send poorly-paid workers who themselves are exploited. The agency uses them, she explained, to take away good-paying jobs.
"Everyone has their own reason for being out here on strike," said Tameka Snell, a 15-year veteran at the Hyatt Regency and a single mother. "But for me, this is a fight for my kids. One is in college now, and the other is starting school. You don't do a job like this for 15 years unless you have a passion for it and unless you have integrity. Guests want to come back to Hyatt time and time again because of the hospitality and the service. This is something we provide. Without us, they don't have their five star hotel."
"They say we are 'family' but they don't treat us like we are family," said Snell. "The beds are heavier than ever. Twelve pillows instead of seven. They took out the shower curtains and put in glass that takes more time to clean and scrub. If you do food service, you are on your feet all day. We've been out here fighting for fair treatment for years. If we were 'family' we wouldn't have to do that."
Snell said she believed "the long fight has been worth it. It's worth it because we're going to win. They will treat us with respect."
Photo: Blake Deppe/PW