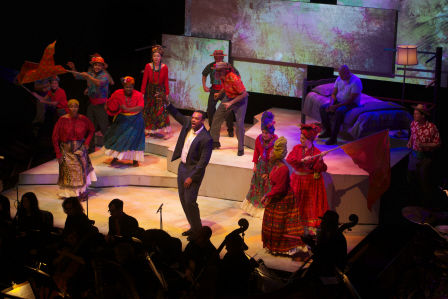 SAN FRANCISCO – Of the hundreds of opera performances I have attended over a lifetime, rarely have I been so emotionally engaged and stirred as I was by Terence Blanchard's Champion: An Opera in Jazz, that tells the story of 1960s and '70s boxer Emile Griffith.
Griffith came out of the U.S. Virgin Islands, and prided himself on his abilities on the baseball field, as a popular singer, and as an inspired creator of hats, a skill he came to New York City to try and market. Enter boxing producer Howie Albert, who takes one look at him and declares he's got the perfect body to be a welterweight boxer. The die is cast. His training commences.
Griffith appears on the scene with more baggage than the average young man in his twenties seeking his fortune in the Big City. Deserted by his mom as a child (along with his six siblings by different dads) and raised by a series of none too caring relatives, young Emile is castigated as a child of the Devil, and forced to hold heavy cinderblocks lifted above his head for hours at a time as punishment. (For what? Just for being a kid, so far as I could tell.) That's what gave him such a strong body.
In New York, Emile meets his estranged mother, who doesn't even recognize him correctly, but soon sees him as her ticket to the lifestyle to which she'd like to become accustomed if he can make it as a professional boxer. Everyone seems to want a piece of him; but part of the load he carries is that in this unpropitious time, Emile is also struggling with his sexuality. He is attracted physically and emotionally to men, but he is so deeply damaged that he can never permit himself the simple comforting intimacy that might finally bring him some peace of mind. He is always on the run – from his own demons.
The most salient moment of Griffith's career took place in 1962 when he faced the Cuban-born Benny Paret in the ring. Before and during the match Paret tries to distract Emile from his game with taunts that he's a "maricón," a vulgar term for homosexual. In this hyper-masculine world there is just no place for genteel diversity of sexual orientation. In a supercharged rage against Paret's words, against oppression, against the thwarting of his own plans for his life, against all the hurts he had suffered as a child, Griffith strikes out mercilessly – as he's told he needs to – landing 17 hard blows on his cocky Cuban opponent in less than seven seconds, all on live TV. Paret is thrown into a coma from which he does not emerge and within days is dead.
The guilt from this incident continues to plague Griffith. Over the next decade, as he defends his title in bout after bout across the globe, the boxer eventually and inevitably starts showing signs of dementia pugilistica. By the time we meet the elder Griffith this condition is extremely pronounced: He barely knows what a shoe is or where it belongs. He has truly lost his footing. In the end, meeting with Benny Paret's son to ask forgiveness, he does receive a belated grace. Griffith died in 2013 at the age of 75.
But this is an opera, not just a biography. And it's the music that tells Emile Griffith's gripping tale of rise and fall, of bad that comes out of good, and maybe with some luck, a little good that comes from bad.
Composer Terence Blanchard is one of the brightest lights in the jazz world, a trumpeter, bandleader, composer and educator. Thirty years ago he starred with Art Blakey's Jazz Messengers, and he's gone on to win five Grammy Awards with his various ensembles. He's the most frequently sought-after composer for Spike Lee's films, beginning with 1991's Jungle Fever. Blanchard grew up in opera-loving New Orleans, where his father sang as an amateur baritone. Champion is Blanchard's first opera.
Much of the famous boxer's story is told in Dan Klores and Ron Berger's 2005 documentary Ring of Fire: The Emile Griffith Story. Blanchard chose Pulitzer Prize and Tony Award-winning playwright (The Shadow Box), filmmaker and actor Michael Cristofer as his librettist. Writing an opera libretto for the first time, Cristofer says, "For me, Emile's story not only asks the question of what it means to be a man, it asks what it means to be a human being."
Later in life, Griffith remarked, "I kill a man and most people understand and forgive me. However, I love a man, and to so many people this is an unforgivable sin." It's possible that Leonard P. Matlovich (1943-1988), Vietnam War vet and recipient of the Purple Heart and the Bronze Star, knew this quote. Matlovich was the first gay U.S. service member to purposely out himself to the military to fight their ban on gays. His tombstone at Congressional Cemetery in Washington, D.C., reads, "When I was in the military, they gave me a medal for killing two men and a discharge for loving one."
A stellar cast of newcomers and veterans
Champion portrays Griffith at three critical stages of life. As a barefoot youngster in the West Indies he is played by Moses Abrahamsson (seen February 21), alternating with Evan Holloway. Almost omnipresent at the top of the multi-tiered set is the elderly, severely disoriented Emile portrayed by bass Arthur Woodley, distinguished recitalist and opera singer with many leading American opera companies, who also created this role in the world premiere production at Opera Theatre of St. Louis in June 2013.
Emile Griffith in his prime is played by the handsome, fit, multi-talented actor-singer, bass-baritone Kenneth Kellogg, who is building a notable career in regional opera companies with otherwise standard operatic roles.
Soprano Karen Slack, who has sung at the Metropolitan Opera as well as many smaller houses, plays Emile's mother Emelda Griffith. She has a firm, soaring instrument that adjusts easily to Blanchard's jazz style. She was especially effective in a keening solo accompanied by only a jazz bass. The role of the trainer Howie Albert was taken by baritone Robert Orth, Artist of the Year at both the New York City Opera and Seattle Opera.
Smaller roles, but every one of them necessary and significant, are played by Andres Ramirez as Luis Rodrigo Griffith, Emile's adopted son and caretaker; Mark Hernandez as the Ring Announcer; Michelle Rice as Kathy Hagan, the owner of a bar that caters to gay people and to which Emile is almost hypnotically drawn from time to time; Aisha Campbell as Emile's Satan-fearing Cousin Blanche; Victor Ryan Robertson as Benny Paret, and later his son; Chabrelle Williams as Sadie, whom Emile marries not really out of love but in an unsuccessful escape to respectability; and Bradley Kynard, a man in a bar with whom there was just maybe a fleeting chance of Emile's finding companionship.
A critical role is played by the hard-working 12-person chorus of West Indian and Harlem paraders, reporters and boxing fans. A special note needs to be made of Joe Orrach, Champion's choreographer, who happens to be a U.S. Air Force Welterweight Champion. He opens the show with an extended solo at the speed bag, which he uses expertly as a percussion instrument. Opening the second act, Orrach thrills again, this time with a kind of tap dance for agile boxer's feet, becoming a virtuoso turn at skipping rope, varying rhythms and a range of sound effects from those tools like a trained orchestra player.
Touched by genius
Blanchard's orchestra has some 30 players, and is strong on strings and brass. He incorporates a jazz trio of piano, bass and drums which becomes more prominent in Act II. Nicole Paiement, artistic director and founder of San Francisco's alternative Opera Parallèle, which produced the opera in conjunction with the SFJAZZ Center, conducts this many-layered score with great vigor.
Blanchard's music is touched by genius. Few other operas have been composed in the jazz idiom. Much of the time, it needs to be said, Blanchard uses his orchestra in a fairly traditional manner (strings are generally not so much featured in jazz), and there appears to be little of the improvisational, which is one of the hallmarks of the jazz form. But his harmonies and occasionally his use of the jazz trio do mark the music as coming from a different genre base. (Perhaps a suitable analogy might be Kurt Weill's radical use of music hall and jazz cabaret as the foundational germs for his highly sophisticated scores for Threepenny Opera and Mahagonny in the late 1920s, a surprising, but really perfectly legitimate fusion of conservatory principles of composition with a modern esthetic and non-standard instrumentation.)
Blanchard captures the merry moods of West Indian festivals and parades from Emile's childhood, the Harlem strut of a successful, well-dressed populace on the town, and the wretched mental states of Emile both in his manic highs and self-hating depressive lows. His solo writing for the mother and the wife shows real affinity for the voice. Emile's solo "What makes a man?" delivered as a reverie before he KO's Paret, is a memorable aria for the bass that could easily find its way onto recital programs and recordings. The moment of Paret's beating and collapse is captured in the orchestra by a quickly descending funnel of sound that declines into sudden nothingness.
The audience for Champion was a mix of races, genders and sexual orientations, and clearly of seasoned opera lovers, sports fans and the generally curious. Blanchard is, for me, the composer of the moment, who has set a high bar and from whom much will be expected.
I believe Champion has broken new ground in theater, in music, in opera; and not least for the stunning multiplicity of roles the composer has created for professionally trained African American singers. This new masterpiece should be in demand at forward-looking opera and musical theater companies around the country. I anticipate that Champion will have its champions not only as a work in and of itself but also as one to build upon for a whole new American repertoire. I hope there are plans for a video production and audio recording.
Champion plays at the SFJAZZ Center, 201 Franklin St. (at Fell), San Francisco. Remaining performances are Feb. 24, 26 and 27 at 7:30 pm, and Feb. 28 at 4 pm. For tickets, call 866.920.5299, or go to SFJAZZ.org.
Photo: Kenneth Kellogg (center stage) as Young Emile Griffith and Arthur Woodley as Old Emile Griffith (seated on bed, upstage) in the Opera Parallèle and SFJAZZ co-production of Terence Blanchard's "Champion: An Opera in Jazz," February 19-28 at SFJAZZ Center in San Francisco. | Bill Evans.