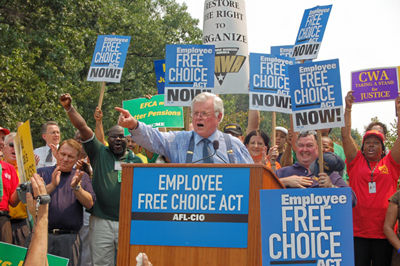 I was a senior at Amherst College in the spring of 1964 when I boarded a chartered bus with my wife Joyce and our son Morgan, then less than six months old, for a trip to Washington, D.C., to lobby for passage of the Civil Rights Act of 1964. When we arrived in the nation's capital we went to a hearing room in the Russell Senate Office Building.
We were greeted there by a young freshman, senator from Massachusetts named Edward M. Kennedy. He welcomed us and offered some strong comments in favor of passage without crippling amendments of this landmark bill to end the shameful legacy of racist segregation. He was getting really wound up when Morgan started fretting. Joyce and I tried without success to quiet him and finally I took him and started for the door.
"Don't leave. Come on back and sit down," Kennedy said. "A baby crying isn't going to hurt any of us. Someday he's going to be a Young Democrat." The crowd laughed and applauded and I sat down. And as I remember, Morgan stopped crying. I never forgot that incident. Ever since, I've had a warm spot in my heart for Ted Kennedy.
That feeling persisted even after I became Washington correspondent of the Daily World. Kennedy sponsored S.1, a highly repressive piece of Cold War legislation that critics charged could open the door for Joe McCarthy-style witch-hunts. I wrote scathing articles quoting Frank Wilkinson, founder of the National Committee to Abolish HUAC, and other civil liberties groups. Thanks in part to their efforts, S.1, and its offspring, "son of S.1" died. But that stain on Kennedy's record was far outweighed by his many pro-labor, pro-worker, pro-people stands on a wide range of issues.
During most of the years I covered Washington, Kennedy was a lion, a powerful stump speaker who would come out of the Capitol building and address AFL-CIO rallies, blasting the unionbusting policies of President Reagan and later George W. Bush. Workers loved Kennedy's gravel-voiced, thundering orations against corporate America and the rich (notwithstanding the fact that he himself was a millionaire many times over). He loved to pump up the crowd with lines like. "Are you ready to fight? Let me hear you." The crowd would roar!
Health care was his defining issue. He was badly injured in the crash of a small plane near Northampton, Mass. (It happened while we were living a few miles away in Amherst. Kennedy recuperated at the Northampton Hospital where Morgan had gone for surgery as an infant a few months earlier).
Kennedy suffered the rest of his life from chronic back pains and maybe that pain was a constant reminder of the urgent need for reform. I remember a conference on health care sometime in the mid-1970s sponsored by the AFL-CIO and other advocates of health care reform. A woman who lacked health insurance brought a computer printout of her hospital bill to the conference. A friend held one end while the woman unrolled the bill that stretched across the front of the ballroom, up one side, across the back, down the other side, all the way around the vast room. A gasp went through the crowd and while she unrolled that graphic emblem of financial ruin, Sen. Kennedy delivered an angry stemwinder blasting the insurance companies for their profit greed. He demanded that Congress enact comprehensive, universal, health care for all.
Kennedy kept hammering away at that demand until he died. A fitting memorial for Edward M. Kennedy would be enactment of comprehensive, universal health care for all, government financed, that protects every child, woman, and man in America. It should be called the "Kennedy Act."
greenerpastures21212 @ yahoo.com