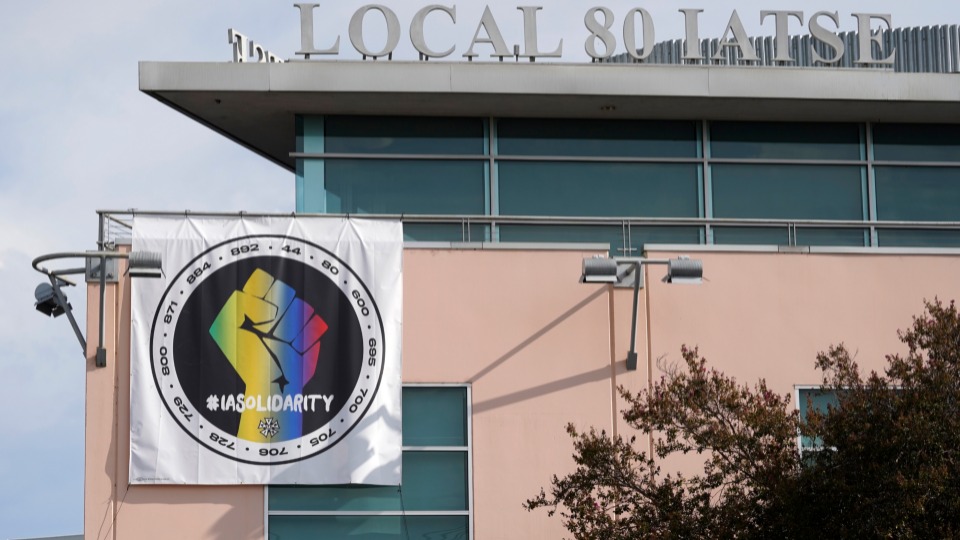 LOS ANGELES (Oct. 12)—The International Alliance of Theatrical Employees (IATSE) negotiating committee is determined to work out any key issues that exist at the bargaining table between IATSE and the Alliance of Motion Pictures and Television Producers (AMPTP). The good news is that both sides are back at the bargaining table. At this time, however, there is a media blackout around the negotiations.
Many of the IATSE members and the International President Matthew Loeb have said it is encouraging that both sides are back in closed sessions and talking. Bargaining is moving slowly but deliberately in a clear sign that both sides are taking the bargaining issues seriously. What is new is that IATSE now has a strike authorization. Such leverage the bargaining committee did not have in past negotiations.
There have been some concessions made by management, such as the union's demand for a 10-hour turnaround for all workers which is the minimum time between shifts. The union is also concerned about having 14 hours or longer workdays. However, wages and benefits are still at issue. And there is a long way to go before all the dust is settled and fair contact is signed off on.
IATSE members are not taking anything for granted. They continue to prepare for a possible strike. They are talking to their coworkers, contacting and visiting their local union for updates, mobilizing on social media, touring the city in car caravans, making the necessary plans for strike activities. Most importantly IATSE members are talking with their families, friends, and neighbors.
There is no doubt about it. Preparing for a strike is a high-stress process. A strike is an organizational and membership action. It can be an emotional plight and a financial hardship. For IATSE members it's a struggle for the future of this industry. It's also a fight for dignity, respect, and a contract worthy of the skills of the IATSE members who work in the TV and film industry.
If a strike is declared, individual obligations must continue to be met. Demands of payment for rent, mortgages, car payments, utilities, etc., do not stop because one goes on strike. Fulfilling these requirements is most difficult when one is on strike and not working. Where will groceries, home supplies, and gas for transportation be secured? How does a striker deal with feelings of family insecurity? How long does one prepare for?
A strike is rough and outright frightening. But the solidarity of union members and well-thought-out planning by the union leadership makes a strike more sustainable. IATSE members will spend long hours coordinating and working with the strike committees. They will seek ways to conduct the proper actions with which to pressure management. The membership will have to continue to stand its ground and stay strong against the onslaught of aggressive opposition by management.
If there is a strike, there will be many questions. There may even be some self-doubt. But there comes a time when one must stand up for what is right in the workplace. IATSE is doing everything in their power to avoid a strike. The union leadership is doing everything they can to protect its membership.
IATSE International President Matthew Loeb said, "The ball is in their court. If they want to avoid a strike they will return to the bargaining table and make us a reasonable offer." The IATSE negotiation committee is more than willing to continue to meet and negotiate with management over outstanding issues day or night.
The general mood is one of concern. As one IATSE member (who asked for anonymity) told me. "I don't believe the union members will give up, but the people who are against us are from a class of wealth and power. They probably don't care about us working people. They'll just try to wait us out. Try to break us down. They have so much money."
This is why IATSE members are standing united and strong against the mega-corporate pushback in an effort to control the industry and IATSE workplace. Sure, it would be nice to settle. But it must be a fair and reasonable contract. Nothing less will suffice.
UPDATE: Stagehands represented by IATSE Local 22 reached an agreement for a new three-year contract with management at the John F. Kennedy Center for the Performing Arts in Washington, D.C. The agreement was ratified by the union's membership at a meeting on Oct. 9.