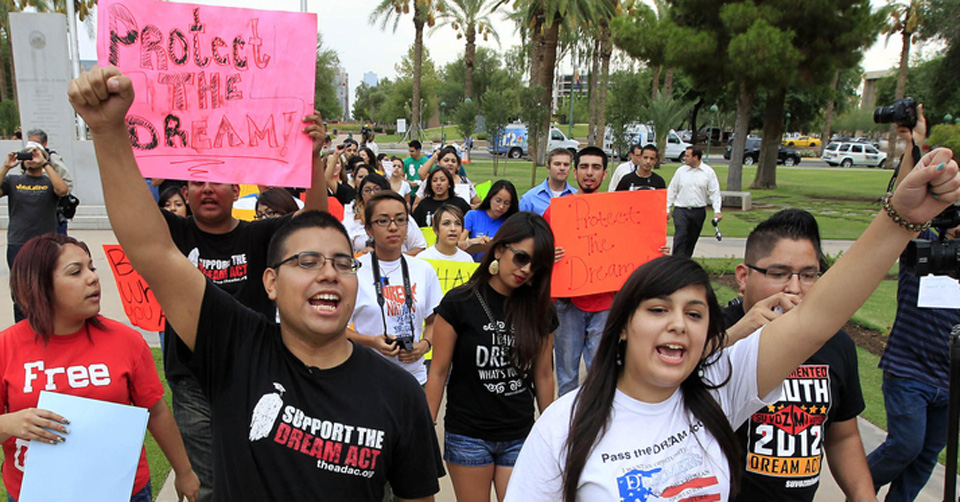 WASHINGTON, DC – On the same day that deported DACA recipient Juan Manuel Montes' case is before a federal judge, the Cincinnati Enquirer is reporting that another DACA beneficiary from northwest Kentucky is facing imminent deportation.
Riccy Enriquez Perdomo, a two-time Deferred Action for Childhood Arrivals (DACA) recipient and mother of two U.S. citizen children, was arrested by Immigration and Customs Enforcement (ICE) agents last week.  She is being fast tracked for deportation despite her current DACA status.
Said Lynn Tramonte, Deputy Director of America's Voice Education Fund: "It's outrageous that the US Government is rushing to deport Riccy Perdomo, a mother of two and a DACA recipient.  One agency of the government has granted her permission to stay, while another agency of the same government is trying to deport her.  It's cruel, unfair, and unacceptable.  The US Government needs to honor its word, and let Riccy go back to her life and her family immediately."
Read more about Riccy's case in this blog post from Van Le, Digital Media Manager with America's Voice, and this article by Mark Curnutte of the Cincinnati Enquirer.  Le's blog post is pasted in its entirely below.
"A Dreamer with active DACA status is being held by ICE and faces deportation in a new case that has national implications.
Riccy Enriquez Perdomo, a 22-year-old mother of two young children was arrested last week and has been held at four different locations since. ICE agents in Louisville, Kentucky, detained her last Thursday when Enriquez, confident in her legal status, went to an immigration office there to post bond for someone else who was eligible for release. ICE asked Enriquez for her information, then wrongly told her that she didn't have DACA and arrested her.
As brother-in-law, Robert Cote, told Cincinnati.com, "We called ICE in Chicago, and the person there told us, `When Trump came in, DACA doesn't exist anymore.' I couldn't believe they told me that."
Enriquez came to the U.S. when she was nine, lives in Florence, Kentucky, is married, and has been approved for DACA twice – first in 2015, followed by a renewal in January 2017. Her children are ages five and 11 months, and she was employed at Amazon in Hebron, Kentucky, until the birth of her infant son, Rony.
This is not the first time that ICE has resorted to shady tactics when it comes to Dreamers who have DACA. A DACA-mented Dreamer from San Diego has just been granted a trial after being deported to Mexico; Juan Manuel Montes says that ICE picked him up for no reason and drove him across the border in the middle of the night, while ICE claims that he left the country on his own. Earlier this year, Daniel Ramirez – who also had active DACA –was detained for six weeks after ICE said that he was a gang member when he wasn't. Furthermore, ICE's questionable maneuvers are happening at a time when DACA is fighting for its life; advocates expect that Donald Trump will terminate the program by September 5, the deadline given by a lawsuit threat from Texas. Between ICE's tactics and the threat to DACA itself, Dreamers across the country may be in greater danger of deportation than they have been in years.
Enriquez's family, meanwhile, continues to fight to see her, even though ICE has moved her again and is not telling her family where. The family is working with a local attorney as well as the National Immigration Law Center, who is also representing Juan Manuel Montes in his San Diego case. Advocates are planning to ask for help from Sens. Richard Durbin, D-Ill., Rob Portman, R-Ohio, and Sherrod Brown, D-Ohio."