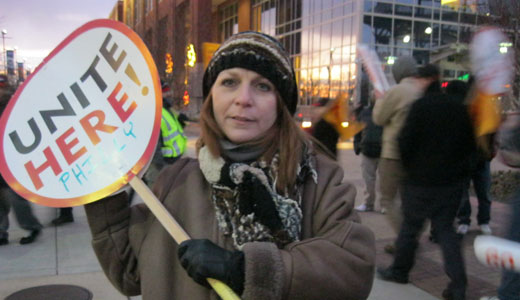 PHILADELPHIA – As the temperature dropped and darkness fell on the packed and well lighted Citizens' Bank Park, two events were unfolding. In the stadium the Philadelphia Flyers and New York Rangers played a hockey game, the outdoor "winter classic." Outside there was "heat on the street." Several hundred members of Unite Here marched, chanted slogans and rallied in support of the food service workers at the stadium who have worked without a new contract for months.
The 1,500 stadium workers are members of Unite Here Local 274. They prepare, sell and serve food and drinks during stadium events. They voted to turn down the Aramark Company's offer last September and have worked under the terms of the old contract since then. The changes the company demanded included reductions in an already minimal health care package and reductions in working hours which, the workers say, would reduce their earnings.
Currently only 240 of the workers are eligible for the basic health insurance plan. The company wants to reduce that number to 80.
Some workers depend on overtime during long Phillies home stands to make ends meet. The company wants to eliminate overtime, thus reducing pay.
The union also represents 600 workers at Consol Arena in Pittsburgh who have also rejected the company's last contract offer.
Unite Here members from New York, Pittsburgh and Baltimore came by bus for the rally. Nezar Hasan and Lee Ail, two members of Baltimore's Local 7, told People'sWorld.org that they had no problem deciding to come to Philadelphia for the rally. They came "to support the union!"
Valerie Vasapolli, a bartender who works at Citizens' Bank Park as well as the Eagle's Lincoln Financial Field, is an activist with Local 274. She told People'sWorld.org that, while the workers voted down the company's last offer in September, they have actually been working without a new contract since last March. She said of her union sisters and brothers who had come from out of town to support Local 274, "It's amazing, all these people coming to support us!"
Aramark is a Philadelphia-based food service provider which reported $12.3 billion in revenues in 2009 and is listed as the 189th largest employer of the Fortune 500 companies.
Photo: Bartender and Local 274 activist Valerie Vasapolli at the rally. Ben Sears/PW