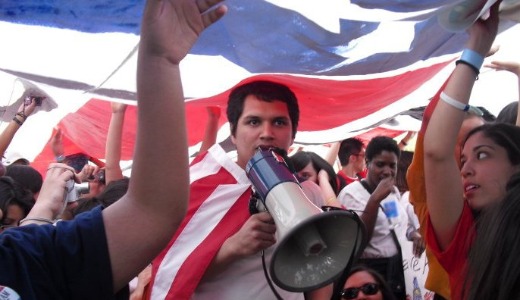 Matias Ramos, 25, was about to board a plane during a domestic flight last year when immigration officials in Minneapolis detained him for 12 hours.
Ramos, originally from Argentina, was brought to the U.S. with his parents as a teenager without documents. He grew up in Orange County, Calif., and graduated from UCLA as a political science major. For the last two and a half years Ramos has been working in Washington D.C. with the Institute for Policy Studies.
A staunch advocate for immigration reform and the federal DREAM Act, Ramos helped co-found United We Dream, a national immigrant youth advocacy network.
After Ramos was detained last year he was ordered deported but given a one-year extension.
Now that year has passed, and over the last three weeks things have taken a turn for the worse.
Ramos says he was put under intense supervision, had an electronic monitoring device attached to his bottom leg and given 14 days to leave the country.
Wearing the ankle bracelet made him feel dehumanized, he said.
A public campaign was activated to halt Ramos' deportation and supporters gathered over 6,000 signatures in the span of less than 48 hours. After 10 days, the electronic shackle was removed and Ramos was eventually granted a further six-month stay on his deportation order. However he still faces deportation.
"Matias is a DREAM Act eligible student and has been very successful working in Washington D.C.," said Jennifer Angarita, the immigration training coordinator with the AFL-CIO.
In August, the Obama administration announced it would suspend deportation proceeding against thousands of undocumented immigrants who pose no serious threat to national security or public safety.
That's why its very problematic the Department of Homeland Security ordered Ramos to be deported, says Angarita, especially since the new federal immigration guidelines issued by the Obama administration aim to focus on the most dangerous criminals, not youth like Ramos.
Under the new policy DREAM students, military families, victims of crime and many other individuals who pose no threat to public safety may receive a reprieve from immigration removal.
"It's outrageous that a student leader like Ramos was targeted by ICE," Angarita said.
"His story really highlights the injustice of the current broken immigration system. We're talking about youth who are American in every aspect of the meaning but unfortunately remain undocumented. Why are immigration officials focusing their resources on some one like Ramos."
Angarita continued, "Imagine a young person with no criminal record being shackled and forced to plug his leg into the wall for several hours each day."
Ramos's case is a perfect example of young people nationwide getting trapped in the current immigration system.
The DREAM Act, legislation that has been stalled in Congress for a decade, would allow millions of undocumented youth who came to the U.S. as children and graduated from high school with the opportunity to attend college or serve in the armed forces.
It is common sense legislation that has bipartisan support and allows undocumented youth to earn their citizenship, notes Angarita.
"It also strengthens our economy. Do we want a second class generation living in the shadows or do we want an educated and talented workforce to help America compete globally," she asked. "Comprehensive immigration reform and passing the DREAM Act carries far reaching humanitarian, economic and social implications."
But with every day that passes without the DREAM Act or federal immigration reform, the future of Ramos and millions of students like him are at risk, Angarita added.
"Their talents and contributions will continue to go to waste and it's clearly not right," she said.
Photo: Matias Ramos, center, from his Facebook page.