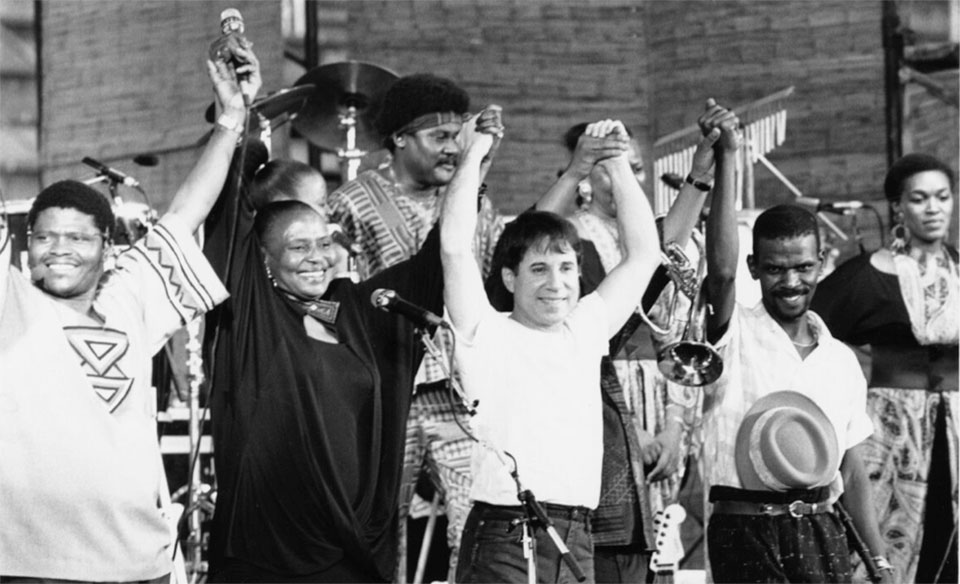 LOS ANGELES—"My whole artistic life," says Paul Simon, "has always been about change, change, change, move on, move on. It's the only thing I find interesting."
Visitors to a traveling exhibition from the Rock and Roll Hall of Fame and Museum, now in its only West Coast stop here, can experience close-up the trajectory of one of America's leading artists over a creative span of six decades. Paul Simon's music both reflected and helped to define the nation's concerns and ideals, and along the way he picked up 16 Grammys for his solo and collaborative work—three of them for Album of the Year (Bridge Over Troubled Water, Still Crazy After All These Years, and Graceland)—as well as a Lifetime Achievement Award. He is one of a very few two-time inductees into the Rock and Roll Hall of Fame: first in 1990 with his early singing partner Art Garfunkel, and again in 2001 as a solo artist. In 2002, Simon received the Kennedy Center Honors. In 2006, he appeared on Time magazine's prestigious annual list of the "100 men and women whose power, talent, or moral example is transforming our world." In 2011, Rolling Stone magazine named Simon one of the "100 Greatest Guitarists," then named him one of the "100 Greatest Songwriters of All Time" in 2015. Simon was the first recipient of the Library of Congress's Gershwin Prize for Popular Song in 2007.
Music lovers all over the world know, love and sing his more than 200 songs.
Born in Newark, N.J., in 1941, Simon's first musical influence was his father Louis, a bassist who played on the Jackie Gleason Show on CBS and was a bandleader and session musician. At the age of 15 he and his schoolmate in Queens, N.Y., Artie Garfunkel, started writing and recording tunes. Their 1957 Everly Brothers-inspired song "Hey Schoolgirl" appeared opposite "Dancin' Wild" on Big Records, although at the time they were known as Tom and Jerry (no ethnic names please!).
Simon's fame and commercial success began as part of the duo Simon & Garfunkel, formed in 1964. Already they had tired of rock and roll and were drawn to the newly revived folk idiom, producing such hits as "Parsley, Sage, Rosemary and Thyme" and "Scarborough Fair." After they parted ways in 1970, Simon launched a successful solo career, recording three highly acclaimed albums over the next five years and solidifying his status as one of the great American composers.
His broad versatility is apparent in beautifully crafted music that draws on diverse American musical genres as well as African American gospel and rhythm and blues, Latin salsa, Andean folklore and Jamaican reggae, South African vocal ensembles and harmonies, and West African drumming. His wide-ranging body of work is equally beloved for its musical vocabulary—style, rhythm, and instrumentation—the musical collaborators he has chosen to work with, and his evocative, poetic lyrics.
Certain of his creations were written as protest songs, such as "He Was My Brother" for the civil rights movement, and "7 O'Clock News/Silent Night" about Vietnam. "American Tune" (1973) expressed a doubtful future for freedom in a country still mired in an unwinnable Southeast Asian war. His Broadway musical Capeman, book and lyrics written by the Caribbean poet Derek Wolcott, pointed toward redemptive possibilities even for an imprisoned criminal.
In 1985 Simon was roundly, though not unanimously criticized for breaking the cultural boycott against apartheid South Africa. He went there to establish partnerships with musicians, notably the performing group Ladysmith Black Mambazo. Several of the songs they recorded together appeared on the Graceland album the following year. Among those who appreciated Simon's efforts were the South African jazz musician High Masakela and the revered singer Miriam Makeba, as well as the future president of the country, Nelson Mandela. In subsequent years Simon exposed his South African musical friends to huge audiences in America and around the world.
Simon's 2011 song "So Beautiful or So What" was inspired by Dr. Martin Luther King, Jr. "He was the person who clearly said we have the potential to be living in paradise," Simon said, "and have the potential to live in hell." Simon is responsible for organizing numerous free concerts, such as one in New York City's Central Park in 1991 that drew 750,000 fans.
The exhibition contains film footage, photographs, sheet music, albums, early 45 rpm recordings, original drafts of song lyrics, instruments, listening stations, costumes, posters, awards and medals, concert tickets and a stage maquette. Much of the content is from Paul Simon's privately held archive.
As a tribute to Paul Simon it's thrilling to spend a couple of hours amongst his things, almost like visiting him in his living room/studio. At the same time, the exhibition holds back on many personal details of Simon's life. We hear of a failed first marriage and a son, but little else beyond the artist's public face. If this display were translated into a documentary biopic, viewers would find this degree of remove somewhat unsatisfying. Maybe that's just the prurient age we live in.
In a second adjacent viewing space visitors can enjoy a hands-on experience with the artist's top hits in the Roland interactive lab. Roland provides a custom environment that enables fans to create their own beats and multi-track remixes of Simon's songs, showing how the creative process works with a number of high-tech audio machines. As Roland's U.S. VP of Marketing Chris Halon asks, "where else can you say you got to harmonize with Paul Simon on '50 Ways to Leave Your Lover?'"
Throughout the duration of the exhibition the Skirball has programmed a number of events, such as:
Docent-led tours Tuesday–Sunday at 1:00 pm, except May 31.
A screening of the Academy Award–winning social satire The Graduate, which features a soundtrack by Paul Simon and performed by Simon & Garfunkel. A Q&A with the film's producer Lawrence Turman follows the screening on Sun., July 16 at 2:00 pm.
Family concerts celebrating musical styles from around the world. Families sing and dance along to music that inspired Paul Simon and that was influenced by the legend himself, on Sat. and Sun., July 1–August 20, 12:00 and 2:00 pm.
For more information about Paul Simon: Words & Music, please visit this Skirball site. A trove of Paul Simon-related merch is available for sale in the museum store.
The Skirball Cultural Center is located at 2701 N. Sepulveda Blvd., Los Angeles 90049. For museum hours, admission policies and further information, call (310) 440-4500 or visit skirball.org. Exhibitions are free to all visitors on Thursdays. The exhibition runs through September 3, 2017.