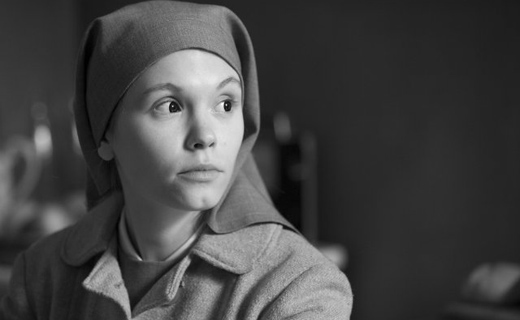 "Ida" is something different.
In Poland around 1960, Anna is a novitiate in the convent where she was raised. She always thought she was an orphan. When she gets ready to take her vows, the Mother Superior reveals to her that she has an aunt whom she should visit before committing herself to a lifetime of poverty, abstinence, and obedience. As she is ordered, Anna leaves her convent and her tiny village for the first time in her conscious life.
In the city, she meets her Aunt Wanda, who immediately tells Anna that she isn't Anna and that her name is really Ida. The aunt then answers the timeless question asked by Barbra Streisand in "Funny Girl:" Can a Jewish girl join a convent? Ida was born to a Jewish family that suffered under the Nazi occupation. Her Aunt Wanda was a brave partisan fighter during World War II and became a judge in socialist Poland.
It's a road picture, as the two women go back to their family's homestead and figure out what happened. Exploring just who and what Ida and Wanda are peels off layers of the recent history of Poland. The movie is in black and white and uses the old 1940s more-or-less-square screen. The language is Polish with subtitles, but there's hardly any dialogue. There's almost no action either. Moviegoers study the tragedy mostly through the faces of the actors. The scenery is almost all a tragic, worn, gray. The narrative steadily treads from Ida's first awakening to her final decision about taking her vows. Wanda, too, experiences the full force of self-confrontation and what to do about it as the secrets are laid open like festering wounds.
The audience is brought into the place, the times, and the tragedies in a powerful emotional experience.
Movie information:
"Ida"
Directed by Pawel Pawlikowski
2014, Polish/Danish
100 minutes, PG-13, Polish with English subtitles
Photo: Agata Trzebuchowska as Ida.