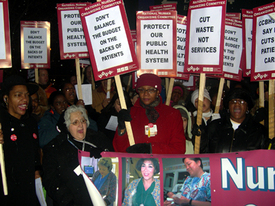 CHICAGO — The battle to fund human needs instead of war or tax breaks for the super-rich found its expression right in the heart of the Midwest.
A serious fightback is emerging here, after newly elected Cook County Board President Todd Stroger (D) proposed major cuts that would slash the county budget by 17 percent.
"These cuts are shortsighted and irresponsible," said Henry Bayer, executive director of Illinois Council 31, American Federation of State, County and Municipal Employees, which represents 6,000 workers in the county. AFSCME represents scores of public defenders who may lose their jobs, forcing delays in resolving court cases and resulting in increased costs.
But it is the draconian cuts to health services that have captured most of the attention. If approved, the $30 billion budget would close all but 10 of the county's 26 community health clinics and cut major medical services at its three public hospitals.
The National Nurses Organizing Committee (NNOC) led a large group of nurses, doctors, patients, and community and labor leaders in a spirited rally Jan. 18 in front of the county's hospital, named after former county board President John Stroger, to oppose the measure.
Dr. Richard David, a pediatrician, has worked at Stroger Hospital for 20 years and says the budget cuts have national implications related to the war in Iraq. "Everybody knows where the money goes," he told the World at the rally. "It's going to the war and funds are being taken out of Medicaid to pay for it. We need health care, not warfare." Many health care workers say such cutbacks are a prescription for disaster and will drastically impact residents who depend on the county for medical care.
Jim Pandazides, 43, is a 19-year registered nurse at Stroger Hospital. He says the county's health services are a safety net for the working poor. "The cut proposals are trying to dismantle" the safety net, he said. "We can't allow that."
Fernando Rosada, Midwest director of the nurses committee, coordinated the rally. "Public health systems around the country are being gutted," he said. "We're here as a union to stand up for them, and what we need is a single-payer health care plan."
According to NationalPriorities.org, President Bush's unpopular and failing war in Iraq is costing U.S. taxpayers over $360 billion and counting. Over $8 billion of that is coming from Cook County alone.
With a $500 million deficit, County Board President Stroger and Health Bureau Chief Robert Simon are calling for a $112 million reduction in spending, which could eliminate up to 6,500 jobs.
Estimates are that the county health bureau would be cut by 12 percent, the state's attorney's office by 10 percent and the sheriff's office by 7 percent.
Lucille Travers is a patient representative on an advisory council at one of the county's major clinics. "Health care is a right and these services should be excluded from the cuts," she said. "The patients have precedence over county golf courses, or raising employee salaries and other non-health-related services." Travers asked, "If cuts are made, where will all the uninsured sick people go? County is it."
Cook County, with a population of over 5 million, is the nation's second largest county. It includes Chicago and nearby suburbs. In the county, 1.1 million reportedly live without health insurance.
Rhonda Brown, 48, an African American construction manager, waited patiently to be seen by a county doctor inside Stroger Hospital while the rally was taking place.
"It's sick to cut when you have an overload of patients here," Brown told the World. "A lot of people who work don't have the money to pay the high costs of medical insurance. We need to open more public clinics, not close them," she said. "We should have a strike or a boycott or something."
A series of public hearings are scheduled through the end of January. Many leaders are urging people to fight back by packing the meetings and testifying, talking to elected officials and county commissioners, speaking at churches, and leafleting clinics and other sites about the deadly effects the cuts may have on services for sick patients.
Cook County officials must pass the budget plan by Feb. 28.
plozano @ pww.org