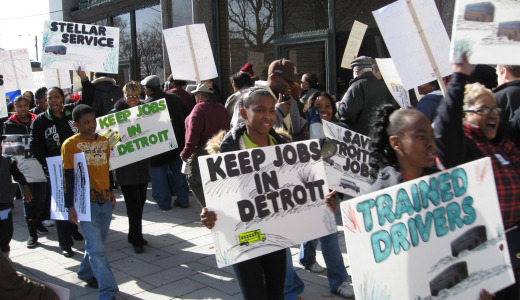 DETROIT – Sedrick Staten's family came here from Alabama in 1969. He's been driving a Detroit school bus for 18 years. A member of Teamsters Local 214, his livelihood is being threatened because of the school privatization efforts of Robert Bobb, emergency financial manager of Detroit Public Schools, appointed by Gov. Jennifer Granholm.
Staten's story is moving. "I've been a loyal Detroit public school person all my life," he said. "My mother was a custodian for 30 years, my brothers, my sisters, my whole family have always been affiliated with Detroit public schools. If I lose my job, it's going to make me think about moving out of Detroit. My kids love their schools. But if Daddy doesn't have a job, what am I supposed to do?"
Staten joined hundreds of other school workers, many with similar stories, at a rally at Bobb's office.
Rose Gant is a secretary at Webster Elementary School, and a member of the Detroit Association of Educational Office Employees, an affiliate of the American Federation of Teachers. She is fighting hard against the drastic cuts Bobb is pushing. "He wants us to take pay cuts, insurance cuts and retirement cuts," Gant said. "We cannot get enough supplies in the buildings." Standing outside the school system's administrative offices, Gant said the money should be spent in the schools instead of "down here."
A special education aide who has worked for 10 years at the Mae C. Jemison School said Bobb wants her and her coworkers to take a 10 percent pay cut. "We don't make any money now and he's trying to take more," she said. "It's going to be harder, much harder if they take more and give us less."
Beth Thoreson, from AFT Michigan, said Bobb has threatened to privatize office employees, the first people anybody sees when coming into a school. "The people who are rallying today are the people that hold the whole school system together – the teachers wouldn't be able to do their job if it weren't for them," she said.
"To outsource those jobs is to take away their ability to live in the city. Most of them do, and their kids go to school here," Thoreson said. The typical school office employee has worked on the job for 15 years and earns $25,000.
Privatization is not the answer because in the long run it doesn't save money, she said. "To privatize the jobs of people who live in the city, that support other businesses in the city, becomes a vicious cycle. It's not just an impact on the schools; it's an impact on the entire city." She also raised a concern shared by others: "Specialists have been brought in at huge amounts of money that could keep a number of these people at their jobs."
Former Detroit Federation of Teachers President Virginia Cantrell, who now serves on the school board advisory council, said, "We need to get the class size down, books and supplies in the classroom, and we need to stop moving teachers around, four, five, six times a year. All that needs to be done are things that are common sense."
She objected to Bobb trying to both be a financial manager and oversee academics. "None of us is smart enough to take on everything and be the master of everything. There's no check and balances." The elected school board, not Bobb, needs to oversee academics, in her view.
Russ Bellant, a retired labor and community activist long engaged in the fight to preserve public education, said Bobb is embarking on a systematic plan to dismantle public education in the city. Up to 45 schools are scheduled to close. What needs to be done is to keep the schools open and fill them with students, instead of closing them, he said.
Michael Mulholland, secretary treasurer of AFSCME Local 207 representing Detroit's water and sewage workers, came to the rally because his union is also fighting a privatization effort that could affect upwards of 13,000 workers.
Photo: PW/John Rummel