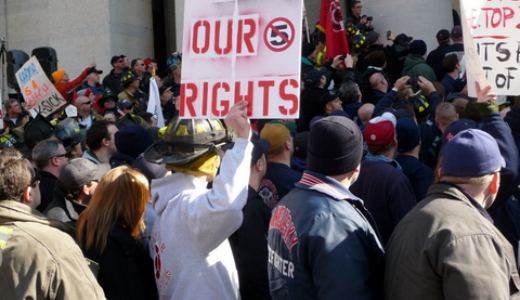 SHAKER HEIGHTS, Ohio – Hundreds of teachers rallied here April 14 to protest Republican Gov. John Kasich's drive to bust unions and slash funds for public schools. The standing-room only crowd filled the gym at Our Lady of Peace Catholic Church to boost the effort to repeal Senate Bill 5, which abolishes collective bargaining rights for over 350,000 public employees.
The teachers, joined by students, firefighters, police and community supporters, cheered loudly as Becky Thomas, president of the independent Shaker Heights Teachers Association, said that the union's recently-concluded contract shows that collective bargaining works.
"If Kasich gets his way," she said, "who will want to be a teacher?" The proposed $3 billion in funding cuts for public schools will result in massive layoffs and cut deeply into earning and spending power needed for economic recovery, she said.
"I can't believe what I hear in Columbus," said State Rep. Armond Budish, the Democratic minority leader in the State House. "Kasich wants to balance the budget on the backs of public servants. He increased the salaries of cabinet members by $30-50,000, saying 'you got to pay for good people.' What's in this room? Good People!"
"The governor is telling school districts 'don't worry about the cuts. You have Senate Bill 5. You can take it out of the hides of the teachers,'" he continued. "It's the same with local government funding. This is an across the board attack on the middle class."
Referring to other pending legislation to end prevailing wage standards in construction contracts and overtime pay in the private sector, Budish said, "This is the most extreme group of right-wing ideologues in charge of the state. We have to stop them now."
First and foremost, he said, we must overturn Senate Bill 5. Then we must take back the Ohio House in 2012 and in 2014 take back the entire state."
In a fiery speech that brought repeated standing ovations, State Senator Nina Turner denounced Senate Bill 5 as a "pure, unadulterated power grab. It is an attack on the economic and political power of the working class," she said. "You deserve to live a good life. You must stand strong in the face of the haters. There are a lot of haters of the working class. We must prevent them from changing our country into the corporate states of America. Repeal this bill."
Over 230,000 signatures must be collected by June 30 to place the repeal referendum on the November ballot. Training sessions for circulators have been scheduled throughout the state in the coming week.
Image: Progress Ohio // CC BY 2.0