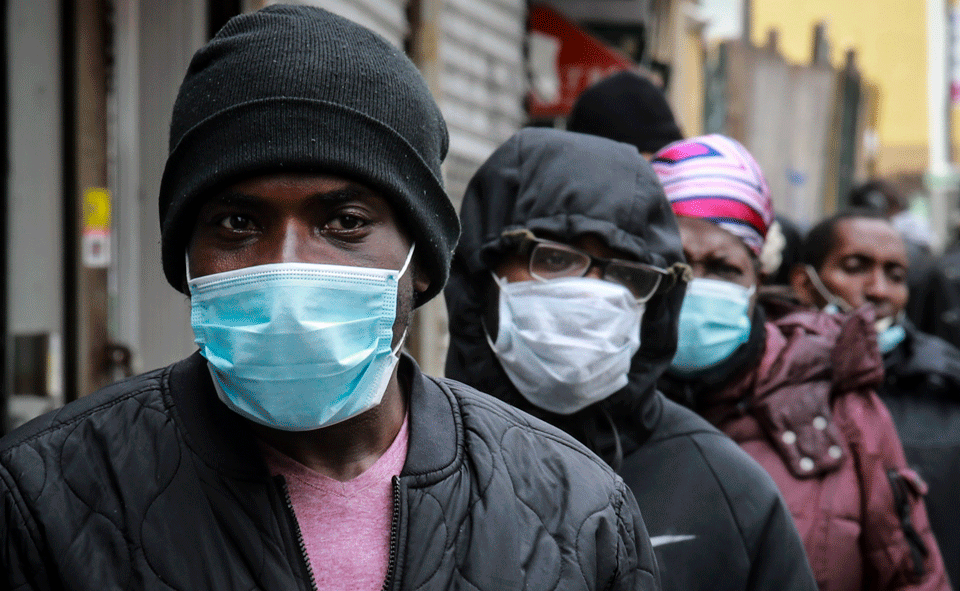 Not much has changed in the Black community. The strategy of controlling wealth, access to healthcare, and the demise of African Americans is still as calculated as ever.
The mainstream media reports daily on the death rate in Black communities, stemming from crime, police brutality, or COVID-19.  As April arrived, the cruel face of reality stalked African Americans as they swelled emergency rooms across the nation.
Institutional racism in the judicial system, jobs, housing, and healthcare impact millions of African Americans across the United States. Here in Harris County, Texas, home to Houston and predominately African-American zip codes like 77021, we're seeing some of the highest reported cases of COVID-19.
The virus in itself is not racist. It does not care who it attacks. But racial bias comes into play when local, state, and federal elected officials refuse to provide money for testing, community clinics, quality education, and grocery stores on an equitable basis.
African Americans suffer the most from treatable health conditions, like diabetes and high blood pressure. "Extremely high blood pressure in African Americans is 5 times the national average," according to Science Daily, a publication of Rutgers University.
The Department of Health and Human Services says African American adults are 60% more likely than non-Hispanic white adults to have been diagnosed with diabetes. This form of racism is embedded in poverty.
Managing these two preventable diseases would flatten the curve leading to more serious illnesses like stroke, heart attacks, and acute kidney damage—conditions that would decline in numbers if Medicare for All were provided.
Missing Medicaid
Harris County is home to 857,122 African Americans. Houston State of Health reported in 2017 that 29.5% had hypertension and diabetes. The numbers, deeply shocking in themselves, become even more deadly in the context of COVID-19.
"My symptoms started off by me not being able to smell anything, my throat was scratchy, I lost my appetite… I had fever," Sandra Woodson, a resident of Harris County, says. Doctors admitted Woodson, who undergoes dialysis, into the county hospital to treat her pre-existing conditions of diabetes and hypotension. In less than 24 hours, she was transferred to ICU where she was listed in critical condition. COVID-19 was in the process of stealing life from her body.
African Americans in Harris County could live longer if they had access to proper medical services and health coverage. The Affordable Care Act provided the option for states to expand Medicaid coverage to low-income adults 19 to 64 years old, with the federal government paying 90% of the expansion costs.
Medicaid in Texas is essential for healthcare access, but systematic racism is a major reason why 1.1 million Texans, including people in Harris County, have yet to see Medicaid expansion, let alone Medicare for All. Republicans believe by blocking its expansion and keeping it off the ballot, they can exclude African Americans, and people of color from receiving basic health coverage.
Republican Gov. Greg Abbott opposes expanding Medicaid or placing the issue on the ballot to let voters decide. Abbott, Lt. Gov. Dan Patrick, and former Gov. Rick Perry all claim it would cost the state too much—especially if the federal government ended subsidies to states.
Healthy food deserts
Eliminating food deserts in African-American communities by providing access to fresh produce and meat would be a great start in curbing the unhealthy eating resulting in obesity in young children and middle-aged adults. Unhealthy eating habits ravage the human body, and a visit to the doctor is the result.
If you are among the working poor, such as Woodson, who lives in zip code 77021, where the median family income is $35,126 a year, you experience the results of poverty firsthand. Woodson, a single mother of four, worked at a Family Dollar store, earning $17,563 with overtime. Her income was half the Harris County median.
Woodson is still living with the consequences of a 32-year-old felony conviction, despite making restitution by paying a fine and spending time in jail long, long ago. Like so many other African Americans, she fell victim to a court-appointed attorney who made a deal with prosecutors over the conviction of their client. Her confession allowed the judicial system to steal a good portion of her life and robbed her children of their mother.
Millions of African Americans work jobs without paid sick leave, making routine check-ups difficult. African Americans like Rosland Jackson are forced to choose between healthcare and working. Jackson was recently laid off from her job at Alice Sweet Treats, a small family-run bakery. "I have been on my job for 16 years, and I've never had to file unemployment until now," said Jackson.
"I have tried several times to contact unemployment (Texas Workforce Commission) and I have not been successful. I need the extra $600 on top of whatever weekly money I qualify for," said Jackson. "We received the $2,400. But it's gone. Car note, insurance, and utilities ate the whole $2,400. I still need food, and I have to pay rent."
Jackson also has a pre-existing condition, and her Cobra plan, which allows her to continue getting health care while laid off, is expensive. She applied for Medicaid for herself and her three children but was denied due to her income.
"I cannot work for a grocery store bakery due to a misdemeanor theft I have on my record. Larger grocery chain store bakeries have extensive hiring practices that are not friendly to people of color with prior convictions," said Jackson.
Reopening the economy, but at whose expense?
President Donald Trump's priority, supported by Republican governors, is to reopen the economy at the expense of human life. "Some people will be affected badly, but we have to get this country opened soon," says Trump.
Many African Americans believe calls to reopen the economy—starting with businesses where African Americans, Latinos, and poor whites largely work and patronize—is a death summons. Putting capitalist market priorities over human life is hideous.
Harlem Renaissance poet Festus "Claude" McKay, was famous for the writing "If We Must Die." The poem, which spoke clearly to political resistance, was first published in The Liberator during the Red Summer of 1919 when racist white mobs attacked and killed African Americans. McKay called for oppressed people to stand up to their oppressors, violently and bravely if they must—even if it meant death.
African Americans are dying mentally and physically. The final sentences in "If We Must Die" ring true.
"If we must die, let it not be like hogs
Hunted and penned in an inglorious spot, while round us bark the mad and hungry dogs,
Making their mock at our accused lot.
If we must die, O let us nobly die, so that our precious blood may not be shed in vain;
Then even the monsters we defy shall be constrained to honor us though dead!
O, kinsmen! We must meet the common foe!
Though far outnumbered let us show us brave,
And for their thousand blows deal one death-blow!
What though before us lies the open grave?
Like men we'll face the murderous, cowardly pack,
Pressed to the wall, dying, but fighting back.