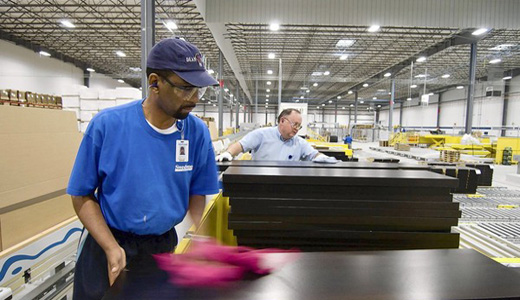 This is the second article in a series about the ongoing struggle by IKEA workers in Danville, Va., to form a union. See first article and third article in the series.
DANVILLE, Va. – IKEA is known round the world for being a fabulous employer but its first U.S. plant is a modern sweatshop with poverty wages, forced overtime and mandatory "educational meetings" for anyone who hints any interest in joining a union.
A majority of the 335 workers at IKEA's Swedwood factory here have signed cards designating the International Association of Machinists and Aerospace Workers as their representative.
The company has hired the union-busting law firm Jackson Lewis to help it "convince" its $8-an-hour employees that they don't want a union.
Workers at Swedwood plants in Sweden produce the same bookcases and tables turned out here, but at a starting salary of $19 an hour.
The company's Danville workers are not only underpaid but also afraid to talk to the union, the press or anyone else.
Kylette Duncan, one of the first to get a job at the plant when it opened three years ago, quit after six months to take an even lower paid retail job. "I need money as bad as anybody, but I also need a life," said the 52-year-old Duncan. She said while working at IKEA's Swedwood plant she had to cancel medical appointments for her seriously ill husband because of forced overtime.
IKEA looks on the U.S. and Danville as a low-wage haven, said Bill Street, director of the IAM's woodworking division and point man for the union's organizing drive at the plant.
For most of the 20th century this town of 45,000 relied on textile and tobacco for jobs.
Later, the empty warehouses and dilapidated mills became an eyesore, and people celebrated when IKEA arrived. No one thought that what the town was importing from Sweden would turn out to be a sweatshop.
Street said he recently flew to Europe to talk with company officials and thought things had gone well. A few weeks later, he said it is clear the company is not applying the necessary pressure on its U.S. managers to correct the problems.
"In February they fired Willie, a 60 year-old Vietnam vet, who supervisors said was too old to work even when he was hired," Street said. "Two weeks ago we had the mediation session that resulted from our having filed a discrimination complaint with the Equal Employment Opportunity Commission."
"The company came in with their thousand-dollar-a-day union-busting lawyer and when they saw Willie had picked me as his representative they refused to talk – 'not with the union in the room,' as they put it."
"What kind of democracy" said Street, "allows a company to take away a human being's basic right to representation? The EEOC said there was nothing it could do. Willie faced the company alone. He didn't get his job back or his back pay and he wasn't allowed to talk to me or anyone else about what he did get."
Street said, "That Vietnam vet who they said was too old always jumped in to do the hardest jobs."
When the company ordered two older African American women to remove an industrial pile of sawdust in 98 degree heat, he recalled, it was Willie who stepped in and did much of the work for them.
Street walks all over Danville, knocking on the doors of those who signed the union pledge cards. None of those workers, he said, is willing yet to go public with their support for the union.
He met a man who told him that he had finished his shift on Friday when the supervisor said, "I'll see you tomorrow."
"I'm off this weekend," said the worker.
"I'll see you tomorrow," said the supervisor.
"That was it," said Street. "He had to work or be fired."
He says he is taking a wait-and-see approach to whether the company lives up to a promise it made on May 6 to do something about the forced overtime.
The factory manager, Bert Lundgren, is from Sweden.
He doesn't like to give interviews, as a rule, but a Swedish journalist was able to get through to him by phone recently.
"There are rules and regulations and we follow the rules and regulations that are in place," said Lundgren.
When asked why he bars the union from the facility and why he refuses any dialogue with the union – something that is unheard of in Sweden – he said, "Here we dialogue only with the workers directly. I have absolutely no dialogue with the union. That's how the American system works."

Photo: IKEA Swedwood employees prepare pieces of furniture for packing at the factory in Danville, Va., May 20, 2008. (Steve Sheppard/AP)