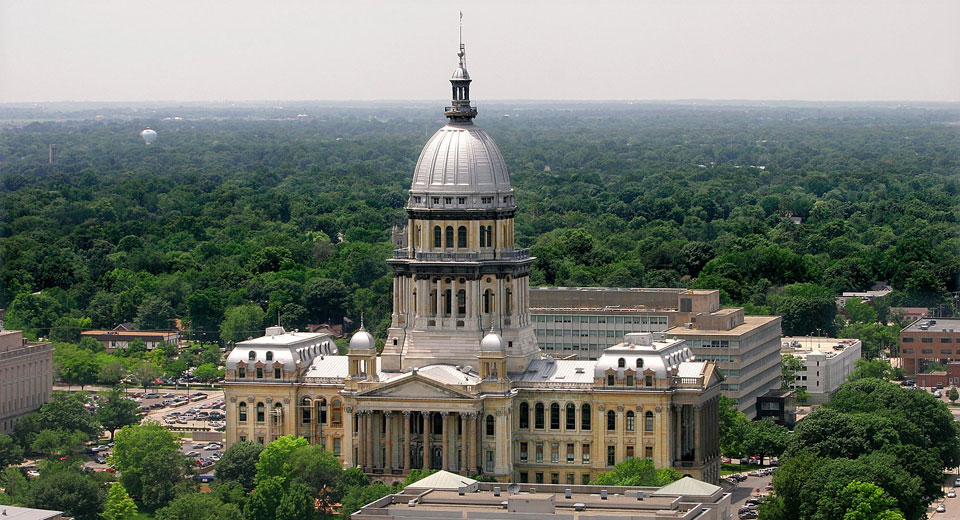 PEORIA, Ill. (PAI)—Saying Illinois workers need a constitutional guarantee of their right to organize and bargain—and reminding workers of the war former right-wing Republican Gov. Bruce Rauner waged against them—leaders of the Illinois AFL-CIO and legislative allies began their drive for voters to pass a proposed pro-collective bargaining constitutional amendment this November.
If approved, the measure would be one of four such guarantees enshrined in the 50 state constitutions. To win, it needs either 60% of the votes on the initiative itself, or an absolute majority–50% + 1–of all votes cast in the election.
Hawaii, Missouri, and New York also have such guarantees. But none of them have added language, which the proposed Illinois Amendment 1 does, banning so-called "right to work" laws, too, said lead State Senate sponsor Marcus Evans, D-Chicago.
The State Senate approved the proposed amendment last May 21, 49-7, with three not voting. The State Assembly agreed five days later 80-30, with eight not voting. Senate Democrats voted for it 38-0, while the Republicans split 11-7. House Democrats approved it 71-0, with Republicans splitting 9-30.
"Despite Illinois becoming a state more than 200 years ago, there's nothing in the state constitution about workers' rights," state AFL-CIO President Tim Drea told the campaign kickoff in Peoria in June. That lack of protection and Rauner's RTW crusade left workers open to depredations, State Sen. Dave Koehler, D-Peoria, reminded the crowd there.
Republican Rauner, who reigned—and misruled—Illinois from 2015-19, first tried to push a statewide RTW law through the heavily Democratic legislature. When that failed, he declared Illinois counties, cities, towns, and villages could enact their own RTW ordinances. Only one heavily Republican Chicago suburb did so. State courts threw it out.
Rauner even tried to tie the passage of a state budget to RTW approval. That failed, too. For that and other reasons, the state never had an enacted budget during his rule, its bond rating fell, raising interest costs, and Illinois was one of only three U.S. states to lose people in 2010-20.
Lack of budgets "especially hurt social services and education," both sacrificed to Rauner's RTW and other right-wing goals, said Koehler. "And, you might think, 'Well, we have a Democratic governor and a supermajority in the legislature.' But you never know when you'll get another Rauner.

"A constitutional amendment will protect workers from that."
During the legislature's debate, State Sen. Ram Villavalam, D-Chicago, pointed out that guaranteeing collective bargaining rights would help all workers, not just unionists, as non-union firms would have to match the wages and benefits of unionized competitors.
"We're getting ready for the inevitable attacks" from the corporate class, Drea told the Peoria crowd. "To counter the attacks, we have to blunt the lies we expect" from those interests. One of the few Republicans to oppose the amendment during last year's debate, State Rep. Blaine Wilhour, R-Altamont, called it "special interest legislation" designed to "draw campaign contributions."
The state fed's campaign for the amendment will include radio and TV ads, plus mailers but will rely on person-to-person contact, Drea said.
Besides the state fed, Illinois unions backing the amendment before the legislators passed it in 2021 included the Associated Fire Fighters of Illinois, the Chicago Laborers' District Council, the Chicago Teachers Union/AFT Local 1, the Illinois Federation of Teachers, the Illinois Pipe Trades Association and SEIU Healthcare of Illinois and Indiana.