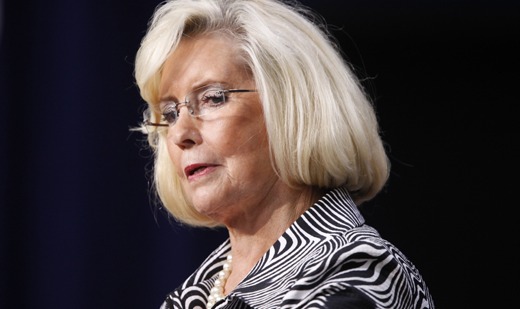 CHICAGO – Illinois Governor Pat Quinn honored Lilly Ledbetter Oct. 14 for her struggle to win equal pay for women. At a gathering in downtown Chicago, Quinn proclaimed Thursday Lilly Ledbetter Day in Illinois.
Ledbetter was employed by Goodyear Tire & Rubber Company in Gadsden, Alabama for 19 years. She and several men worked at management positions, all of them with the same job description but only Ledbetter was singled out by the company for its "Top Performer" award.
One day in 1998, as she neared retirement, she discovered a pay gap between her and her male peers. An anonymous note explaining the horrible reality had appeared in her inter-office mailbox.
"At first I just wanted to leave and run home," Ledbetter said during a conversation at the Chicago Cultural Center where she received the governor's proclamation. "I was so humiliated and ashamed, so embarrassed – how could this be happening to me? But then I began to get angry. The lower pay meant less income for the family I loved, less money in my retirement package, less social security. The full impact of my second class status hit me and when I went home and laid it all out to my husband and told him I wanted to file a complaint with EEOC (the Equal Employment Opportunity Commission), his only question was, 'When do we go, tomorrow'?"
Although she won in the lower courts, her case was ultimately decided by U.S. Supreme Court Justice Alito, 'a member of the other political party,' as Ledbetter described him, who ruled, "she could have, and should have sued" when the discriminatory pay practices were first begun instead of doing so after 180 days of the first incident.
Despite that defeat Ledbetter continued her fight until the Supreme Court decision was nullified when President Obama, on Jan. 29, 2009, signed into law the first new law of his administration: the Lilly Ledbetter Fair Pay Act.
Ledbetter will never receive restitution from Goodyear, but she said, during the conversation with her on Oct. 14, "I'll be happy if the last thing they say about me after I die is that I made a difference." She said the company never offered her anything after she turned down an initial Goodyear offer of $10,000 to settle out of court.
Ledbetter said that her victory is "only a small part of a big battle we still have to fight. Women still earn, on the average only 77 cents to the dollar for men and for African American and Latino women it is far worse."
She said pay discrimination against women hurts everyone. "In my case, I had two kids in college and a husband who became seriously ill and had periods where he could not work. This hurts a whole family."
Ledbetter said a struggle such as hers "lets you know who is really with you and who is really against you. Unlike some women who are getting lower pay, I had the support of my husband and my children. But then there are others – including people in the churches and places where you think they'd know better – who turn against you."
For Ledbetter, the issue of who was for her and who was against her had a lot to do with her increased interest in politics.
"Even when he invited me to speak at the Democratic National Convention, I had not endorsed Obama," she said. "But after I spoke there John McCain made comments to the press that the reason women earn less for the same work is that they are less educated then men. It was then I decided – 'I'm endorsing Obama.'"
When it comes to the 2010 mid-term elections and Republican efforts to take over the House and Senate, Ledbetter said, "I urge everyone to pay very close attention to what the candidates say and to who they are really for. I know where Nancy Pelosi and Harry Reid (Democratic Speaker of the House and Senate Majority Leader, respectively) stand. They did a lot to fight for equal pay. Don't fall for promises from people who really aren't there to back you up when you need them."
Photo: Lilly Ledbetter. (Charles Dharapak/AP)