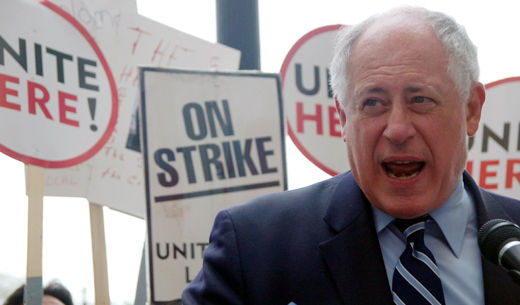 CHICAGO – The 2010 election year has shifted into turbo drive here. Illinois looks to be a key national battleground where the labor-led all people's coalition faces a stiff challenge to consolidate the defeat of the ultra right in 2008. A U.S. Senate seat, the governorship and statewide offices, House seats, state legislature, and county commissions are all up.
The Feb. 2 primaries are looming because the election calendar was advanced to allow Illinois to play a more influential role in the presidential primaries. Turnout could be adversely affected since they take place in the middle of winter.
The main issue overshadowing the election is the economic and state budget crisis. The $12 billion budget deficit is threatening to totally meltdown state finances. Angry voters will likely hold Democrats accountable without strong leadership by the all people's coalition.
The elections have caused State House Speaker Michael Madigan to delay any action on new revenues for the state, fearing any new taxes will lead to a voter backlash against the Democratic majority. Madigan has stymied efforts at tax reform, including passage of a progressive tax increase.
A spotlight is on the U.S. Senate race to fill the seat being vacated by Sen. Roland Burris. If the rabid right-wing and moderate Republicans unite around Rep. Mark Kirk, it will be a difficult race. Kirk has a reputation as a moderate even thought he has voted in lockstep with the Republican right-wing leadership in Congress and moved sharply to the right on social issues since the campaign began.
The Democratic Primary pits three leading candidates with similar approaches. State Treasurer Alexi Giannoulias, has most of the backing of the labor movement and regular Democratic Party organization. Giannoulias comes from a prominent banking family and calls for addressing the jobs crisis through tax breaks to working families and small businesses.
Giannoulias' stood with the Hotel Congress strikers and the HartMarx workers when Wells Fargo bank threatened the garment factory with closure. He warned Wells Fargo if the bank didn't extend credit to HartMarx, the state would drop the bank as a manager of an $8 billion fund.
Cheryl Jackson, former head of the Chicago Urban League, is the only African American and woman in the race. Recent polls show her gaining support in a state with a recent history of electing African American senators. This particular seat formerly belonged to Pres. Obama.
Jackson was the first candidate to call for a withdrawal from Afghanistan. Giannoulias supports the troop build up, while the other major candidate, David Hoffman, has serious qualms.
"Illinois taxpayers spent $49 billion on the wars in Afghanistan and Iraq since 2001. That money could provide more than 20 million people with health care, fund five million college scholarships, 760 thousand elementary teachers for a year or a million new public safety officers," said Jackson.
Jackson's economic recovery plan calls for using the money saved from the withdrawal from Afghanistan to invest in infrastructure, renewable energy, health care and education.
Former federal prosecutor and Chicago City Inspector David Hoffman trails. Hoffman made a reputation exposing corruption in Mayor Richard M. Daley's administration and sharply for criticizing the mayor's highly unpopular privatization of city parking meters.
Kirk's candidacy opens up the possibility Democrats could take an additional House seat, this time in a swing district to the north of Chicago. The primary pits third time candidate Dan Seals, an African American, against state Rep. Julie Hamos. Both are liberal voices and would be good additions to Congress.
In the Democratic Primary for governor, the election pits incumbent Gov. Pat Quinn against State Comptroller Dan Hynes. Quinn jumped into a very difficult situation after the impeachment of former Governor Rod Blagojevich, ousted from office over allegations of corruption. He's had to contend with the budget crisis and helped prevent worst of cuts to vital state services and education.
Most of labor is uniting behind Quinn, who in his State of the State Address on Jan. 12 reiterated his call for a progressive income tax.
One of the most watched races in the state is occurring in the 23rd state representative district covering the southwest side of Chicago. For 20 years Rep. Dan Burke, brother of powerful machine city alderman Ed Burke, has held the seat. But this year Rudy Lozano Jr., an educator and community organizer who is running an independent oriented campaign, is challenging Burke.
Because the demographics in the district are now 85% Latino, Lozano is posing a real challenge. He has teamed up with Jesus "Chuy" Garcia who is running for a seat on the Cook County Commission against another corrupt machine candidate.
Burke has exposed himself as out of touch with the district, offensive to Latino voters and an inept campaigner. He told the Sun Times he was "actually grateful for the challenge, as (Burke) never really had a reason to campaign before."
"I'm connecting with my constituency in a way that I've never had a chance to do before, so they literally did me a favor," he said.
House Speaker Madigan has had to personally intervene with money and campaign advisors. Meanwhile Lozano's campaign has inspired an army of youth and community activists who see this as the beginning of a new kind of politics in the city.
Photo of Gov. Pat Quinn speaking at a labor rally by Teresa Albano/PW