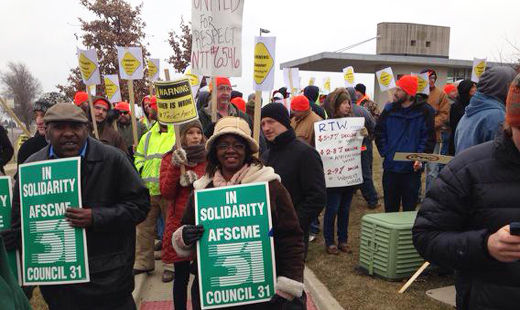 SPRINGFIELD, Ill. – Quickly moving to impose his right wing agenda, new Illinois GOP Gov. Bruce Rauner yanked union rights to collect dues or fees from thousands of home health caregivers in the state, drawing protests from AFSCME, which represents the workers.
And his anti-worker schemes, all announced in his Feb. 9 State of the State address – including the executive order affecting the caregivers – drew unanimous outrage and protests from AFSCME and other unions in the Land of Lincoln, which has the third-highest number of union members among U.S. states.
Rauner's executive order implemented a U.S. Supreme Court ruling, Harris vs. Quinn, his predecessor, Democrat Pat Quinn, lost last year to the radical right National Right To Work Committee. The justices tossed a state law letting unions collect "fair share" fees from home-care workers represented by – but did not choose to join – the union at their workplaces.
The anti-worker lobby convinced the Republican-named justices that the state could not order the union that organized the caregivers to collect the fees, because they were not public workers. The Harris vs. Quinn decision jeopardized similar laws in several other states.
Rauner, like the right-to-work lobby, claimed his executive order upholds free speech of workers who do not want to support what he claimed is labor's political agenda. The fair share fees the justices threw out, however, go only for bargaining and contract administration.
"Rauner's scheme to strip the rights of state workers and weaken their unions by executive order is a blatantly illegal abuse of power," said Roberta Lynch, executive director of AFSCME Council 31, which represents the caregivers. "Perhaps as a private equity CEO Rauner was accustomed to ignoring legal and ethical standards, but Illinois is still a democracy and its laws have meaning," she added.
Rauner also justified his order in budget terms. He blamed collective bargaining for the state's huge budget gap. Lynch called that ridiculous.
"It is crystal clear the governor's supposed concern for balancing the state budget is a paper-thin excuse that can't hide his real agenda: Silencing working people and their unions who stand up for the middle class," she said.
In his address, Rauner also demanded the Democratic-run legislature both make Illinois a so-called right-to-work state and that it pass a so-called "paycheck protection" law, banning public workers from voluntary political donations. The chair, vice-chair and other Democrats on the state senate Labor Committee have already said they will oppose right-to-work.
Laborers Midwest Regional Manager John Penn called Rauner's speech "one of the most divisive speeches in memory, blaming unions for everything from high taxes to inflated construction costs." And Illinois AFL-CIO President Michael Carrigan said Rauner "is on a "blame crusade that unfairly targets public employees."
Added Carrigan: "While he points to the salaries of those cooking the food in the cafeterias, guarding the prisoners and plowing the snow and ice from our roads as the culprits in our state financial woes, he is silent on the hundreds of tax breaks granted to large businesses and the low corporate income tax in Illinois."
Illinois Federation of Teachers President Dan Montgomery took aim at RTW, while AFSCME'S Lynch and Illinois Education Association President Cinda Klickna trashed "paycheck protection," which workers and their allies call "paycheck deception."
"So-called 'right-to-work' or 'employee empowerment' laws won't make our state 'competitive,' and cutting the salaries and fundamental rights of hard-working Illinoisans isn't 'compassionate,'" Montgomery said. "Make no mistake: These proposals don't just harm state employees or union members from the public and private sectors. As Moody's" – a leading investment rating and advisory firm – "pointed out, 'right-to-work' laws drive down wages, reduce access to healthcare, and increase income inequality for everyone."
"The governor is wrong when he says the problems in our state stem from teachers and other middle-class public workers having too much say in how Illinois is run," Klickna said. "The opposite is true. With corporate interests spending unheard-of sums in politics, the need for a strong voice for the middle class has never been greater."
Photo: AFSCME leader Tonia White-Rose protests Rauner policies with other union workers. | Twitter