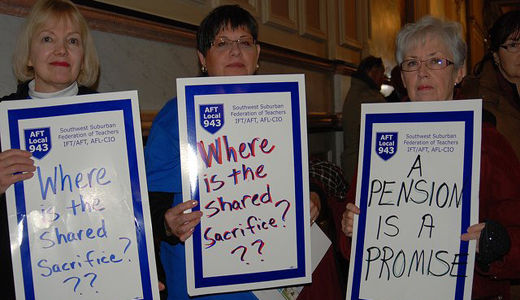 CHICAGO – In what he termed "the most difficult budget" in the state's history, Illinois Governor Pat Quinn on March 6, called for deep cuts in a wide range of social programs.
In increasingly desperate tones, Quinn blamed the projected deep cuts on the state pension crisis, essentially pitting the public against public workers.
Quinn said money allocated for education and other programs must be directed to pensions, in this case about 20 percent of the budget. Under the proposal, the budget will only be balanced by delaying payment of state debt. Illinois has a backlog of $9 billion in unpaid bills.
Those waiting to be paid include thousands of day care centers operated out of homes, home health care operations and non-profits that offer essential services like child nutrition and drug and alcohol rehabilitation programs. Many of these operations have been forced to shut down because they have not been paid, leaving the state's social safety net increasingly in tatters.
The Quinn budget would slash money for public education, which is already severely underfunded by $400 million, reducing it to its 2008 level. This would be the third year in a row education funding per student has been cut. In addition the state owes school districts some $634 million in past aid.
"We've gone in and made cuts every year, and the bottom line is the kids get the short end of the stick," longtime Lincoln-Way District 210 Superintendent Lawrence Wyllie told the Chicago Tribune.
While the budget would increase funding for some social programs, it does freeze payments to municipalities. Such a cut cost Chicago about $31 million.
The pension crisis, amounting to $96 billion in liabilities, is the largest of any state in the country. It is the result of the one of the most regressive state taxation systems, which has left the state consistently short of funds.
While state workers have paid into the system without fail over the years, the state has not. Because of severe revenue shortfalls, that money was instead diverted to pay for other essential programs.
On March 11, the Securities and Exchange Commission accused Illinois of engaging in fraud, covering up the true extent of the pension crisis from bond investors.
In his remarks Quinn turned this on its head, insisting money was now being diverted from funding education and other programs to pay for the pensions.
We Are One, the statewide coalition of unions representing public workers blasted the budget proposal, saying it represented a false choice.
"The reality is we can afford both adequate funding for public services and keeping promises made to retirees. The problem is that far too much money is wasted on special tax breaks and loopholes for large corporations that deprive the state of revenue while failing to provide promised benefits," said the coalition in a statement.
The coalition outlined over $2 billion that could be raised immediately by closing corporate tax loopholes. While Quinn outlined ways to close $445 million in similar loopholes, he didn't propose any tax increases.
Meanwhile, powerful business interests have kept a steady drumbeat calling for cuts in state pensions while remaining silent on tax increases on the wealthy and corporations.
Lawrence Msall, president of the big business backed Civic Federation insisted, "There are no roads out of the fiscal crisis except through pension reform."
Dan Montgomery, president of the Illinois Federation of Teachers, said, "Springfield lawmakers created the massive pension debt by skipping payments and borrowing more. To call that debt an education expense is not only a gimmick, but also an insult to teachers everywhere. We are not to blame, and our students shouldn't suffer."
The IFT called for passage of HB 3162, which they termed a fair resolution to the budget crisis. The bill would set up ironclad guarantees on pension obligations while public workers would pay two percent more toward their retirement.
Photo: Illinois teachers protest in Springfield earlier this year. IFT Facebook