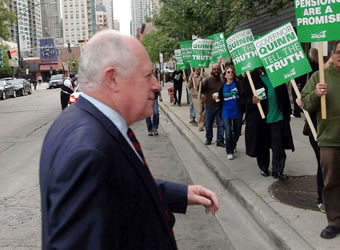 SPRINGFIELD, Ill. – Embattled Democratic Illinois Gov. Pat Quinn delivered his annual State of the State speech Feb. 6, where he sugarcoated an attack on public workers with a host of progressive policy proposals.
The speech angered AFSCME, the Illinois Federation of Teachers and other public worker unions, who accused the governor of pitting "pension reform" against jobs creation, funding for education and health care.
In his speech Quinn said "we cannot allow our economic recovery to be held hostage by the pension crisis. We simply must act."
But it is state workers who Quinn is singling out to pay the price for the state budget crisis. Quinn supports a measure authored by Senate President John Cullerton, also a Democrat, that would increase employee contributions, reduce benefits and give workers a choice of bigger contributions or guaranteed health benefits upon retirement.
This continues an attack by Quinn over the past year to cut pensions, layoff state workers and last fall's termination of the contract covering 35,000 state workers represented by AFSCME.
The attack on public workers is a big factor in Quinn's nose diving popularity, making him one of the least liked governors in the country. He is up for reelection in 2014 and potential candidates have begun jockeying to replace him.
In a statement the We Are One – Illinois coalition made up of public sector unions said, "Gov. Quinn presented a false choice today between funding pensions or funding vital services, like education and public safety.
"It would be irresponsible for the state to walk away from the pension debt owed for past services performed by employees."
President of the Illinois Federation of Teachers Dan Montgomery said teachers and other public workers didn't cause the budget crisis and to solve it on their backs was wrong.
"The Governor's claim that the choice is pensions-or-pencils is deeply unfair. We must work together to adequately fund public education and solve the state's funding crisis," said Montgomery.
Contracts with state workers over the years have included pension increases as part of deferred compensation. But instead of paying its pension obligations, the state has diverted money to pay its other bills.
The mounting pension crisis totals $97 billion in unfunded liabilities. In addition there are $9 billion in unpaid bills owed by the state to thousands of service providers and contractors.
The labor movement and other progressive organizations say the cause of the crisis is insufficient revenues. We Are One Illinois has proposed a plan for "shared sacrifice." It includes closing corporate tax loopholes, which would raise $2.35 billion a year.
However, Quinn made no mention in his speech of increasing revenues, particularly from the wealthy.
The labor coalition has also called for a Pension Summit on Feb. 11 and invited all the stakeholders to participate. A Public Policy Polling survey shows the public is widely supportive of this idea and a shared solution to the crisis. Nearly 60% oppose cutting public worker pensions.
Democratic House Speaker Mike Madigan, who has accused the unions of making no constructive proposals, however rejected the summit idea. Madigan has lined up with powerful corporate interests and advocates putting pensions on a par with private sector workers, despite the fact that 80% of public workers are not eligible for Social Security.
Meanwhile Cullerton has announced his intention to ram through "pension reform" in this session.
Republican legislators had previously obstructed passage of billions in new bonds that would have addressed the back bill issue.
The attack on public worker pensions overshadowed other progressive policies advocated by Quinn during his remarks starting with raising the minimum wage to $10 per hour.
Quinn also called for a ban on assault weapons and high capacity ammunition clips, and other gun control measures.
The governor called for implementation of the Affordable Care Act setting up an Illinois Health Insurance Exchange and expanding Medicaid eligibility.
Quinn also called for passage of Marriage Equality legislation, which nearly passed in the lame duck session. A bill is now before the state senate and expected to pass on Valentines Day.
Quinn recently signed legislation granting undocumented immigrants driver's licenses.
But it is the attack on public workers that will be the battle line in the new legislative session.
Photo: AFSCME blog