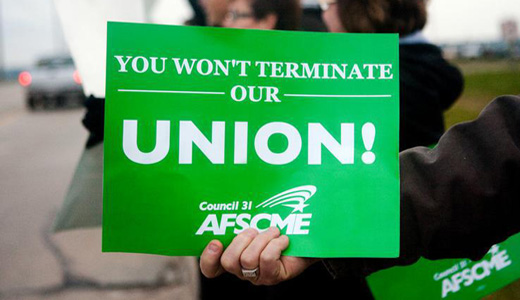 The rights of public service workers seem to be of no consequence to Illinois Gov. Pat Quinn (D). He's prepared to sign a bill that allows him to deny collective bargaining rights to 3,580 state employees of his choosing, including up to 1,900 who currently have union representation. The legislation also allows the state's other constitutional officers broad latitude to take away bargaining rights from their employees.
A "quiet war on the collective bargaining rights of public employees" is how The State Journal-Register, the capitol city's paper of record, described the governor's campaign against the state's employees. But Quinn's war resembles a scorched-earth battle. In 2011, he canceled pay raises for 30,000 public employees.
Then in November, Quinn terminated AFSCME's collective bargaining agreement with the state, leaving some 35,000 employees without the protection of a union contract. Previously, AFSCME Illinois Council 31 members worked under a contract extension while negotiations on a new agreement continued.
Illinois AFL-CIO President Michael Carrigan says:
State employees are on the frontlines every day preserving public safety, safeguarding children and assisting families, caring for aging veterans, responding to disasters and protecting our environment. Gov. Quinn's effort to undermine their collective bargaining rights is unwarranted and virtually unprecedented in Illinois government.
Compounding the insult, Quinn's decision to nullify the union contract follows his refusal to pay a negotiated wage increase due in the last year of the contract. An independent arbitrator found Quinn in violation of the contract and ordered him to pay, but the administration went to court seeking to overturn the arbitrator's ruling. Earlier this month, a circuit court ruled that the contract must be honored, but Quinn is appealing that decision as well.
Meanwhile, Quinn is pushing the legislature to pass a pension proposal to change the way the annual cost-of-living adjustment is calculated, drastically reducing pension values over time. Following strong grassroots pressure from workers and retirees coordinated by labor's We Are One Illinois coalition, the legislature adjourned last week without acting on the proposal because it lacked the necessary votes.
Henry Bayer, executive director of AFSCME Council 31, says:
Rather than telling the truth, as a real leader would do, about the fact that the state's problems are caused by a broken and unfair tax system that lets the rich off easy, Gov. Quinn has instead tried to make public employees a scapegoat.
Signaling their anger, AFSCME members recently protested at the Chicago Cultural Center, where Quinn was holding a fundraiser-a birthday party he threw for himself. In addition to anger about the contract termination, they protested the governor's attacks on retirement security, affordable health care benefits and contractually set wages.
Through his deeds and words, Quinn has joined the ignoble fraternity of governors intent on attacking workers' rights and scapegoating public service workers. Among them is Wisconsin Gov. Scott Walker (R), who stripped more than 200,000 public service workers of their union rights in March 2011, and Ohio Gov. John Kasich (R), whose failed effort in 2011 to strip the collective bargaining rights of 350,000 public service workers in that state demonstrates widespread public opposition to such efforts.
While Illinois voters have not been given an opportunity to express their views on Quinn's anti-worker campaign at the ballot box, poll numbers show Quinn is the most unpopular governor in the nation.
Quinn's strategy advances the corporate-driven agenda of blaming middle-class public employees and retirees for state budget problems and attacking their rights while coddling corporate CEOs. It's clear that in Illinois, such a strategy isn't just wrong but deeply unpopular.
Anders Lindall is AFSCME Council 31's public affairs director. Clyde Weiss is AFSCME assistant editor.
Reposted from AFL-CIO NOW blog.
Photo: AFSCME Council 31 Facebook page.