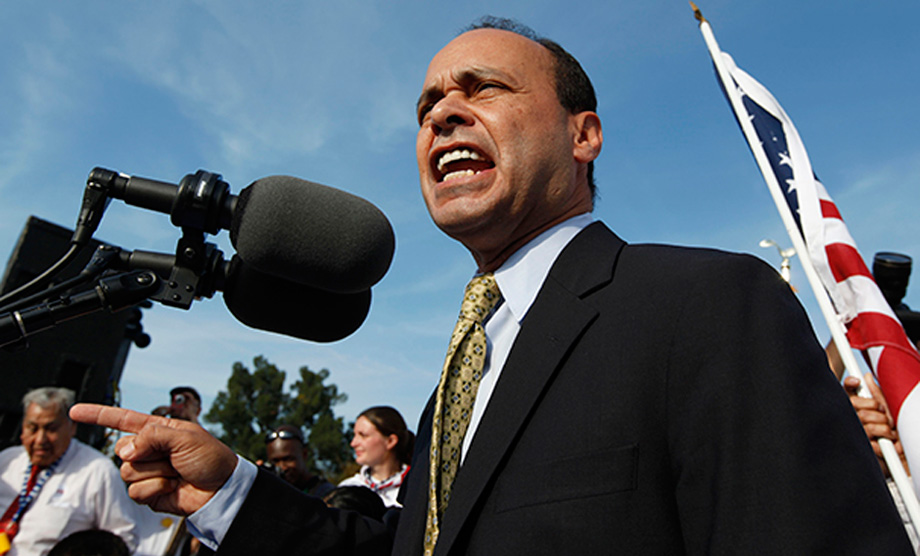 CHICAGO – In a last minute political surprise, longtime Illinois Congressman Luis Gutierrez announced he will not run for re-election to the U.S. House of Representatives. His current term ends in 2019.
Two progressive elected officials, Jesus "Chuy" Garcia and Carlos Ramirez Rosa, immediately announced their intentions to run in the March Democratic primary for the state's 4th Congressional District seat. Both vowed to wage a vigorous fight against Trump and GOP policies. Signatures to get on the ballot are due December 4.
Garcia and Rosa attended the Democratic National Convention as Bernie Sanders delegates. On Wednesday, Sanders threw his support to Garcia, who had been one of his national surrogates.
Gutierrez has been a staunch foe of Donald Trump on every issue. He is a nationally recognized leader of immigration reform, calling for a path to citizenship for 11 million undocumented immigrants including youth known as "Dreamers."
As an advocate for the Puerto Rican people, Gutierrez has been an outspoken critic of Trump's handling of the humanitarian crisis in the wake of Hurricane Maria. Puerto Rico is his ancestral home.
In announcing he was stepping down, Gutierrez threw his support to Garcia, currently a Cook County Commissioner. Gutierrez and Garcia began working together during the 1983 campaign to elect Harold Washington, the city's first African American mayor.
Born in Mexico, Garcia worked closely with the late Rudy Lozano and others to build a powerful independent political movement based in the Mexican American community. That movement got its start in the 1970s. Lozano, who had been a City Council candidate allied with Washington, was assassinated in the aftermath of Washington's election. Later, after a fierce battle against the Democratic machine, Garcia was elected to the City Council seat Lozano had contended for. Garcia went on to become the first Mexican American elected to the Illinois State Senate.
In the midst of 2015's contentious mayoral election campaign, the leading challenger to incumbent Mayor Rahm Emanuel, Chicago Teachers Union President Karen Lewis had to withdraw when she was diagnosed with a brain tumor. Just days before the filing deadline, Garcia stepped up to run against Emanuel. Garcia ran on a progressive platform addressing criminal justice reform, school closures and underfunded public services.
In the first round of balloting, Garcia forced the first ever run-off in a mayoral primary, but ultimately fell short of winning. During the campaign, a police dash cam video showing the gruesome police murder of teenager Laquan McDonald was suppressed; had it been released before the election, Garcia might very well be mayor.
Rosa was elected alderman in 2015. Then 26 years old, he was the youngest person ever elected to Chicago's City Council and the first openly gay Latino elected to any city office. He was previously a community organizer for the Illinois Coalition of Immigrant and Refugee Rights and worked for Gutierrez.
Rosa, a member of Democratic Socialists of America, has been an energetic independent voice in the City Council, and is a member of its Progressive Caucus. He spearheaded establishment of ward defense committees to protect undocumented immigrants against deportation.
Most recently, Rosa introduced the "Chicago Water for All" ordinance that would bar the privatization of the water system and help low-income residents deal with rising bills.
Gutierrez's voice will be missed in Congress. He rose to prominence in Chicago politics during the movement to elect Washington. Gutierrez was among those active in building support for Washington in the Latino community.
After helping elect Washington, Gutierrez ran for City Council and became the decisive vote that broke the racist Council obstruction against Washington.
Gutierrez promised to continue organizing to defeat Trump and the GOP congressional majority. "I'll be continuing the fight, but in a different way," he told radio station WBEZ. His plans, he said, include helping build the national movement for immigration reform and helping rebuild Puerto Rico. A rumor reported in the Chicago Sun-Times has him running for president in 2020.