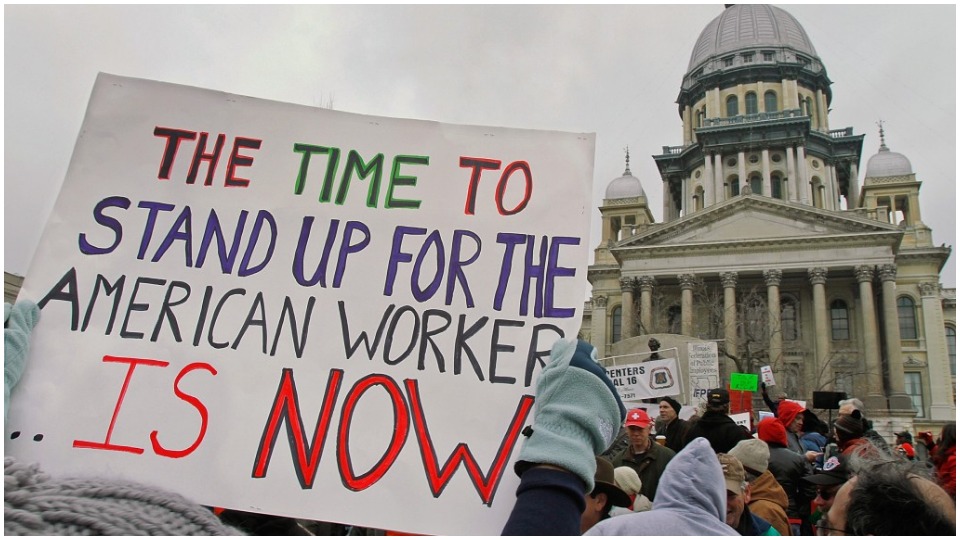 SPRINGFIELD, Ill. (PAI) – Two Democratic lawmakers are proposing a state constitutional amendment to ban the phony "right-to-work" law in Illinois.
And that would permanently make local "right-to-work" laws illegal in Illinois. They're now illegal under a law the Democratic-dominated and pro-worker legislature passed last year, which Democratic Gov. J.B. Pritzker signed. But that could be overturned by a future, anti-worker legislature and governor – or the state Supreme Court.
It would be much harder to overturn a constitutional amendment such as the one being prepared by Rep. Lance Yednock, D-Ottawa, and Sen. Ram Villivalam, D-Chicago. Yednock is a member of the large and influential Operating Engineers Local 150. He and Villivalam sponsored the "right-to-work" ban that was approved last year.
So-called "right-to-work" measures make it illegal for union contracts to require that employees either join the union or at least pay fees for the union's negotiating efforts, thus diminishing the union's ability to win raises and other measures on behalf of workers.
The practical effect, as worker foes, led by the business-backed so-called National Right to Work Committee, admit, is to rob unions of money they need to defend their members, bargain for contracts or advocate for better working conditions.
That's because "right to work" laws let free riders use union services and protections, which cost money, without paying one red cent for them.
If the Illinois legislature approves the amendment this spring, it would be in time to make the November general election ballot for voters to approve or reject.
Crain's Chicago Business, in reporting on the proposal, talked to Ed Maher, Local 150's communications director, who told them labor has been "playing defense" for too long and needs to go on the offensive.
"Collective bargaining is the rising tide that lifts all boats. Right-to-work laws are a threat," Maher said.
Villivalam's staff confirmed he will sponsor the amendment in the Senate. Yednock ran for the legislature – and won — in part to lead the fight against "right-to-work." As might be expected, corporate interests, specifically the Illinois Chamber of Commerce and the Illinois Manufacturers' Association, are already protesting the amendment.
Maher told Crain's his 23,000-member union is prepared to spend what it takes to get the "right-to-work" ban through and it has "overwhelming bipartisan support" in the legislature.
"The people have spoken," Villivalam said, referring to Pritzker's defeat of anti-worker GOP Gov. Bruce Rauner, a crusader for "right-to-work," in the 2018 election. "They clearly don't want Illinois to be a "right-to-work" state."
Villivalam, the new Senate Transportation Committee chairman, said prospects for passage of the amendment look good. "This is the central issue for Illinois labor and collective bargaining," he said. "We need stability."
St. Louis-Southern Illinois Labor Tribune via PAI