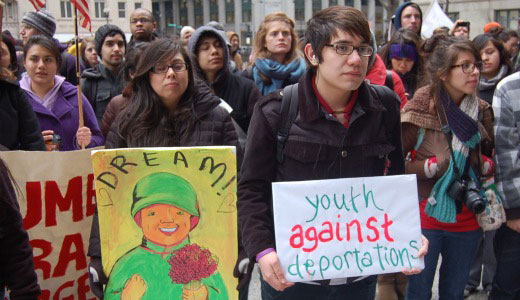 Illinois lawmakers passed a bipartisan bill May 30 that would assist immigrant youth throughout the state in paying for college. The measure, SB 2185, known as the Illinois DREAM Act, passed the Illinois House with a 61-53 vote. It passed the State Senate earlier this month and now heads to Democratic Gov. Pat Quinn's desk, where he is expected to sign the bill into law later this week.
"I believe everyone has the right to a first-class education, and the Illinois DREAM Act strengthens Illinois' commitment to ensuring education for all," Quinn said in a statement released by his office. "The legislation allows private funding to be used to help students pay for higher education and to train high school counselors to assist undocumented children [to] forward their educational careers. This legislation will support our next generation of scholars, business leaders and innovators, and I look forward to signing it."
The measure would establish a privately funded Illinois DREAM fund, administered by a volunteer staff commission, to make scholarships available to children of immigrants who graduate from state high schools. It will also train high school counselors and college admissions officers to be fully informed about educational resources and opportunities for immigrant students. The bill would also allow families to participate in the state's two college tuition savings programs.
The measure will not impose any cost on Illinois taxpayers and could benefit as many as 95,000 immigrant youth.
Lawrence Benito, deputy director with the Illinois Coalition for Immigrant and Refugee Rights, said the bipartisan vote was "truly historic." In a statement on the group's website, Benito added, "This vote is a victory for our state and an important step forward in recognizing the contributions of immigrants." Illinois is poised to become the first state to create a private scholarship fund for children of undocumented Latinos, he said.
The bill, the coalition said, shows Illinois "is not only an immigrant-friendly state but also a national leader on moving fair, humane and practical solutions forward."
With the growing political power of immigrant communities and the recent Census showing an increase of Asian and Latinos in the suburbs, the issues affecting these communities are being taken seriously by elected officials, says the coalition. "This vote is very important for Latinos, immigrants and their supporters, who will remember this vote in 2012."
The Illinois Latino voting bloc grew by nearly 500,000 people since the 2000 Census.
The measure was endorsed by U.S. Sen. Richard Durbin, D-Ill., Chicago Mayor Rahm Emanuel, Cardinal Francis George, 15 university presidents and hundreds of faith and business leaders and community organizations.
The legislation was especially welcomed by Cindy, 22, an undocumented senior at the University of Chicago and leader with the Chicago-based Immigrant Youth Justice League.
In a video on the league's website, Cindy said she came to the U.S. with her parents when she was three-years-old.
"My parents made the choice to come to the U.S. in hopes to provide me and my sister a better life, she said. "Growing up, my parents always stressed the importance of an education. I grew up with the idea that one day I would attend college, graduate and have a career. I am less than a month away from my college graduation and becoming the first person in my family … graduating college and fulfilling my parents dream."
Cindy continued, "But my future is uncertain because I cannot be employed after graduation and attending graduate school will be difficult financially."
However, she said, "The Illinois DREAM Act is important for my community, my friends and the thousands of undocumented youth who live in Illinois that want to create an educated immigrant community ready to give back to the U.S."
The bill gets its name from a federal piece of legislation also known as the DREAM Act, which almost passed Congress last winter. That measure was re-introduced recently by Democrats in the U.S. Senate. It would allow millions of undocumented students higher education opportunities, including a path to citizenship if they attend college or join the military.
Since only federal legislation can change immigration law, the Illinois version cannot include a path to citizenship for undocumented youth, but activists say it's a move other state's could follow in countering some of the anti-immigrant measures being proposed.