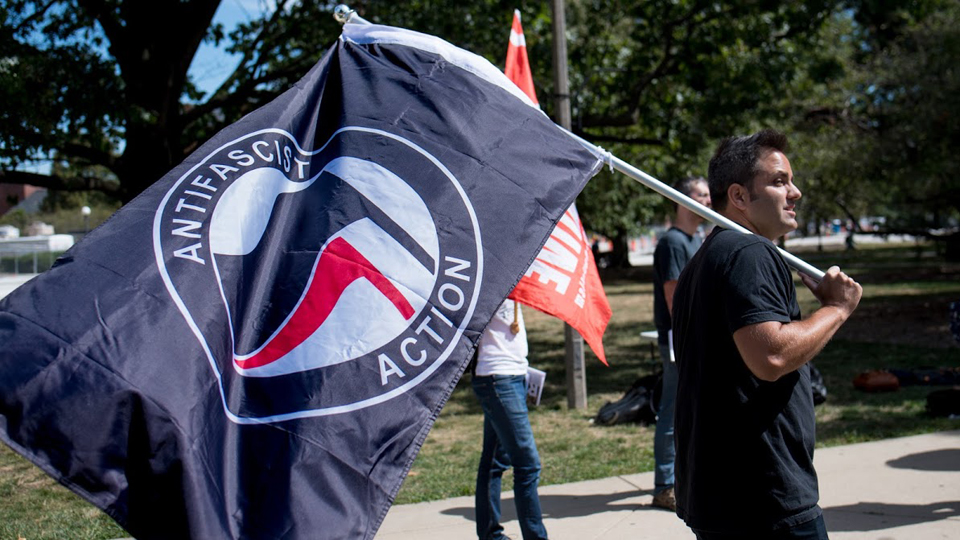 In recent years, college campuses across the country have been inundated with a surge of so-called "alt-right" student groups. With speakers such as Milo Yiannopoulos making college tours a part of their agenda and neo-Nazi organizations furthering their reach by developing stronger recruitment strategies on university campuses, it is no wonder that just trying to get an education means braving a political warzone for marginalized students.
One of the latest victims of the alt-right's targeted harassment campaigns is Tariq Khan, a U.S. Air Force veteran, father, and organizer who attends the University of Illinois Urbana-Champaign. Khan, who is currently working toward his Ph.D. in history, was asked to speak at an anti-fascist rally on November 16, 2017. While speaking, he was heckled repeatedly by members of the campus chapter of Turning Point USA. TPUSA is a conservative outfit that trumpets its allegiance to free market ideology and presents itself as a defender against the supposed threat of creeping socialism.
The Turning Point USA chapter at Urbana-Champaign is headed by an undergrad student named Joel Valdez, who challenged Khan from the crowd while he was at the mic. Khan says the trouble began when he made what he says were "light-hearted jabs" about Turning Point showing up at the anti-fascist protest, something the "alt-right" group has taken to doing lately.
As Khan was finishing his speech, he claims that Valdez went as far as making what he felt was "a veiled threat" towards his children. Various other news outlets have confirmed that Valdez was indeed in attendance, and that he shouted at Khan, "No one's scared of you, 50-year-old man! Don't you have kids to look after?" Khan says that none of his family members were in attendance at the rally, nor had he made mention of them in his speech. He worries that since Valdez mentioned looking after his children, TPUSA may have "already looked me up, and sought out personal information."
In the past, TPUSA students have been reported to show up to rallies in order to antagonize speakers and attendees, but, according to Khan, they have also made appearances at people's places of work and other spots on campus. Khan says that the words of Valdez this time felt like a threat. This is the point when, according to Khan, he acted in self defense. In an edited video of the event, Khan is seen leaving from the rally crowd and physically confronting the TPUSA group. He grabs the cell phone of one of the TPUSA members who was filming him. That phone belonged to Valdez.
After several minutes of verbal sparring, Khan began to walk away, with the phone still in hand. According to Khan, he dropped the phone on the ground after he left the scene, but Valdez called 9-1-1, claiming that the Ph.D. student had stolen and damaged his property. Valdez later uploaded video of the incident from the same "shattered" phone.
According to the official public crime report of the University of Illinois Police Department, Khan was "issued a notice to appear in court" on a Class A misdemeanor charge of criminal damage to property. It mentions no arrest, contrary to the claims of Valdez and conservative news outlets.
Campus Reform, a right-wing website which targets anti-fascist activists and professors for harassment, picked up the video and helped it go viral. It was then circulated widely, given a boost by conservative pundit Lou Dobbs, short-lived Trump White House Press Secretary Anthony Scaramucci, conspiracy peddler Alex Jones, and fascist "Proud Boy" Gavin McGinnis, among others. Since then, Khan and his family have faced numerous threats as the right-wing harassment machine went into action. Administrators of the University of Illinois, meanwhile, have been bombarded by complaints demanding that Khan be expelled for his politics.
This is not the first incident of its kind; there are several reports of leftist students being followed or bullied by the Turning Point USA chapters on campuses across the country. Many TPUSA chapters and other conservative groups have been known to promote white supremacist ideologies and violence, and they typically rely on methods such as stalking, online harassment, and workplace harassment. According to a statement of solidarity by Students for Justice in Palestine UIUC, Valdez's public twitter feed consistently posts racist and nationalist tweets, and proves that TPUSA shows up to leftist spaces and events specifically for the purpose of agitating students.
TPUSA also maintains the "Professor Watchlist," which claims its mission is to "expose and document college professors who discriminate against conservative students and advance leftist propaganda in the classroom."
Since the video of the incident went viral, Khan has been dealing with damage control and what he feels is the spread of misinformation. "He [Valdez] said I got arrested, and charged with multiple felonies. Nobody got arrested. Nobody got charged with felonies." Khan has had to hire a lawyer to deal with the legal ramifications of the situation, and his legal fund has been bolstered by $8,000 in donations from supporters.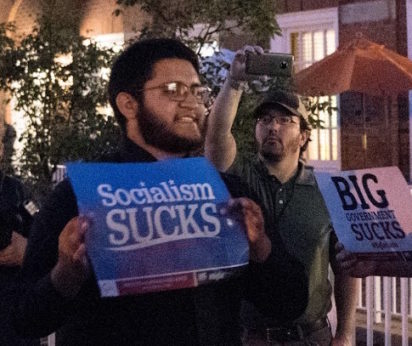 Despite Turning Point USA's affiliation with neo-Nazi ideologies, the University of Illinois has not condemned TPUSA or its actions heckling students, including Khan. The Office for Student Conflict Resolution called Khan in for disciplinary measures, stating that he was in violation of the "student code." Khan tried to elaborate on the context of the escalation but said he was shut down.
"They are using a video that is used as a hit piece against me as the primary piece of evidence to discipline me," says Khan, who is now worried that this will affect his ability to get a job, gain academic funding, or apply to other future opportunities. As of press time, the Office for Student Conflict Resolution has not responded to our request for comment.
As for the misdemeanor property damage charge, Khan entered a plea of not guilty at a Dec. 12 court appearance. His next hearing is scheduled for Feb. 2. If found guilty, he could face up to 364 days in jail.