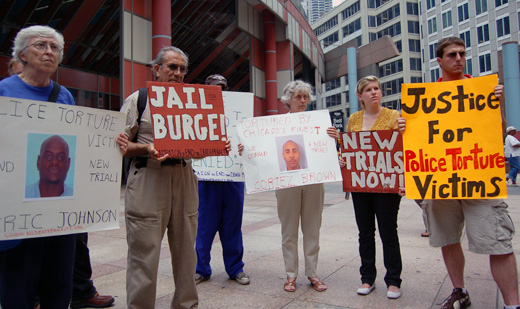 CHICAGO – Activists against police torture here welcome Ill. Attorney General Lisa Madigan's lawsuit to stop Jon Burge, the former police commander convicted for lying about the torture of suspects, from receiving his pension.
Madigan filed a lawsuit Monday accusing the city police pension board of illegally letting Burge continue to collect $3,039 a month in spite of his criminal conviction.
Burge, 63, was convicted last summer of three counts of obstruction of justice and perjury. He received a four and a half-year sentence last month.
Soon after, a split vote by the police pension board allowed Burge to keep his pension.
However Madigan is invoking the Illinois Pension Code, which prohibits benefits from being paid to any police officer convicted of a felony. She's also asking the court to order Burge pay back the pension benefits he has received since his sentencing.
"Jon Burge forfeited his right to a public pension when he lied about his knowledge of and participation in the torture and physical abuse of suspects," Madigan said in a statement. "It's this type of criminal conduct by a public servant that our pension forfeiture laws were designed to discourage. The public should never have to pay for the retirement of a corrupt public official."
Burge and detectives under his command are believed to be responsible for the torture of dozens if not hundreds of African American male suspects during the 1970s and 80s. Several victims have testified against Burge that he and his men forced confessions from them using electric homemade devices, suffocation with plastic typewriter covers, beatings and mock executions.
Burge was fired from the police department in 1993 but was never convicted of torturing suspects before the statue of limitations expired.
"It's an outrage that Burge only got four and a half years considering 23 men remain in prison due to police torture on his watch," said activist Mark Clements with the Jail Jon Burge Coalition.
Clements was jailed for 28 years after a crime he says he was tortured into confessing as a youth by Chicago detectives. He was freed in 2009 after making a plea deal, which his attorney's are still fighting.
No relief has been granted to scores of Black men behind bars despite the fact that Burge has been found guilty, said Clements. What is needed is an independent community based agency to investigate these cases. "And we need new hearings for all of them." Clements says he's committed to helping the men get out of jail.
After serving so many years behind bars Clements says he understands the pain of the victims and their families especially when evidence continues to prove their innocence. "It's all a very emotional struggle and fighting for justice is not easy," he said. "But we got to hold on in order to reach the most positive solution and bring these men home."
Ted Pearson with the Chicago chapter of the National Alliance Against Racist and Political Repression said Madigan's recent efforts against Burge are laudatory.
"But it would be more meaningful if she used her authority to ensure the victims of police torture get new hearings," he said. Penalizing Burge sends a strong message to the whole police department but what's more important is getting justice for all torture victims, said Pearson.
For example Pearson notes in Dallas County, Texas, District Attorney Craig Watkins initiated a special unit on wrongful conviction cases after recognizing so many flaws in the system. Using DNA testing 25 men have been exonerated in Dallas County over four years, said Pearson. "We need a special unit like that in Cook County to reopen every case where someone has been tortured into confessing a crime they didn't commit."
Torture cases existed long after Burge was fired and in fact there's evidence they still continue, says Pearson. "Anyone who has made an initial claim of police torture during their trials where a confession was used against them should have their cases reopened because now we know it probably happened."
Meanwhile Flint Taylor with the People's Law Office says he's very pleased that Madigan is courageously addressing Burge.
"Not only should Burge be denied his pension but the city of Chicago should also be forced to stop paying for his civil defense cases in court," said Taylor. Instead the city should compensate the countless torture victims based on their wrongful convictions, he added.
"Next, we have to get the new mayor of Chicago and the new City Council (municipal elections here are Feb. 22nd) to deal with this issue and get these men out of jail," said Taylor. "We also need to bring to justice all the men under Burge who should be indicted for their crimes against humanity not to mention those who covered up the abuse for decades," he said.
Photo: Pepe Lozano