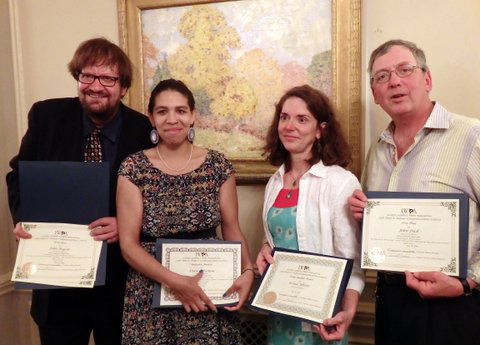 On May 16, the Illinois Woman's Press Association hosted its spring awards luncheon, celebrating the association's 130th anniversary. The IWPA is believed to be the nation's oldest organization of women writers, established in Chicago in 1885, it is also the founding mother of the National Federation of Press Women, which was established in 1937.
Tracing their roots to the women's club movement at the turn of the twentieth century – as well as the suffragette movement – the association was linked with other professional and women's groups including the National Editorial Association and International League of Press Clubs. It was an auxiliary to the Illinois Woman's Alliance which included 24 local communities, religious and professional organizations whose goal it was to establish a labor union for working women.
People's World writers won six first place awards in various categories, one second place, two third places and one honorable mention. Go here for the full list: https://peoplesworld.org/people-s-world-receives-top-honors-from-illinois-woman-s-press-association/
PW co-editor Teresa Albano received the IWPA's Silver Feather Award, and freelance writer Beth Dugan won the association's top award, the 2015 Communicator of Achievement.
The following brief remarks were made by Albano after receiving the Silver Feather Award.
I want to thank IWPA for this honor. The association has an incredible history and its leaders today are building IWPA in new ways, not an easy task given the changing communications' field and the new challenges women face in the industry.
Thank you to IWPA President Becky Sarwate and contest Chair Diane Bushemi, the board and new officers, for the work and joy you put into building and sustaining the association. And congratulations to Beth Dugan, 2015 Communicator of Achievement – and storyteller extraordinaire.
IWPA and PW share some commonalities. People's World traces its founding to 1924 when the first issue of the Daily Worker rolled off the press. Since then we have been combining journalism and social activism. Reading about IWPA's history, it seems we share that foundational mission, including, promoting labor unions among women. Plus we share the challenges of taking long-standing institutions and re-tooling them for this century, not always an easy task, but a necessary one.
While this Silver Feather Award has a single name on it, writing takes a team and I have a great team here at this luncheon: PW staff and volunteers Barbara Russum, Hyacinth Morris, Jacqueline Dick, fellow award winners Andrea Perkins, John Dick and co-editor John Wojcik, plus my dear daughter Winona and especially my ever-supportive husband John; as well as our writers and co-editors not here and, of course, our readers and financial supporters. Everyone contributes.
I would be remiss if I didn't include in the team, IWPA membership director Tim Libretti, without whom none of us from People's World would be here. He did his job promoting IWPA. He was the one who read my article from Ferguson and urged me to enter it, and for that I thank you.
But perhaps the most crucial part of our team is the people we write about. In my story, this means the people of Ferguson, Mo., especially the youth. If it weren't for them — black youth in the first place — taking a stand and telling the nation that black lives matter, that Mike Brown mattered, there would not have been a story. They and thousands of others in New York, Baltimore, South Carolina and right here in Chicago, and in towns and cities across the nation have begun a new chapter in the struggle for civil rights.
I draw inspiration from a 19th century philosopher and adapted one of his more notable lines to try to capture the kind of journalistic motto we follow: "Journalists interpret the world in various ways, the point is to change it." Thank you IWPA for recognizing and affirming that this kind of journalism has an important place in today's media-driven world.
Photo: From left to right: People's World co-editor John Wojcik, volunteer writer Andrea Perkins, co-editor Teresa Albano, volunteer writer John Dick show their awards from Illinois Woman's Press Association. For a listing of the award-winning stories and writers click here: https://peoplesworld.org/people-s-world-receives-top-honors-from-illinois-woman-s-press-association/ (PW/Jacqueline Dick)