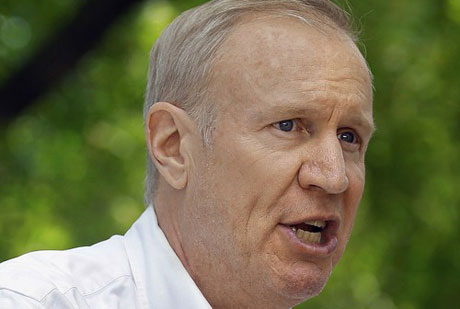 CHICAGO – Working families, organized labor, progressives, and other democratic forces face a major threat from the right with billionaire venture capitalist Bruce Rauner winning the Republican contest for governor in the Mar. 18 primaries.
Rauner's victory ensures an all-out battle to reelect Democratic governor Pat Quinn and defend the Democratic legislative majority in the November general elections, making Illinois a national battleground.
Loaded with cash and enjoying the support of major sections of finance capital, Rauner poses the same danger as Wisconsin Gov. Scott Walker or Florida Gov. Rick Scott who dealt major blows to worker's rights, public education, and voting rights.
Unfortunately, Rauner is capable of appealing to working-class voters who are frustrated by economic stagnation, fed up with Democratic machine politics and corruption, years of budget crises and the public worker pension crisis.
Rauner vows to bring a "business approach" to state governance, slashing taxes on corporations to "make Illinois business friendly." He once called for reducing the state minimum wage, but retreated in the face of public opinion and even his Republican opponents.
A major charter school investor, Rauner advocates privatization of public education, union busting and slashing public worker pensions. A Rauner victory could conceivably move sections of the Democratic Party dominated by corporate interests to the right, especially on school privatization.
Defeating Rauner will require the broadest unity of an energized labor movement, communities of color, women, immigrants, the LGTBQ community, students and others with the Democratic Party establishment.
Electoral unity is necessary even while public sector unions are fighting Quinn and Democratic Party legislative leaders who backed a public worker pension reform that labor opposed and while the Chicago Teachers Union (CTU), parents and community organizations wage a bitter fight against Mayor Rahm Emanuel and sections of the Democratic Party pushing school privatization and union busting.
Clearly understanding the threat posed by Rauner, some unions urged their members to crossover and vote for a more moderate Republican candidate in the primary. The tactic nearly worked.
Democratic legislative leaders wasted no time in framing the general election debate. On Mar. 21, Illinois House Speaker Michael Madigan called for placing an amendment to the state constitution on the November ballot to raise taxes on millionaires to generate an estimated $1 billion in additional funding for education.
Illinois Senate Democrats are advancing legislation to raise the state minimum wage from $8.25 an hour to $10.65 an hour over two years.
Republicans are crying the initiatives are "driving a wedge between rich and poor."
Madigan and legislators are responding to broad public support for a progressive income tax and higher minimum wage and the growing movements organizing this sentiment.
A referendum calling for a minimum wage of $15 an hour, garnered 87 percent of the vote in wards across the Chicago. Tens of thousands of signatures have been gathered to demand a progressive tax.
Madigan may also be trying to get ahead of these movements, short-circuiting even more radical reforms. Nevertheless it reflects the interplay between grassroots movements, labor-community coalition building and legislative action and its potential to influence public discussion and election outcomes.
The initiatives lay out the stark differences between Quinn and Rauner and should help mobilize the vote in an off year election and raise the possibility they can be passed in the legislature.
The election tactics illustrate the complex interpenetration between advancing labor's agenda and winning progressive political independence from the Democratic establishment and corporate class forces while fighting the right danger and the reactionary corporate forces promoting it.
These are inevitable contradictions present within multi-class alliances geared around the attainment of immediate interests. Few have illusions the corporate wing of the Democratic Party will not hesitate to defend the interests of the corporations and wealthy.
The question is who will emerge from these battles and temporary alliances strengthened and on more favorable ground to fight – machine and corporate forces or labor and its allies?
The challenge for democratic forces is to strengthen political independence and building independent structures within and outside the context of Democratic Party politics.
The primaries illustrate the difficulties advancing against entrenched and still powerful machine interests given the current strength of labor, progressive and other democratic forces. But it also showed the possibilities for making advances where broad coalition unity is combined with progressive grassroots activism.
Much was gained during the election mobilization, especially those races that featured activist candidates who were leaders of various grassroots movements.
CTU president Karen Lewis said of her union's experience, "The CTU expressed people power this electoral cycle. We were most successful in creating a platform of educational justice and retirement security that was expressed by our endorsed candidates."
The CTU is transforming itself into an electoral power, building independent structures, energizing and mobilizing its membership and building alliances with other union and community forces.
The biggest victory on March 18 was that of Will Guzzardi in the 39th House District who defeated incumbent State Rep. Toni Berrios by a wide margin. Berrios is the daughter of machine boss and Cook County Assessor Joseph Berrios.
This race was seen as a major battle between machine elements and a coalition of some of labor, including the CTU and progressive community forces.
Guzzardi's victory extends the center of progressive independent politics in a number of Chicago's northside wards and reflects a steady weakening of machine elements.
This growing movement builds on the gains of the 22nd Ward Independent Political Organization in Little Village and Pilsen that elected Cook County Board member Jesus Garcia and the victory of Board President Toni Preckwinkle, both of whom were elected in 2010.
Community organizer Jay Travis backed by a coalition of the CTU, IFT, SEIU, and community organizations opposing school privatization and closings and supporting an elected school board nearly defeated incumbent state rep Christian Mitchell backed by education privatization companies and the Democratic establishment.
Other election setbacks included the defeat of incumbent Cook County Board member Edwin Reyes, a prime target of machine forces and Josina Morita for the Metropolitan Water Reclamation Board, who would have been the first Asian American elected to a countywide seat and a staunch opponent of privatization.
Elections continue to grow as an arena of contested power. The fight against the right wing and corporate domination of governance and for a people's agenda and political independence go hand in hand.
Photo: Bruce Rauner. Seth Perlman/AP