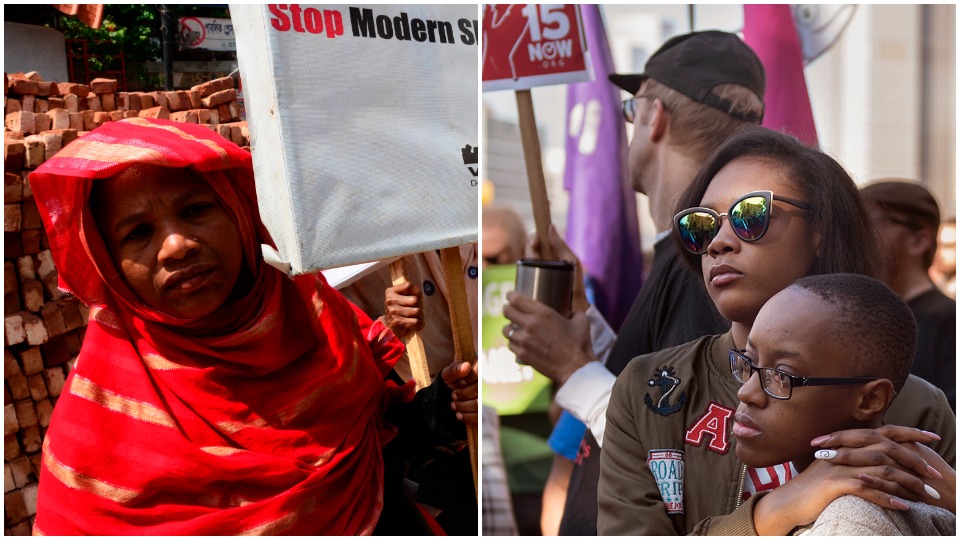 GENEVA (PAI)—The International Labour Organization (ILO) is demanding the world's governments enact and commit to new worker protections to meet the changing nature and demands of modern workplaces.
The demands come as billionaire representatives of the world's ruling class gathered in Davos, Switzerland to discuss the world economy and as most media in the U.S. report only on how embarrassing it is that those rulers see the inability of the Trump administration to get its act together here in the U.S. The ILO report, as expected, lays out a fix to the world's economic problems that differs widely from what is being called for by the capitalist kingpins in Davos. The ILO's late January report, issued in honor of the organization's centennial, a special commission – after a year and a half of work – advocated, as its lead recommendation among ten, "a universal labour guarantee that protects fundamental workers' rights, an adequate living wage, limits on hours of work, and safe and healthy workplaces."
Whether governments, including the GOP Trump administration, will pay attention, is another matter. ILO reports, and even its "conventions" – agreements written like treaties – do not have any legal force.
And the ILO includes business, government and worker representatives, thus leaving its recommendations and reports open to corporate influence – or dilution.
The report declined to set specific standards for specific countries. That's in direct contrast to the tough labor standards at least officially recognized by many in the European Union and the increasing success of the "Fight for $15 and a Union" movement in raising wages – though not ensuring unionization – in the U.S.
It's also in direct contrast to rampant worker exploitation in many developing nations whose governments have signed on to ILO "conventions," but not honored them. Instead, at the behest of multi-national corporations, they've repressed workers and unions and kept wages low, especially for working women, and working conditions hazardous.
Still, the organization's Global Commission on the Future of Work, co-chaired by South African President Cyril Ramaphosa and Swedish Prime Minister Stefan Lofven, strongly came down on the workers' side, saying assuring their well-being is absolutely necessary for continued global development, especially peaceful development.
"Countless opportunities lie ahead to improve the quality of working lives, expand choice, close the gender gap, reverse the damages wreaked by global inequality. Yet none of this will happen by itself. Without decisive action, we will be sleepwalking into a world that widens existing inequalities and uncertainties," the report warned.
"The report should stimulate engagement and partnerships within and between national and regional jurisdictions to ensure that the global economy and global society becomes more equitable, just and inclusive. At the same it should inspire global action to contain or eliminate challenges that humanity has inflicted on itself in the course of history," Ramaphosa added.
While the report offers a strong endorsement of workers' rights, it omits one notable one: The right to strike. That's been increasingly rare in the U.S., where latest government statistics show one of every 10 negotiations for new contracts feature employer lockouts, double the proportion where employers force workers to strike.
Still, workers must have freedom of association and the right to collective bargaining, and governments must guarantee that ILO contends.
In much of the world, they have neither. In the U.S., recent mass strikes by teachers, with wide community support, were successful in winning better school buildings, textbooks, and support for their students and better pay and working conditions for themselves.
Forced by management refusal to budge, teachers successfully struck in West Virginia – where they closed every school in the state – much of Kentucky, areas of Oklahoma, much of Arizona and Colorado and, most recently, in Los Angeles, the second-largest school district in the U.S.
And a successful general strike in France forced President Emmanuel Macron to drop a hated gas tax increase – though not his anti-worker labor law "reforms."
Specific pro-worker language in the ILO report includes: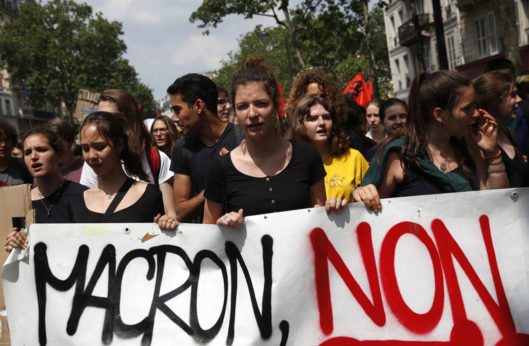 "Without decisive action, we will be heading into a world that widens existing inequalities and uncertainties."
"Today's skills will not match the jobs of tomorrow and newly acquired skills may quickly become obsolete. The greening of our economies will create millions of jobs as we adopt sustainable practices and clean technologies but other jobs will disappear as countries scale back their carbon- and resource-intensive industries."
"Forging this new path requires committed action" by government, unions, and employers. "They need to reinvigorate the social contract that gives working people a just share of economic progress, respect for their rights and protection against risk in return for their continuing contribution to the economy."
Workers and unions, in the U.S. and elsewhere, would argue corporate power and political clout shredded that social contract everywhere from Pakistan to Pensacola.
The ILO also calls for enactment and enforcement of "an agenda of gender equality," including equal pay for equal work, paid parental and sick leave, decent pay for public child and elder care workers, and elimination of sexual discrimination, harassment, and violence on the job.
'The issues highlighted in this report matter to people everywhere and to the planet,' said ILO Director-General Guy Ryder, one of two labor representatives on the panel that produced the report. 'They may be challenging but we ignore them at our peril."