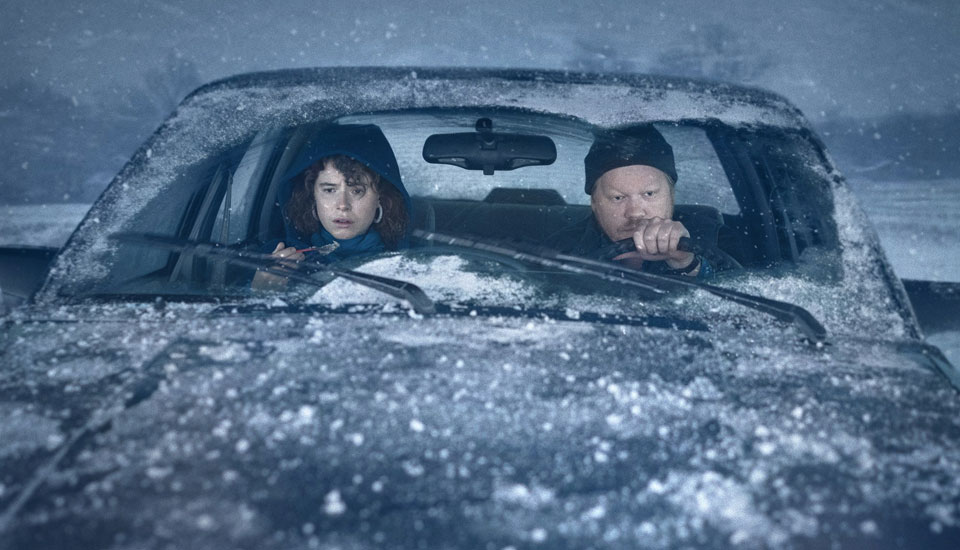 In I'm Thinking of Ending Things (134 minutes), Jake (Jesse Plemons) drives Louisa (Jesse Buckley) through snow-covered country roads to meet his parents at their remote farm. Both are extremely uncomfortable. Louisa thinks repeatedly about terminating their seven-week relationship. Jake seems intent on displaying his shaky self-worth. They need to prove something to themselves.
Discomfort rises to terror as Louisa meets Jake's parents, played intensely by Toni Collette and David Thewlis. The parents dramatically age and regress throughout the evening. Jake disappears and appears. The farmhouse seems to change shape, furnishings and configuration. Are we here alone?
Jake tries to persuade Louisa to spend the night at the house. Increasingly fearful Louisa insists on returning to her own apartment. With the snow falling heavily, the ride back itself may only substitute one danger for another.
Director Charlie Kaufman (Eternal Sunshine of the Spotless Mind) ratchets up American gothic to psychological horror as he distorts time, place and relationships, scattering uneasy references to the musical Oklahoma, the film Woman on the Verge of a Nervous Breakdown, and poetry—"Intimations of Immortality." Louisa may be "thinking of ending it"—but Jake may actually be the one to end it after all!
First time director Tyler Taormina's landscape in Ham on Rye (85 minutes) is both smaller and larger than Kaufman's I'm Thinking of Ending Things. Taormina sets us in suburban America, among high school students, walking through a social ritual of conversation, dance, and food at a local deli. We learn more from the young people's dress, groupings and actions than from the sparse and often inaudible dialogue.
Where Kaufman jams his long sweeping camera shots and claustrophobic car journey with anxious forced repartee, Taormina pushes his lens uncomfortably close for extended runs with little dialogue. His young people reveal themselves in their dress and facial expressions. Taormina's youth are on their way to adulthood through ritual. It is an uneasy journey where some find purpose, escaping their suburban constraints, as others remain behind, their blank faces reflecting more circumscribed lives.
Both Ham on Rye and I'm Thinking of Ending Things deal with the tensions of young America's uncertain future. These films are unlike earlier genres of self-satisfied materialism or later rebellious promise. They are as uneasy with the past as they are nervous about the future. Cinematic didacticism has given way to filmmakers content to raise questions they won't or can't answer. Where are the writers and directors who are thinking of beginning things?!