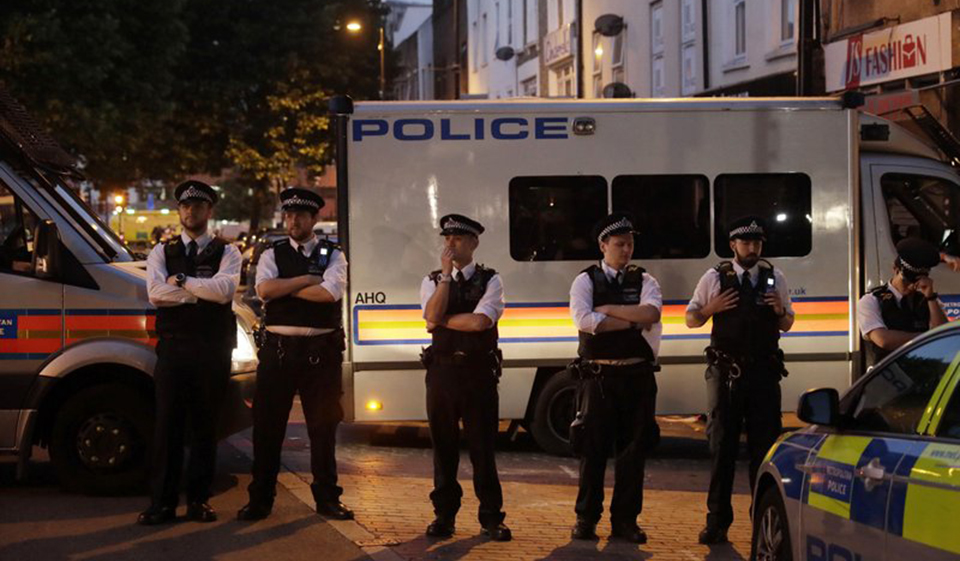 LONDON – Community leaders are praising a local imam for restraining an angry crowd that had surrounded the man accused of driving a van into worshippers near Finsbury Park Mosque in London very early this morning.
Imam Mohammed Mahmoud told reporters Monday that he and "other brothers" were able to prevent onlookers from beating up the suspect and held him until police arrived. The 48-year-old suspect had been surrounded by an angry crowd that is believed to have pulled him from the van used in the attack.
Mahmoud says "By God's grace, we were able to protect him from harm."
The ambulance service says nine people injured in the attack were taken to local hospitals. One man died at the scene, but it was not immediately clear whether he was killed by the attacker's actions or some other cause.
London's police commander says the van attack near Finsbury Park Mosque was clearly an attack on Muslims.
Commander Cressida Dick, speaking Monday in the London neighborhood of Finsbury Park, says people in Muslim communities will see more of their police protecting them in the coming days.
London Mayor Sadiq Khan, meanwhile, paid tribute to the local community who apprehended the attacker near the mosque, especially the religious leader who kept him safe from the angry crowd.
Khan says all these incidents are attacks on the city's shared values. He vows "we will not allow these terrorists to succeed … we will stay a strong city." Khan also declared that British officials have "zero tolerance" for hate crimes.
British Prime Minister Theresa May visited London's Finsbury Park Mosque, meeting with members of a community trying to come to terms with an attack in which a van barreled into a crowd of worshippers leaving Ramadan prayers.
Labor Party leader Jeremy Corbyn also visited. Finsbury Park is in the district Corbyn represents in Parliament.
May met with representatives from a variety of faiths only hours after the incident early Monday.
The visit had a political dimension. May has been widely criticized for her response to a massive fire in a high-rise apartment block last week that has killed at least 79 people.
May was accused of insensitivity and failing to exhibit leadership for a bungled response on the first day of the tower fire disaster. In particular, she visited the devastated fire site to meet with emergency responders but took days to meet with survivors, hundreds of which were made homeless by the blaze.
The German government offered its condolences over the attack, which it said appeared to have been an act of "blind hatred."
Chancellor Angela Merkel's spokesman, Steffen Seibert, said Monday that the government's sympathy goes to the victims and their relatives, the London mosque community and "all our friends in London and Britain who are barely able to find peace at the moment."
Seibert called the attack "an act of blind hatred – and that would give it a place in the terrorist acts of recent weeks and months."
Ten people were injured.
The chairman of the Finsbury Park Mosque and other faith leaders in London held a moment of silence for victims of a driver who plowed into the crowd of worshippers. After the silence, Mohammed Kozbar read a brief statement declaring that an "an attack on one faith is an attack on all faiths."
Kozbar was surrounded by leaders of other faiths in the community and by Labour Party leader Jeremy Corbyn.
The driver of the van, a 48-year-old white man, has been arrested and charged with attempted murder and police say they're investigating it as a terror attack. Prime Minister Theresa May praised the bravery of members of the public who detained the driver of a van that plowed into a crowd of worshippers outside a London mosque.
Eight people were in the hospital and two more were treated at the site of the incident. One person died at the scene but it's not clear if he died from the attack or something else.
—
British security officials say hate crimes directed at Muslims have increased nearly five-fold in the wake of several attacks in Britain blamed on terrorists.
An official said Monday that counterterrorism officials were closely monitoring terror activity linked to far-right groups but most of the recent attacks have been traced back to individuals rather than groups.
The person spoke on condition of anonymity because he was not authorized to speak about the ongoing investigation into an attack on worshippers early this morning. In the past three months, mosques across Britain have reported several attacks against worshippers and places of worship.
May described an attack on a north London mosque attack as a "sickening" attempt to destroy liberties that unite Britain, such as freedom of worship.
The chairman of the Finsbury Park Mosque says the van crash that hit worshippers was a "cowardly attack" and urged Muslims going to mosques to be vigilant.
Mohammed Kozbar said the attack early Monday morning was no different than the recent attacks on London Bridge and Manchester Arena and said the Muslim community is "in shock."
Video filmed in the immediate aftermath showed a Caucasian man being detained by police.
Someone in the crowd yelled to others not to harm the man while he was taken into custody. The video of the crash early Monday morning was accessed by the AP. Police have said the driver was a 48-year-old man who was arrested and taken to a hospital as a precaution.
"No one touch him! No one! No one!"
A leader of the Muslim Council of Britain has called for extra security at mosques.
"During the night, ordinary British citizens were set upon while they were going about their lives, completing their night worship. It appears from eyewitness accounts that the perpetrator was motivated by Islamophobia," he said.
John Wojcik contributed to this story.