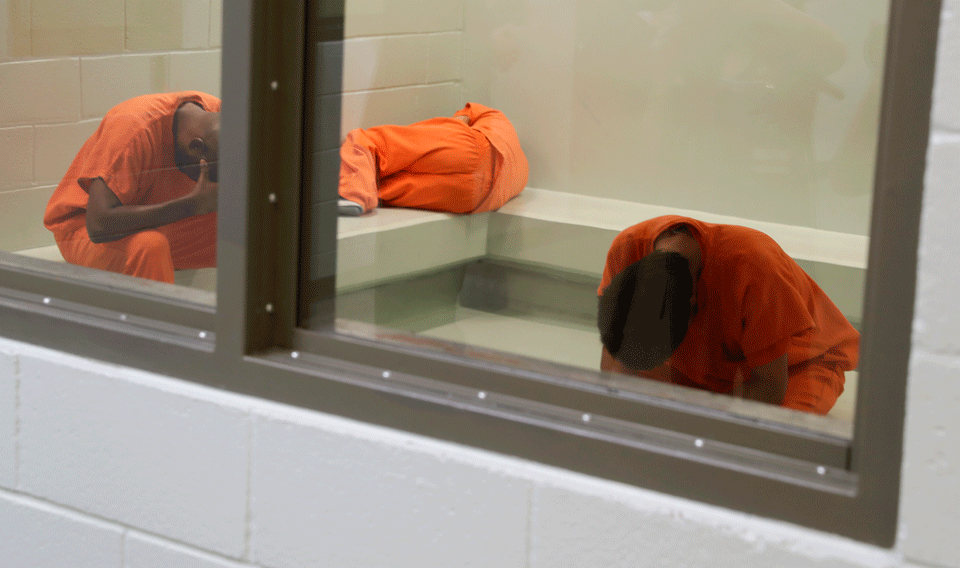 "We are human beings and want to be treated as human beings," declared Karopet Vatyan, one of many immigrant detainees on hunger strike since April 10 at the Adelanto Detention Facility.
The hunger strikers are protesting refusal by Immigration and Customs Enforcement (ICE) to protect them from COVID-19 spreading throughout the facility, a privately run prison in San Bernardino County, Calif. They are demanding the release of all prisoners, starting with the most vulnerable.
Protests and hunger strikes, like the one at Adelanto, have been sweeping immigrant detention facilities since March. Despite mounting pressure in the prisons, and from courts and public protest, ICE has mostly sat on its hands.
"They don't have soap. They don't have cleaning supplies. They don't have masks. They need to let these people out now before (COVID-19) runs rampant," said Debi Hernandez of Refugee and Immigrant Center for Education and Legal Services at a protest outside a detention facility in San Antonio, Texas. "These facilities are not safe places. They don't have to be there. They are prisoners waiting for civil procedures. They could all be released."
Prisons and long-term elderly care facilities provide perfect conditions for COVID-19 to spread like wildfire. In March, 3,000 doctors warned of dangerous conditions, including cramped and unsanitary conditions and inadequate health care. They called on ICE to release prisoners to stop COVID-19 from spreading.
Since then, at least 220 immigrant detainees have tested positive among 32,000 imprisoned immigrants in over 200 detention centers that make up the most extensive immigrant detention system in the world. Finally, on April 16, ICE released 700 immigrant detainees in response to its rapid spread.
However, citing "system-wide inaction," Federal Judge Jesus Bernal issued a preliminary emergency injunction April 21 against ICE at the request of immigrants with severe medical conditions or disabilities. Bernal accused ICE of dragging its feet to protect detainees against COVID-19, which amounted to "medical indifference," endangering the lives of thousands of prisoners.
He ordered the agency to determine which prisoners had underlying conditions and could be released. "Participation in immigration proceedings is not possible for those who are sick or dying, and is impossible for those who are dead," said Bernal.
Terrified and desperate immigrant detainees across California have been engaging in protests. Over 200 prisoners in the Otay Mesa detention facility in San Diego, have been on a hunger strike "over fear for our lives" the past few weeks. Otay Mesa is thought to be the site of the largest detention center outbreak of COVID-19 in the country now.
Detainees are frustrated by the private prison operator, in this case, CoreCivic. The corporation won't take steps to protect them, despite over 120 immigrant detainees having tested positive. Meanwhile, CoreCivic is demanding detainees sign documents relieving the company of any responsibility if they get sick, in exchange for masks. Those who refused at Otay Mesa were pepper-sprayed.
Among those released by ICE, 245 came from jails in New Jersey, site of the highest outbreaks. Terrified detainees started striking over what they describe as "harrowing conditions" to obtain soap and toilet paper.
A hunger strike and protest at the South Texas Detention Center in Pearsall resulted in clashes between hunger strikers and guards.
Demonstrations outside detention centers are surging too. With horns blaring and shouts of "Free them all!" hundreds of cars descended on immigrant detention centers across Texas on April 19 to demand the release of immigrant detainees amid the COVID-19 pandemic.
"We won't sit silently as our friends and family members and neighbors get sick and die in detention," declared one protester.
The statewide day of action occurred in San Antonio, Austin, Dallas-Ft. Worth, Corpus Christi, and Houston. Texas RAICES, San Antonio Stands, Never Again Action, and other immigrant solidarity groups organized the protests.
RAICES is one of many organizations filing suit in federal court for the immediate release of immigrant detainees. They charge the pandemic has worsened conditions at the notorious South Texas Residential Center in Dilley. It has created "a dangerous situation that imminently threatens [immigrants' lives], the lives of those in the surrounding communities, and the general public should a COVID-19 crisis spark within family detention."
"I fear the coronavirus will spread quickly in this jail if one person is infected," said a Honduran mother in the suit. "I fear for my life, and the life of my daughter and unborn child, if we remain detained. I believe our safety requires our release."
On April 20, ICE announced over two dozen prisoners had tested positive for COVID-19 at the Prairieland Detention Center southwest of Dallas. Immigration advocates maintain prison employees are bringing the virus into the facilities and infecting prisoners.
CoreCivic, which runs five Texas detention centers, recently announced three employees had tested positive. But ICE says it doesn't have to report any illnesses of employees at privatized detention centers, including those who may be interacting with prisoners, because a third party runs them.
Meanwhile, the Trump administration is ramping up its anti-immigration and xenophobic policies. Trump tweeted on April 20 he was signing an executive order to temporarily close the borders (with carveouts yet to be detailed) to immigration during the coronavirus. The Department of Health and Human Services announced new policies to delay placing immigrant children in safer homes while also fingerprinting all adults in households that take them in.
"This is another really dangerous policy from the Trump administration," Lindsay Toczylowski of the Immigrant Defenders Law Center told MSNBC. "When we know the safest thing is for families and children to be together and sheltering at home, the Trump administration is looking for ways to keep children away from their families. This is another example of cruelty driving the policy."
Border Control will keep more children in custody, said Toczylowski,  where more children have died than in any other place. "It flies in the face of what public health officials are calling for," she said.
The deportation of unaccompanied immigrant children has snowballed in recent weeks. "The administration is taking advantage of this moment to expel children, or anyone seeking asylum at our border," said Michelle Brane, Director of Migrant Rights and Justice at the Women's Refugee Commission. "COVID-19 didn't eliminate the dangers people are fleeing. We are throwing them right back into those dangers."
Last week, Guatemala suspended all flights of immigrants deported from the U.S. after 32 passengers on a plane tested positive for COVID-19. Seventy-five percent of passengers tested positive on a similar flight in March.
Seventeen asylum seekers were reported COVID-19 positive in a refugee camp in Matamoros, Mexico, across the border from Brownsville, Texas. Over 3,000 asylum seekers are trapped in close quarters, forced to live in tents with dirt floors. The city nearby has a population of 450,000 and only a handful of ventilators in case of an outbreak.
Like free stuff? So do we. Here at People's World, we believe strongly in the mission of keeping the labor and democratic movements informed so they are prepared for the struggle. But we need your help. While our content is free for readers (something we are proud of) it takes money — a lot of it — to produce and cover the stories you see in our pages. Only you, our readers and supporters, can keep us going. Only you can make sure we keep the news that matters free of paywalls and advertisements. If you enjoy reading People's World and the stories we bring you, support our work by becoming a $5 monthly sustainer today.