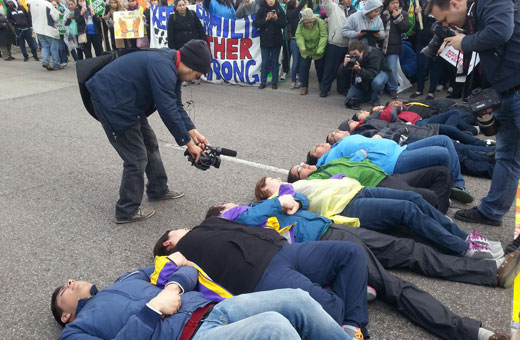 CHICAGO – Fed up with seeing loved ones deported and families and communities broken up, 11 undocumented immigrants and their supporters were arrested after blocking an intersection near the Broadview Detention Center on Apr. 8.
The action capped a two-day walk by 100 marchers from the Chicago Immigration and Customs Enforcement (ICE) office to Broadview, a 13-mile trek. They were warmly welcomed at churches and community centers along the way.
The protest was part of a #not1more national day of actions across the country demanding President Obama use his executive powers to grant administrative relief and end deportations by broadening deferments beyond the undocumented youth now covered by his previous executive action.
Immigration groups are united nationally in their belief that Obama can do more to stop the deportations. Two million undocumented immigrants have now been deported under his administration.
"We believe we can stop the deportations with the unity, strength and determination of our community," said Rosi Carrasco of Organized Communities Against Deportations.
Carrasco said she was inspired by the actions of undocumented youth, including her own daughters to fight against unjust laws.
"It's not enough to say you want to change something, you have to act accordingly," she said. "President Obama can use his executive authority to prevent the private detention centers from profiting off of human suffering."
Civil disobedience and hunger strikes have been stepped up because 1,100 immigrants continue to be deported daily and immigration reform activists and immigrant families are tired of both Congressional obstruction and Obama's inaction.
Carolina Rivera and her three American-born children participated in the march. Rivera's husband was arrested on a minor charge and detained for three months. Even though the charges were eventually dropped, he was still deported after a three-year battle in August 2011.
"He has been gone for three years. These have been very difficult years for my children and me," said Rivera. "My family, our families are suffering. It doesn't have to be that way."
"We are tired of the political football game that has been going on for years," said Gaby Benitez of the Latino Union, whose father was deported four years ago. "Those directly effected are taking the lead. We are saying we are undocumented, unafraid, and taking action to keep our families together."
Benitez said private companies like Corrections Corporation of America run prison facilities like the Broadview Detention Center. They hold two thirds of the immigrants being held for deportation and under federal law these corporations are mandated to hold 34,000 immigrants each day at $120 per bed.
"President Obama has prioritized enforcement," said Lawrence Benito, Executive Director of the Illinois Coalition for Immigrant and Refugee Rights and co-chair of Fair Immigration Reform Now! "We need to stop breaking up families and creating orphans."
Benito also blasted Republican obstruction of immigration reform legislation. "The GOP has run out of excuses," he said. "We will continue to pressure Speaker John Boehner (R-Ohio), Congress, and President Obama until a fair immigration reform is passed and our communities stop suffering."
Photo: Illinois Coalition for Immigrant and Refugee Rights