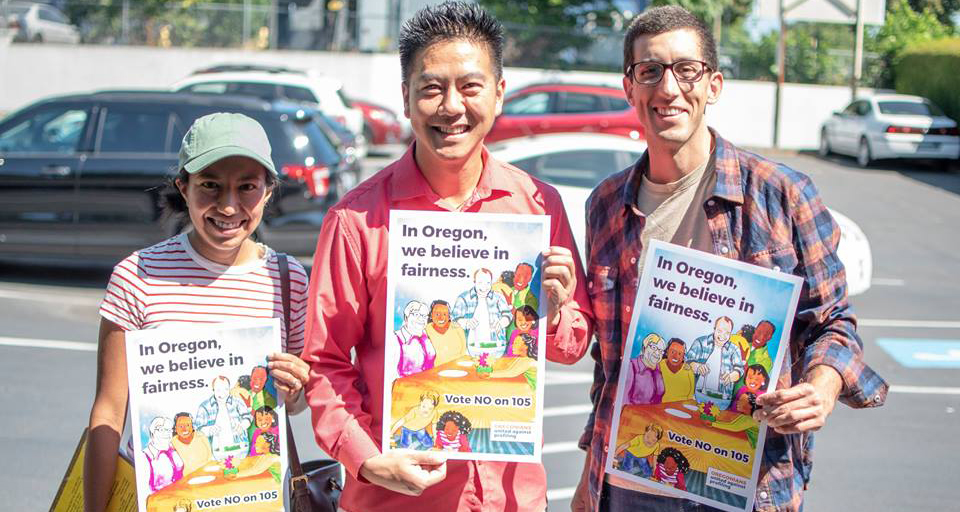 Oregon's immigrant rights, labor, and civil rights groups are campaigning against Ballot Measure 105, legislation that would repeal Oregon's so-called "sanctuary status," in place now since 1987.
The state's "sanctuary status" has reduced police racial profiling in the state, has helped to make Oregon more immigrant and refugee friendly, and has made it more difficult for employers to use the immigration status of workers to thwart union organizing campaigns. It has also helped create an environment more conducive to the election of pro-immigrant and pro-labor candidates to public offices. In an effort to maintain the state's sanctuary status immigrant rights groups successfully campaigned for the adoption of local inclusivity and sanctuary city statutes in many municipalities in 2017 and 2018.
Momentum and numbers favor the effort to beat back Measure 105, but the anti-immigrant rights groups are receiving large sums of money from out-of-state donors to finance their campaign. Prominent among the forces backing Measure 105 are a number of far-right hate groups. Their numbers also include Republicans who are campaigning for public office, adding much heat to political races which might otherwise not receive much attention.
In Oregon's Willamette Valley the contrast of candidates is striking.
Teresa Alonso Leon, Oregon's first immigrant Latina to serve in the state legislature, is running against a pro-gun Republican who has a poor record of service on the Salem-Keizer school board.
Shelaswau Crier, an African American woman with a strong background in law and policy, is running in the Marion County commissioner race to unseat a candidate with ties to far-right and anti-labor forces.
Mike Ellison, a member of the International Brotherhood of Electrical Workers and a supporter of the Sanders campaign, is running in the District 19 State House of Representatives race against an unremarkable Republican with ties to the far-right of the Republican Party.
Progressive Democrat and member of the Service Employees International Union (SEIU), Local 503, Deb Patterson, is highlighting health care and social justice in her campaign against a too-long-in-office Republican who waffles on major issues.
Danny Jaffer, a veteran and the son of an immigrant, is running in the usually conservative rural House District 23 against one of the architects of the anti-immigrant movement in Oregon. These Democrats form a vital link in the Mid-Willamette Valley's coalition against Ballot Measure 105 and for immigrant rights.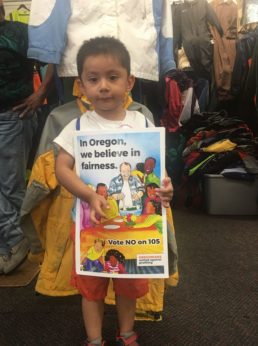 All of these Democrats have paid extraordinary attention to the details of policies and programs while their Republican opponents appeal to voter's emotions and sentimentality.
Governor Kate Brown, a liberal Democrat, has long opposed the anti-immigrant rights movement and also opposes Ballot Measure 105. She is in an increasingly tight race against a Republican who is moving  further to the right at the behest of anti-immigrant and anti-choice organizations. But Brown is not building the kind of grassroots campaigns that Crier, Ellison, Patterson, Jaffer and some other Democrats are. She is most vulnerable in rural Oregon, where a new farm crisis enabled by the Trump administration's tariffs and agribusiness seems to be developing, and a portion of her base may be conflicted about immigrant rights. The liberal base in Oregon notoriously voted against granting drivers cards to undocumented immigrants while voting overwhelming for the partial legalization of marijuana in 2014.
The campaign against Measure 105 in Salem, Oregon opened on July 25 when over 100 community members filled a church basement to attend a community conversation on the measure co-sponsored by the Salem chapter of Democratic Socialists of America (DSA) and the Racial Justice Organizing Committee (RJOC) and led by Causa Oregon. Members of the Communist Party were also a part of this coalition effort. Causa Oregon is a leading Latinx civil rights organization in the state.
Two DSA members who opened the meeting provided a socialist context for the event. The Salem DSA chapter also provided buttons calling for the defeat of Measure 105.The RJOC speaker, who has a long history of working with Causa and the labor movement, called for unity between antiracist and pro-immigrant efforts. Participants studied Causa materials on Oregon's racist past and present and discussed these materials in small groups and in a discussion guided by a DSA member. Causa leader Cristina Marquez and RJOC leader Paul Krissel then talked about the fight back against Measure 105.
Causa has done much to create and lead the Oregonians United Against Profiling coalition. That coalition is made up of scores of organizations, many based in the labor and civil rights and environmental movements, and also includes businesses and local law enforcement agencies.
The Pineros y Campesinos Unidos del Noroeste (PCUN) organization, Oregon's main farmworker and tree planter union, has had much success in convincing local law enforcement in Woodburn, Oregon to refrain from racial profiling and to not assist in immigration raids and crackdowns. With this work PCUN has been key to winning real school reform in Woodburn and to winning decent housing for farmworker families in the region. Immigrant rights advocates hope to duplicate PCUN's successes in other communities.
On July 20, Salem's Statesman Journal newspaper ran an editorial opposing Measure 105.
Salem teachers, youth, community and civil rights activists, and a local union president opposed to Measure 105, linked the ballot measure and racism to an attempt to increase police presence in the schools at a school board meeting on July 24.
On July 26 the Unitarian Universalist Congregation in Salem met for a follow-up to the community conversation. The church's Sanctuary Team meeting decided to put up a large banner at a busy intersection urging a no vote on Measure 105. The team plans to assist in community trainings and partnering with the local Our Revolution group to do voter registration at the state fair. Salem Unitarians are joining with other Unitarian congregations to sponsor a declaration in the state voter's pamphlet urging a no vote on 105.
Salem Unitarians are joining with other Unitarian congregations to sponsor a declaration in the state voter's pamphlet urging a no vote on 105. SEIU Local 503 also picketed the Portland Immigration and Customs Enforcement (ICE) facility on the July 26. An occupation effort at that facility which drew national attention ended last week after city officials reversed themselves and cooperated with ICE to clear the occupation encampment. Many of the people involved in the occupation car pooled to Tacoma, Washington to continue protesting immigrant detentions and deportations.
Measure 105 will not be the only ballot measure Oregonians will be voting on in November. It is likely that an anti-choice ("pro-life") ballot measure will qualify.
A ballot measure which may impact the state's corporate minimum tax and which prevents local governments from establishing sales taxes on groceries will also appear on the ballot. This measure was likely funded by supermarket chains and others who want to head off taxes on harmful sugary drinks.
Another ballot measure will make it more difficult for the state to raise needed revenue if it passes. One ballot measure aims to allow bond revenues to fund the construction of affordable public housing without counties, cities, or towns retaining complete ownership of the housing.
The labor movement and its allies will be in an all-defense position in November but will likely have new partners in their political campaigns. The AFL-CIO Committee on Political Education has come out against reducing access to abortion in Oregon and also opposes Measure 105. The Oregon Education Association and the United Food and Commercial Workers union had both signaled that they were prepared to move forward with ballot measures but later stepped back.
Governor Brown intervened to head off an effort by public employee unions to get a tax-the-biggest-corporations measure on the ballot. The Governor helped facilitate cooperation between SEIU and the American Federation of State, County, and Municipal Employees, the Nike corporation and real estate interests in working against the ballot measures dealing with state revenues and taxes on sugary drinks.
Brown's efforts can be read as splitting the real estate industry, part of which hopes to scale back the mortgage interest deduction, and isolating restaurant and food industry efforts to fight a higher corporate minimum tax. Corporate money which would have gone into fighting the public employee unions might now go to fighting these ballot measures instead. On the other hand, Brown's effort can be seen as an attempt to secure her political future at labor's eventual expense and by not operating with full transparency. The Governor and the State Senate majority leader are adept at building cooperation between unions and big business and playing other interest groups against one another.