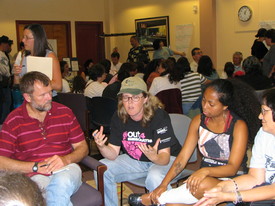 SAN FRANCISCO — From the panelists speaking for a spectrum of immigrant communities, to the chants in globe-spanning languages that closed the program, the Community Forum on Immigration, Labor and Interracial Alliances was all about bringing immigrant communities together in action with labor, the religious community and other people's organizations.
The July 15 program was organized by the newly formed Regional Unity Coalition, bringing together the main coalitions behind the great wave of marches in northern California during the spring. Similar unity actions are also slated for Chicago, New York and many other communities.
Plans are being laid for another national Day of Action during the Labor Day weekend, coordinating with the labor movement's plans, organizers announced. Community hearings are also slated for San Francisco, Oakland and San Jose in coming weeks.
While Republican congressional leaders are holding hearings around the country supporting their anti-immigrant agenda, "we decided to have our own hearings, and ask ourselves, what are the root causes of migration, unemployment and racism," Maria Poblet of the Deporten la Migra Coalition, told the audience.
Since the North American Free Trade Agreement (NAFTA) took effect, "there's been a significant increase in the deaths among people who come across the desert on the border with Mexico, because they've been forced off their land, their way of life and livelihoods have been ripped from them," said panelist Nancy Hormachea of the American-Arab Anti-Discrimination Committee. "They are forced to come here and take jobs at the bottom of the scale, with no protections for them or their families," added Hormachea, who just visited Sasabe, Mexico, and Tucson, Ariz., with a delegation from many immigrant rights organizations.
"I see today's meeting as important to bring all our communities together," she said, "because our struggles are the same and our strength is in being united."
In a brief conversation after the program, Hormachea said that within its overall drive to step up enforcement, the Department of Homeland Security continues to specially target immigrants of Arab, Muslim and South Asian origin. Even scholars are denied visas, she said, while student visas take years to process, and people from certain countries are still required to register.
"Should we unite? We're already united — we have to continue fighting!" declared Regina Douglas of the San Francisco-based People Organized to Win Employment Rights (POWER). "This is a human obligation that we have to each other, to the founding fathers of our Constitution, and to everything that's right."
Having come through slavery to sharecropping to workplace exploitation, African Americans still face discrimination, Douglas said, describing POWER's origins in the struggle for labor rights for workfare participants.
In an account that moved many to tears, 26-year-old Kenyan immigrant Jacqueline Muhoro Coats told how she was denied permanent residency because papers had not yet been filed when her husband, 29-year-old Marlin Coats, drowned last Mother's Day while attempting to rescue two young boys off San Francisco's Ocean Beach.
The San Francisco Board of Supervisors, NAACP and Police Department have passed resolutions supporting Coats, while the Black Alliance for Just Immigration and her union, Amalgamated Transit Union Local 192, have launched separate petition drives on her behalf. A rally at 11:30 a.m. Aug. 3, at 550 Kearney St., San Francisco, will support Coats' right to remain in the country.
Most Chinese immigrants continue to face language barriers, discrimination and racism, and are confined to low-income restaurant, factory or health care jobs where they lack labor rights, said Fei Yi Chen of the Chinese Progressive Association. "Only working in solidarity with others can we make a change," she added.
Among ideas from breakout groups considering how people can move the immigrant rights agenda forward: broaden demonstrations to mobilize non-immigrants, build the links between immigrant rights and workers' rights movements, and bring the immigration issue into all organizations.
Area immigrant rights activists are slated to gather again for a mid-August planning meeting — details to be announced — in preparation for the Labor Day weekend actions.