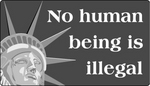 With Congress reconvening April 24 after a two-week recess, the dramatic struggle for immigrant rights will once again focus on Capitol Hill. At the same time, pro-immigrant-rights forces are reaching out, coalescing and organizing to give life to the slogan, "Today we march, tomorrow we vote!"
The right-wing Republican leadership, which dominates all three branches of government, continues to give top priority to harshly restrictive, repressive and punitive law enforcement measures.
Arlen Specter (R-Pa.), chairman of the Senate Judiciary Committee, said he will reopen committee hearings to discuss S 2611, the "compromise bill" introduced by GOP Senators Chuck Hagel (Neb.) and Mel Martinez (Fla.). There is talk that Republican Senate Majority Leader Bill Frist (Tenn.) may take S 2611 directly to the Senate floor.
The Hagel-Martinez bill contains provisions that would deny legalization to untold numbers of immigrants.
Frist, Specter and President Bush have insisted that the debate on S 2611 allow for the introduction of even harsher anti-immigrant provisions than it currently contains. They charge Minority Leader Harry Reid (D-Nev.) is "opposing border security" by blocking such moves.
As more rights advocates examine the bill's 500-plus pages, the growing consensus is that S 2611 is seriously flawed by virtue of its denial of civil rights, civil liberties and labor protections. "Immigration reform should not become the means to undermine the Constitution," warned Caroline Frederickson, the Washington-based legislative director of the American Civil Liberties Union.
AFL-CIO legislative aide Sonia Ramirez said that although the 9-million-member labor federation finds S 2611 unacceptable, the possibility that it might pass requires that pro-immigrant and pro-labor forces push for positive amendments in the Senate Judiciary Committee. "Knowing who is in charge, it is likely the bill can get much worse," she said.
Mass pressure has forced some Senate Republicans to support "path to citizenship" provisions and to oppose some of the harshest and most punitive language in draft legislation like HR 4437, the so-called Sensenbrenner bill. Opposition to HR 4437 is the strongest point of unity among the immigrant rights forces.
Millions of Americans rallied in uncounted numbers of cities, towns and villages across the nation April 10. A broad coalition, with immigrant, labor and religious group support, spearheaded the effort, coordinating over 150 events. Now the coalition is coordinating another National Day of Action on May 1.
"Family unity" is the keynote of the May 1 events, said Juan Carlos Ruiz, coalition coordinator. As of April 17, he said, "we have 52 cities participating and they are growing every minute." Musical festivals, rallies, vigils, voter registration and educational programs about the electoral process are planned. While some groups are calling for a national boycott of work, school and commerce, most areas are not ready for such action, Ruiz said.
"We continue to urge everyone to pressure Congress to oppose HR 4437 and to lobby the Judiciary Committee and all of Congress for a comprehensive bill with a clear path to citizenship, family reunification, labor and civil rights, and a safe and secure border," said Ruiz.
The coalition is planning electoral efforts in support of those candidates who support immigrant rights and plans to work with African American and other groups on issues like voting rights. For more information on the coalition, visit www.april10.org.