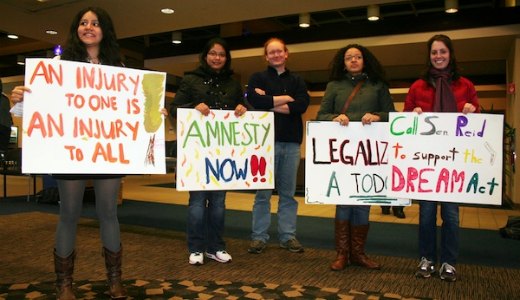 HARTFORD, Conn. – As high school students across the state prepare for graduation, a long-awaited victory for the rights of the children of immigrant parents was won yesterday in the state legislature. The immigrant tuition bill will offer in-state tuition rates at the state's public colleges and universities to graduates from Connecticut high schools, regardless of immigration status.
Four years ago, the legislature passed a similar bill but lacked enough votes to override Republican Gov. Jodi Rell's veto.
As the DREAM Act continues to await Congressional action, Connecticut joins 12 other states in ending discrimination against immigrant students in college tuition fees. After a nine-hour debate, the bill passed the State Senate 21-14. The bill passed the House in a 77-63 vote, also along party lines, earlier this month.
"Anyone that has a degree from a Connecticut high school should be able to attend a public institution at an in-state rate. That's what I believe," said Democratic Gov. Dannel Malloy as the Senate began deliberations.
A vigorous campaign for the bill began with the election of Malloy, who made the issue a campaign promise. A group of high school and college students who named themselves "The Dreamers" worked side-by-side with a group of legislators in crafting the bill, researching questions raised by opponents, and building grassroots support.
Students watched the debate from the gallery. Overcome with emotion when it passed, Lorella Praeli, who was born in Peru, told the media, "I'm excited we've done something in our state."
High school honor students from Danbury, New Haven and Hartford had testified about the impact of the bill on their lives. With a difference of about $10,000 a year, many would not be able to pursue their studies at the university level if they were forced to pay the much higher out-of-state tuition rates.
Immigrant students who graduate from Connecticut high schools after attending for at least two years, and who submit an affidavit stating that they will apply for citizenship when eligible, will be able to attend college and pay in-state tuition.
The language requiring the students to sign an affidavit stating that they will apply for citizenship when eligible is included because if they apply now they would probably be ordered to leave the country.
The attempt by Republicans to play one student off against another fell flat. Republicans argued that if immigrant students got in-state tuition other students would be left out. This was refuted on the Senate floor.
In a research paper prepared for the Legislature, community college instructor Barbara A Richards said that "approximately 250 high-achieving immigrant students per year, many of them Hispanic, will be able to attend college and pay in-state tuition. Even though they will not receive state or federal financial aid, some of them will gradually complete their college degrees and play a much-needed role in our workforce. They will not displace anyone. There is more than enough room for them. They are essential for the future of our economy."
Richards cites the fact that there is currently a shortage of qualified high school seniors to enroll in Connecticut colleges. "If Bill 6390 passes, not only will the students affected not displace citizen children, but they will help to fill a gap that threatens our state economy," she said.
A national anti-immigrant right-wing organization, Numbers USA, issued a statement this week calling on Congress to pass legislation that would forbid states from giving in-state tuition rates to undocumented immigrants. Legal challenges to overturn in-state tuition legislation, including in California, have failed.
Photo: Connecticut Dreamers lobby at the State Capitol in Hartford. Via creedible.com