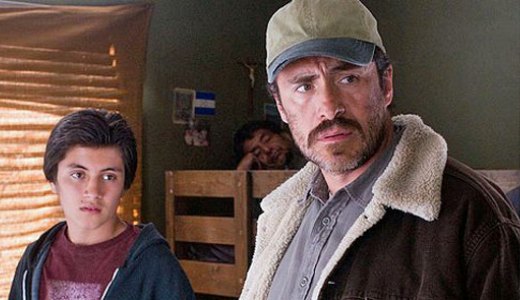 Movie Review
A Better Life
Directed by Chris Weitz
98 minutes, 2011, PG-13
For some reason, the advertisements for A Better Life emphasize that director Chris Weitz's credits include About a Boy. The new movie is much stronger and will leave a long lasting and uplifting memory. Even though the film is about impoverished immigrants who dodge the authorities and stand on street corners every day in hopes of a few hours' work, it never condescends. Neither does it finger-point or try to find villains and heroes.
The heroes are just there, in front of us, and their heroism, like working-class heroism the world over, consists mostly of going to work every day, despite all odds. As the main characters, father and son, struggle for sustenance and what little dignity they can scrape up, the subplots of family troubles, street gangs, poor education, language limitations, betrayal and pervasive racism show incrementally how they are boxed in.
Mexican star Demián Bichir is so thoroughly immersed in his role as an immigrant worker in Los Angeles that audiences are not likely to even remember that they have seen him before. Among his other triumphs, he was the debonair gangster who married Mary-Louise Parker in the tv-comedy "Weeds." The story line, simple and hard-hitting, is so engrossing that audiences may not, until much later, realize that it is the emotional and artistic stepchild of the classic Italian film, The Bicycle Thief. Seeing one of those movies will not distract at all from enjoying the other, and if you have seen neither, you're in for two great treats.
Photo: Still from the film.