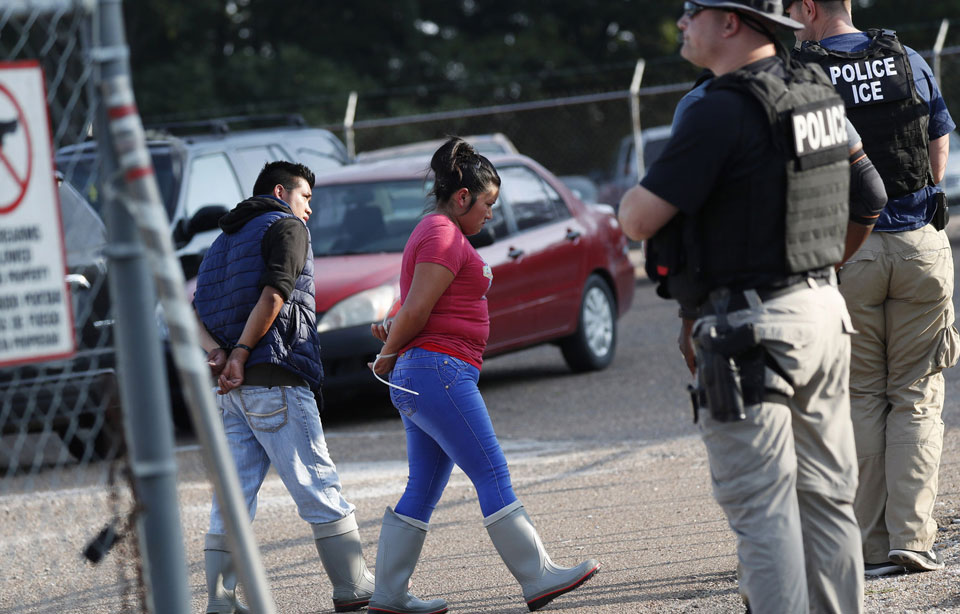 While President Trump was forcing himself on El Paso, a city that wanted no part of him yesterday, he sent his immigration officials to several Mississippi food processing plants where they terrorized thousands of workers. The raids were some of the biggest ever conducted by the Immigration and Customs Enforcement agency.
A U.S. Immigration and Customs Enforcement official told the Associated Press Wednesday that search warrants were carried out at seven different locations in the state targeting several companies. One of the biggest raids, according to the AP, was at the Morton plant of poultry producer Koch Foods Inc., which has no relation to Charles and David Koch.
AP said the official spoke to the news agency on condition of anonymity because the government did not intend for any of the details of the raids to be made public.
The news agency says it saw workers being hauled into a military facility yesterday in Flowood, Miss. where ICE was planning to process them. The news reporters said the workers were made to form seven lines, one for each of the locations that were raided by ICE.
Government officials say the raids resulted in 680 arrests.
If those figures are correct the raids yesterday would be one of the largest ever workplace raids, and definitely the largest in at least ten years.
The raids had the earmarks of an action intended to terrorize the thousands of workers in the plants. Some 600 government agents were involved, some surrounding the plants so no one could escape while others swept through the plants grabbing and arresting workers.
The Trump administration and ICE were clearly sending a message that they intend to continue to specifically target and terrorize Latino people. Six towns near the plants, according to AP, have large Latino populations. They are Bay Springs, Carthage, Canton, Morton, Pelahatchie, and Sebastapol.
"Today's raids are part of an ongoing war against immigrant families and the communities in which they live," Julia Solorano, an attorney with the Southern Poverty Law Center, said in a statement.
"It is especially sickening that days after immigrants were targeted by a gunman in El Paso, Texas, workers at plants across Mississippi witnessed armed agents descending upon their workplace.
Solorano noted that the agents created the very conditions ICE has been blaming for abusive treatment of immigrants at border facilities by arresting almost 800 people yesterday. ICE, she said, has been blaming overcrowding for the maltreatment of immigrants in holding facilities so why, she asked, would they arrest so many and herd them into a military barracks.
Marc Perrone, president of the United Food and Commercial Workers International Union (UFCW), released the following statement in response to Immigration and Customs Enforcement (ICE) raiding Fresh Mark plants in the Ohio towns of Canton, Massillon, and Salem, which are represented by the UFCW. 
"Tearing hard-working men and women apart from their children, families, and communities is wrong. The people who do these incredibly difficult jobs have the right to due process, and to be treated with respect and fairness. Today's actions will only drive this nation further apart, while also spreading unmistakable pain among neighbors, friends, coworkers, and loved ones.
"Our top priority is to provide whatever assistance and counsel we can to any of our impacted members and their families. The broken policies that led to these and other workplace raids must be addressed immediately. They are creating a climate of fear where workers across this country are too afraid to stand up for their rights, report wage theft, dangerous work conditions, and other workplace issues.
"We urge President Trump and members of Congress to work together to fix our broken immigration system, and to keep the demands of due process and family unity at the forefront. As a nation of immigrants, we must and can do better than this."
AP contributed to this report