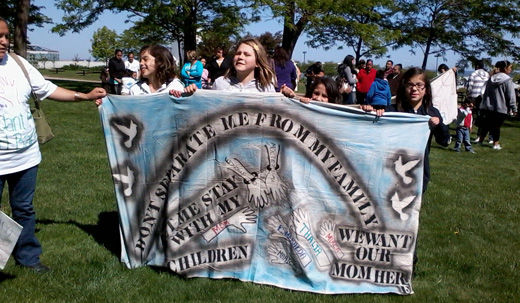 CLEVELAND – Immigrant workers and their families from across northern Ohio rallied here Friday, May 11, to protest rising deportations of parents of U.S. citizen children. Gathering in Willard Park across from the Federal Building close to 150 held signs and banners, chanted and heard speakers denounce the rising threat.
The action was sparked by a report given to Congress by John Morton, Director of Immigration and Customs Enforcement (ICE) March 26 revealing that over 46,000 parents of U.S. citizen children had been deported in the first six months of 2011.
"If that rate continued, it means close to 100,000 in one year," said Veronica Dahlberg, director of HOLA, an immigrant rights group based in Painesville. "That's the same number deported over the previous ten years."
The deportations are overwhelmingly ordinary workers – housekeepers, dishwashers, farm workers – she said.
"Last June ICE said they would focus on deporting criminals. They are not following their own policy and they are causing a humanitarian crisis."
HOLA and other groups are circulating a letter to the White House asking Pres. Barack Obama to issue an executive order to stop non-criminal deportations.
"We're not against law enforcement," Dahlberg said. "But these are law-abiding, tax-paying workers who contribute to the community. We want a policy of 'smart enforcement.'"
She said part of the reason for the increased deportations is that ICE has been overfunded, with an annual budget of $7.2 billion while the U.S. Marshalls Department, which focuses on criminals, receives only $1 billion.
The workers are "low-hanging fruit," she said. "It's a lot easier to go after them when they get caught on traffic violations and minor technicalities than to go after drug dealers with guns."
"This is a cowardly policy," said Baldemar Velasquez, President of the Toledo-based Farm Labor Organizing Committee . "ICE is picking on the most vulnerable. These are hard-working people who produce the wealth. Rich people are criminalizing and demonizing the people who put the food on their tables and give them fat bellies."
Velasquez denounced the hypocrisy of Republicans who advocate "family values," but push the "atrocious policy of separating parents from their children. This can't continue," he said urging young people to register and "vote those out of office who want to criminalize immigrants."
"This is not a Latino problem," said immigration attorney David Leopold. "This is an American problem. Regardless of your background we are all part of the fabric of this country."
German-born Manuel Bartsch, a student at Heidelberg College, said he was locked up for 16 days while in High School for being undocumented. The case is on hold but "I'm in limbo. I don't know if I can get a job. I am going to be an active spokesman for the Dream Act " – the bill supported by Pres. Obama to allow undocumented children access to college loans and a path to citizenship.
Dramatizing the crisis, the rally was temporarily interrupted when Dahlberg got a frantic call from a woman whose husband had been arrested a few blocks away while en route to the event. A group rushed to the scene to find a Mexican worker, in handcuffs in a patrol car after being stopped for driving in a downtown bus lane. The man with six U.S.-born children, has worked for a commercial cleaning company in Akron for the past 15 years and has no drivers license or valid identification.
Although ICE was notified, the presence of media as well as a representative of Sen. Sherrod Brown, who happened to be at the rally and spoke to police, seems to have prevented any deportation action.
"The government needs to focus on real threats to public safety, not on intimidating immigrants trying to assemble for human rights," Dahlberg said.
Photo: Rick Nagin/PW