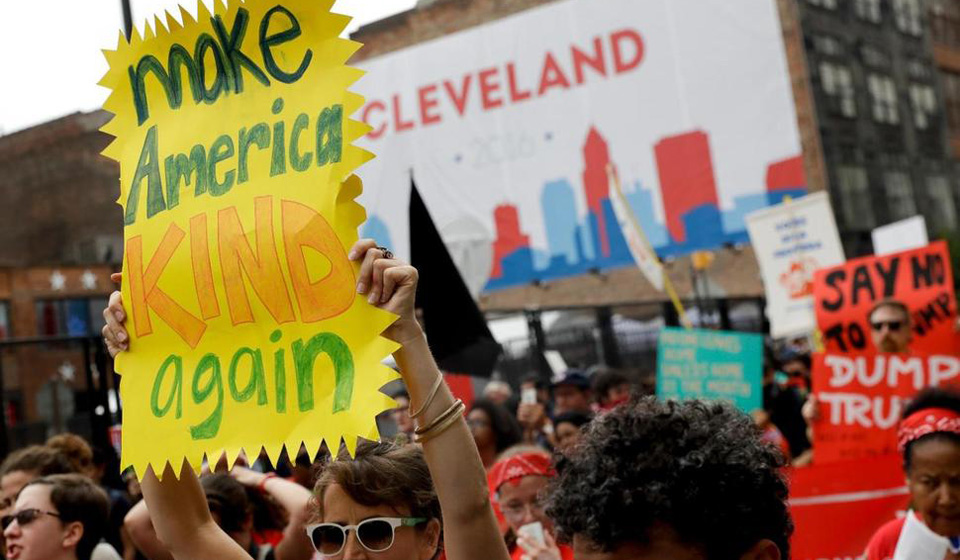 COLUMBUS, Ohio – "To all of you, I say, Columbus is your home!" stated Andrew Ginther, mayor of Columbus, Ohio, while signing an executive order this past Friday officially welcoming immigrants to the city and "vigorously opposing" Trump's national order banning immigration from seven mainly Islamic nations.
Ginther's order followed a series of huge demonstrations here opposing Trump's anti-immigration steps.
The mayor's executive order, announced in front of a cheering crowd of hundreds, provided for the following;
Columbus will "actively support recruiting, bringing immigrants to the city."
"Promotes, upgrades the city's prioritization of making city, government services available for immigrants coming to Columbus."
Bans city workers from aiding the federal government or law enforcement "for the sole purpose of detecting or apprehending persons based on suspected immigration status, unless ordered to do so by a legal court order."
"Vigorously oppose" the national order by the Trump administration.
"This city has changed," stated Commissioner John O'Grady, whose grandparents were immigrants from Ireland, "because of immigrants and that is wonderful.  This is really about economic development.  Immigrants come here for a better life, and they strongly support our education system, they work hard for their families and our entire community is better, stronger and economically more secure because of them.  Welcoming these folks is about supporting our own families, as well!"
"I'm very pleased that Mayor Ginther and county commissioners have joined the movement, led by immigrants and refugees, to name Columbus a Sanctuary City," stated city council candidate Will Petrik.  "This is an important step toward making our immigrant and refugee neighbors safe in our city."
Petrik is a founder of the independent 'Yes We Can' group in Columbus, made up of Bernie Sanders' supporters and other progressives.  Yes We Can is a leading part of the sponsoring group supporting the large demonstrations for immigrant rights, against Trump's Muslim travel ban, held earlier last week in Columbus.  Yes We Can is running independent slates in the upcoming council and school board elections here.